Netflix-Approved Cameras a Useful Buying Guide for Production
Cameras that meet these specs should be considered a top choice for most productions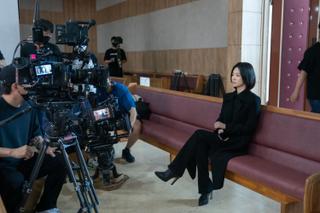 (Image credit: Netflix)
Today, there are myriad digital cinema cameras available in the marketplace. Netflix, the largest of the video streaming services, has created a useful guide for which of these cameras are recommended for use on their scripted programming.
If a camera meets these specifications, it is not only approved for use on Netflix productions but should be considered a top choice for purchase by most production companies.
Rigid Standards
Netflix collaborates extensively with the creative community, camera manufacturers and globally recognized experts to approve cameras that support its production workflows. Approved cameras are evaluated to meet image capture benchmarks for dynamic range, color accuracy, detail rendition, signal to noise ratio, resolution and key workflow requirements, the streaming media company says.
In addition to the camera program, in 2018 the company launched the Netflix Post Technology Alliance and introduced a logo program that will help creators identify that their original programming meets Netflix technical and delivery specifications. Netflix said "manufacturers of products bearing this logo are closely partnered with Netflix. They have early access to the Netflix technical roadmap and collaborate with Netflix on technical support, training and updates."
Netflix said it doesn't expect all products in the media production process to have the logo and the alliance is not designed to endorse or force creatives to use certain tools. "As an artist, you should use the tools that make sense for your production, are best suited to your workflows, and serve your creative interests," Netflix said. "With that in mind, this logo is an identifier to quickly tell you a product has been vetted for delivery to Netflix, and that the company who makes the product is committed to ongoing support and innovation."
Netflix requires that 90% of a program's final total runtime be captured on approved cameras using the following basic capture requirements.
The company expects a camera with a true UHD 4K sensor with a minimum of 3,840 photosites across and a capture format (RAW or an intra-frame compressed codec); 16-bit linear or 10-bit log processing; and capture transfer function (e.g., S-Log3, Canon Log 2).
Bit depth must be 10-bits or greater; data rate (a minimum 240Mbps at 24FPS); scene-referred color space (S.Gamut3, ALEXA Wide Gamut, REDWideGamut etc.); and a camera system capable of jamming timecode to an external source with the code written into metadata.
Netflix also requires daily black balancing of the camera's sensor; avoidance of spanned clips (i.e., single takes spread out on multiple cards); extra resolution for anamorphic imaging and use of aspect ratios less than or equal to 2:1.
Not Set in Stone
This list of basic Netflix requirements isn't absolute. Not all cameras that meet these basic capture requirements are approved. However, these requirements are Netflix's minimum specifications necessary for a camera system to be considered for approval. Other attributes taken into account include dynamic range, form factor, stability and workflow compatibility.
Netflix does allow limited use of non-approved cameras in certain situations. But the producer has to check with Netflix first about use of non-approved cameras on a production slated to be aired on the network. Nothing is set in stone and camera specs for nonfiction documentary content are more flexible.
The list of Netflix-approved cameras, especially for non-technical production executives, has proven to offer a useful guideline for the purchase of digital cinema cameras. Since camera models change so frequently, so does Netflix's list. The latest posted update of added Netflix-approved cameras was Dec. 12, 2022 (it was updated last week with the addition of the Canon EOS R5 C).
Netflix emphasizes that its rules are not frozen, but general. Sometimes capabilities can be added to cameras with third party accessories. Some non-approved cameras might be required on a production for a special type of shot. Netflix says it is open to considering all possibilities.
Avoid Overkill
Camera buyers, however, can be assured that Netflix-approved cameras have been vetted thoroughly and the list is an excellent path to finding the best cameras to purchase or rent for a production. No filmmaker wants to do a production and later find their gear does not meet the minimum standards of a streaming service.
Even if a camera model is not on the Netflix-approved list, it can still be a good purchase decision for a specific application. Remember, the Netflix list is for shooting scripted dramatic shows for streaming. Not every producer is doing such critical production work. Often the capabilities required on a Netflix production are not needed.
For example, when shooting news, documentaries or YouTube productions, a Netflix-approved camera is overkill. Action cameras, like GoPros, don't meet Netflix standards but may be used for special shots on Netflix productions. There are many camera choices for varying applications. Creative videographers should never be confined to a single list of cameras.
This list represents the top end of available digital cinema production cameras. All meet Netflix's approved standards for shooting scripted television. Each is part of an extensive system of accessories. And these models also represent the most expensive video cameras on the market today.
Netflix-approved Cameras
ARRI ALEXA Basic, Mini LF and 35
Blackmagic Design URSA Mini Pro
Canon EOS C300 Mark II, EOS C500 Mark II; EOS C700, EOS C70 and EOS R5 C
Panasonic AU-EVA1; VariCam LT 4K S35; Lumix BGH1; Lumix, BS1H; Varicam 35; Lumix S1H Mirrorless and AK-UC4000 studio camera
RED Digital DSMC2 with Gemini 5K S35 sensor; DSMC2 with Helium 8K S35 sensor; DSMC2 with Monstro 8K VV sensor; DSCC2 with Dragon-X sensor; Komodo 6K; RED Ranger with Helium 8K S35 sensor; RED Ranger with Monstro 8K VV sensor; RED Ranger with Gemini SK S5 sensor and V-Raptor 8K VV DSMC3
Sony Venice 6K; FX6; PXW-FX9 XDCAM 6K; Venice 2; PXW-Z450 4K UHD; PXW-Z750 4K; FX3 and FR7 Cinema PTZ camera
Get the TV Tech Newsletter
The professional video industry's #1 source for news, trends and product and tech information. Sign up below.
Frank Beacham is an independent writer based in New York.