Multimedia reporters debut on TV battlefield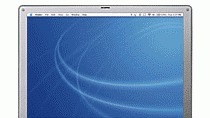 A new breed of multimedia television reporters came to global attention last week on the battlefields of Iraq. Called "backpack" reporters or "sojos" for solo journalists, these new one-man-band rovers became human showcases for what's been called the "DV video movement" in the U.S.

Many journalists will use Apple's Macintosh laptop computers while they cover the war in Iraq.

Whether they operate independently or with the support of a news organization, the gear package — all originally developed for consumer use — is similar: a DV camcorder, a laptop computer (usually an Apple Macintosh Powerbook G4), video editing software such as Apple's Final Cut or Avid's DV Express, compression software to squeeze the images, and a laptop-sized satellite telephone to transfer the pictures and sound back home.
The multimedia reporter — having mastered several traditional trades — first prepares the story, writes the copy, and shoots still and/or moving images, including his own "stand-up" in front of the camera. Then, the reporter creates a voice narration, edits the images and completes an edited video news report on the laptop. Finally, the report is "compressed" and sent as a video data file back home through the satellite telephone.
Sometimes, in the heat of battle or a breaking story, the video is fed live without editing. Preston Mendenhall, an NBC veteran who describes himself as a "one-man band," has become skilled at multimedia reporting. Equipped with $15,000 worth of gear crammed into an alpine backpack, this international editor for MSNBC.com writes stories, takes photographs and shoots video in combat zones. "You get a connection, set up the camera, point it at yourself and just do it—you're live," Mendenhall said.
However, this new breed of reporting is far from perfect. The technology is still in need of considerable image and sound quality improvement through better compression. The gear is too dependent on location resources. A bag of extra batteries and adapters doesn't necessarily solve problems when there's no available power source and you're trapped in a gear-destroying sandstorm in the middle of a dessert. And, many say it would be naive to think that a single person—no matter how skilled—could deliver the same journalistic quality of a combined crew of professional reporters, producers, editors, camera and sound operators.
Yet, even in the opening days of the war, it has become clear that video reports from a single person can be originated from virtually anywhere on the planet with very inexpensive equipment.
For more information visit http://www.apple.com/ (opens in new tab).
The latest product and technology information
Future US's leading brands bring the most important, up-to-date information right to your inbox