KTVU launches local newscasts in HD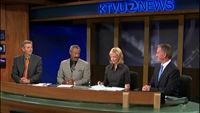 Fox affiliate KTVU, in San Francisco, has become the first station in its market to broadcast local newscasts in HD. The station produces more than 38 hours of local news among six programs each week.
Using the 720p HD format, the station went live on Oct. 10 during its 4 p.m. newscast using Sony HDC-1500 HD studio cameras, a new set with animated backgrounds, a native HD graphics package, a new Live StormTracker 2 radar display and a new Live Drive Time Traffic HD mapping computer with real-time traffic sensors.
To produce content, the station will use a Grass Valley Kayak HD switcher, Grass Valley K2 HD servers and Grass Valley NewsEdit NLE systems. Panasonic P2 cameras, capturing in 16:9 SD, are used in the field for ENG, then upconverted for the HD broadcast. Grass Valley Profile SD servers are also used for playout.
KTVU personnel said the downconverted HD newscasts would look significantly better on analog and SD digital sets as well.