Grass Valley develops large-scale audio routing and control system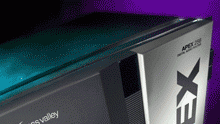 The Apex router provides simultaneous synchronize/asynchronise functionality that can handle a wide variety of data rates and audio file types.

As consolidation and centralized facilities continue to emerge, the need to handle large amounts of audio inputs and channels is increasing everyday. That's why Grass Valley is targeting large multichannel audio facilities that deal with multiple formats on a daily basis with its Apex digital audio routing switcher.
The Apex router offers a large number of signal I/O possibilities. The router utilizes a newly developed 11 RU 256 x 256 chassis housing a Time Division Multiplex (TDM) switching architecture for cost-effective linear expandability. Users can interconnect multiple frames to create matrices as large as 1,280 x 1,280 with a handful of interconnection wire and without the need for expensive distribution amplifiers.
Apex also provides simultaneous synchronize/asynchronise functionality that can handle a wide variety of data rates and audio file types. The router can automatically detect audio signal type (synchronous or asynchronous), its rate (from 30 kHz to 100 kHz), and then switch it properly without any additional modifications or user intervention.
This multi-format capability includes support for AES digital audio (75 ohm unbalanced and 110 ohm balanced), Multiple Audio Distribution Interface (MADI) and Dolby E formats. Recognizing that analog audio will exist in facilities that create and distribute audio for the foreseeable future, Grass Valley is also offering a separate 32 x 32 analog audio module as an option for the Apex.
The Apex is available in balanced and unbalanced signal management configurations in two frames: 256 x 256 in 11 RU with AES 110 ohm (balanced) DB25 connectors (APX-DV-34256B); and 256 x 256 in 11RU with AES 75 ohm (unbalanced) BNC connectors (APX-DV-34256U). Among its key features, the new router includes a silent-switching design to minimize unwanted clicks and pops and proactive monitoring based on the Simple Network Management Protocol (SNMP).
Unique among large-scale audio routers, the Apex system offers redundant TDM matrix cards to ensure a high level of availability. Should the primary matrix card fail, a secondary redundant card will take over immediately. To maximize uptime, the Apex router includes fully redundant power supplies and the same high-performance N+1 cooling architecture as the Trinix digital video router. It can also be controlled by a number of Grass Valley routing control products, including the Encore, Jupiter and SMS-7000 control systems.
The Apex has passive rear panels that allow all modules to be "hot-swapped" from the front of the chassis for easy serviceability. This enables the router to remain online during upgrades and to avoid having to go behind the equipment rack to make changes.
With its network-based status and control via SNMP and the Web-based Hypertext Transfer Protocol (HTTP), the Apex router eliminates the need for a technician to go to an equipment room and physically open the front panel door to check its status. Using the Grass Valley BroadLinx status and monitoring tool, users can configure, monitor, interrogate and upgrade the router from any networked PC running a browser.
For more information visit www.thomsongrassvalley.com.
The latest product and technology information
Future US's leading brands bring the most important, up-to-date information right to your inbox