Forget about the weather, we want the Derby?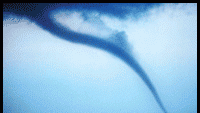 WXII, the NBC affiliate in Winston-Salem, N.C. is being criticized by its viewers via "hundreds" of irate phone calls to the station for pre-empting coverage of the annual "Run for the Roses" horse race by broadcasting a tornado warning instead. The fervor has gotten so bad that the station's general manager, Hank Price, has taped a 30-second spot to explain the station's decision to viewers.
"We do wish the race had run," Price told the local News & Record newspaper. "But we will always interrupt programming when peoples' lives are at risk. We are not ambivalent about that. Our first responsibility is not to the advertisers or peoples' programs. It is to the safety of our viewers."

Advanced warning or regular programming? One North Carolina TV station is in trouble for interrupting its regularly scheduled programming to warn viewers of a potential tornado. A tornado ripped through this community like a chainsaw through a miniature village. Broadcasters try to alert viewers in advance because a tornado's formation and path, unlike that of a thunderstorm, is very difficult to predict.

Incredibly, viewers didn't see it that way. Many of the angry viewers who contacted the station were from Greensboro, N.C., which was spared the brunt of the storm.
"It wasn't really fair to the people who had a sentimental attachment to the horses," said Audrey Ross of Greensboro. "It didn't seem necessary to me to cut the whole thing out."
Elise Hafiz, also of Greensboro, plans to write letters to the station and contact the NBC network.
"I was so mad," Hafiz said. "They never deserve to ever again have a sporting event. It makes you scared what's gonna happen when they have another large sporting event."
Hafiz apparently wasn't "scared" for his life or the safety of others.
Price told the paper he estimates that the station sacrificed more than $10,000 in local advertising revenue when it decided to run the commercial-free coverage of Saturday's approaching storm.
The resulting storm did not result in any reported injuries.
Like all stations in the U.S., WXII-TV is not mandated to broadcast potentially dangerous weather coverage, although they are required to "operate in the public interest," Price said.
Some viewers complained that the station could have alerted viewers of the tornado warning and then used a "crawl" at the bottom of the screen during the two-minute horse race.
However, WXII officials say their Doppler Radar system indicated just before 6 p.m. that conditions were ripe for a tornado in the southern part of the station's viewing area.
"We had every reason to believe it was going to immediately turn into a tornado," Price said. "I felt an obligation to immediately report what was going on rather than wait 25 to 30 seconds to get back on the air. I know that doesn't sound like a long time but when lives are at stake that is a long time."
The station continued with its weather coverage until the storm had subsided about 7:45 p.m. and then broadcast a recording of the race.
Meanwhile, Eddie Fritts, president of the NAB, praised all local stations for their invaluable storm and tornado coverage in the hard-hit Midwest, which proved to save many lives.
"We salute local radio and television stations throughout the Midwest for their life-saving storm and tornado warnings in recent days," he said in a prepared statement. "Hundreds of lives may have been saved as a result of broadcast weather alerts, and stations are already organizing relief efforts to aid storm victims. Once again, broadcasters are demonstrating that local stations are a trusted lifeline to communities in crisis."
For more information read Broadcast Engineering's article:
The calm before the STORM: Preparing for disaster.
The latest product and technology information
Future US's leading brands bring the most important, up-to-date information right to your inbox