Field News Trial Turns 'Workflows On Their Head,' Says Sinclair's Ernie Ensign
The Sinclair news tech vice president says the cloud, 5G test is intended to speed up news production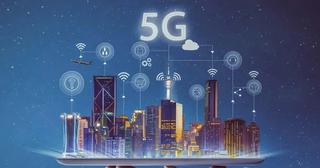 (Image credit: Future)
WASHINGTON, D.C.—WJLA, Sinclair Broadcast Group's flagship station here, is one of six group stations participating in a trial of 5G wireless transport and the cloud with the goal of streamlining how news photographers work in the field.
The idea is to accelerate the workflow of news shooters by making the footage they shoot available nearly instantly via the Sony Camera, Connect Cloud Portal (C3P) for use on online, social media and on-air.
A side benefit of the workflow also is that it dramatically speeds up the access of reporters working with news photographers to footage as well as gives news producers and others in the newsroom a faster alternative to traditional methods of getting desired clips.
Ernie Ensign, vice president of news technology for Sinclair, is leading the trial, which is leveraging 5G modems from various wireless vendors, Sony's C3P, existing Avid servers and software and custom software from Marquis Broadcast.
In this interview, Ensign discusses the goals of the trial and why they are important, the technology being used, the benefits the group hopes to derive and weaknesses that need to be addressed before mass deployment.
(An edited transcript.)
TVTech: Tell me about your ongoing news workflow project involving the cloud and 5G. What are you doing?
Ernie Ensign: The goal was to find a way to get content in from the field quickly, not just a piece of content.
We've been in these same workflows for probably over a decade. Basically, a crew goes out in the field; they shoot a lot of content; they put it on their laptop; they edit the minute-and-a-half produced feed, and then they transmit that back to the station.
Initially, that's the only content the station has visibility into because that was the piece of content that was going into the next show.
We're trying to turn those workflows on their head—sort of this gather-report-type of mentality to where you are gathering content and have the ability to publish it in real time.
So, we took our cameras and connected them to 5G hotspots. As stories are added to the newsroom computer system, they are forwarded out to the camera.
Now, as photographers are shooting, they go into their camera, they upload a menu called the planning menu, and they can select the story they are working on.
Once they select that story, all the metadata is embedded into the clips in the camera.
As they shoot, those stories are transmitted up to the Sony cloud in the background. The only action a photographer has to take is select his or her story. As photographers shoot the content they identify as being the best pieces of content, those stories are transmitted in the background with metadata to the cloud.
A third-party software vendor we have worked with, Marquis Broadcast, has written some connectors into Sony's APIs in the cloud. They are extracting any of those files and quickly ingesting those into Avid. That's basically the nuts and bolts of it.
TVT: Is there an aspect of this project dealing with the workflow of reporters in the field? I know Sinclair has said in previous interviews that it wishes to embed reporters more deeply in their beats so I thought there might be.
EE: No. We are moving in that direction. You know we signed a 10-year agreement with Avid in 2015. That's slowly working its way to the end.
However, this new photographer workflow does affect how reporters work in the field in this respect.
The main goal is to distribute content as quickly as possible to digital platforms and social media. But certainly, there are side benefits.
Traditionally as photographers shoot, all of that content is on the camera. It's really not visible to the reporters they're working with. Reporters have to download it to their laptop, and then they can look at it and log.
Now, this goes to the cloud and the reporters can actually log in as the content is being shot and sit there and log as the content is uploaded. So, they can do their job in the field quicker.
The same thing is true in the newsroom back in the station. In the past, if someone in the newsroom needed some video urgently, they would have to call the photographer and ask: "Hey, can you spin up your LiveU?"
Our new workflow ensures that content is flowing into the newsroom as it's being shot. Producers can look at it, log it for teases and if there are other components they want to write, they can pull out VOs and VSOTs immediately.
TVT: Does this add substantially to the cost of newsgathering?
EE: Obviously, you know, the largest benefits are where you're able to produce content and deliver it—not financial.
We have to show the financial folks that yes, maybe we're spending a little bit more money on these workflows. But you know, here are the benefits and the returns. We're able to publish more content. We're able to get it there quicker, and we're able to get the consumers to our websites faster than say, another station that may not have these workflows in place.
TVT: How many Sinclair stations are taking part in this trial?
EE: Currently, there are six pilot stations. This gives us some different views from across the country. Frankly, it also gives us some different looks at different wireless providers.
Each of the wireless providers is in different phases of its 5G deployment. So, we're not only using geographic dispersion to see how the workflow may work in different newsrooms, and how different newsrooms may embrace it, but also to see how well the cellular providers are doing with their 5G rollouts.
If you're transmitting something backed by 5G, that is crucial. You need to get that content back. It needs to work from every location, not just the main, city-based areas of the metro.
We need to make sure those workflows are robust enough that if we're changing workflows that those tools are readily available.
So, six pilot stations initially, and then we will determine based on the success on what we do.
There are several different options. We could rollout 10 stations at a time and then pick the next group. That's my best guess because in all candor—and the vendors know this—it's not absolutely perfect yet.
But I think the technology challenges are absolutely solvable. They'll just take some time.
TVT: What tech challenges are you facing?
EE: Probably the No. 1 capability that we would love to deploy with this would be integrating the cellular technology directly into the camera.
Today a photographer has to have a Wi-Fi 5G hotspot from a provider. They have to make sure it's on and connected. They have to make sure it's within distance of the camera.
If they forget the hotspot in the car, and go out to do their shoot, they have those files that are queuing up in the camera.
There are also some compression schemes that could get better at the camera that will increase the resolution of the files that are coming back. Now it's H.264, but potentially HEVC and beyond in the future as compression schemes improve and files get smaller.
TVT: Who are you working with to get to that 5G integration in cameras—the camera manufacturer, wireless companies or both?
EE: We're having continuing discussions with Sony. We're all Sony across the group.
We are talking to them about the next generation of cameras and what features we can add in to make improvements to this workflow.
Obviously, there has to be discussion with the wireless providers to get a SIM [Subscriber Identity Module] into the camera.
Besides talking about integrating a SIM, we are talking to Sony about how we can retrieve high resolution. At the moment, this is a proxy workflow at a bitrate that's good enough to publish on social media.
In the future, we'd like a mechanism to say, "Here's the 30 seconds of premium content that I want," hit a button and it goes out through the Sony APIs and pulls that content from the camera.
TVT: Any parting thoughts?
EE: It's all about having access to more content—faster—and getting that content to our consumers where they are as fast as possible. It's all about winning the eyeball race.
Sometimes, whoever gets there faster gets those initial viewers who may have a tendency to make something go viral.
We're trying to get content out there to viewers as fast as possible. This has been a big enabler.
Get the TV Tech Newsletter
The professional video industry's #1 source for news, trends and product and tech information. Sign up below.
Phil Kurz is a contributing editor to TV Tech. He has written about TV and video technology for more than 30 years and served as editor of three leading industry magazines. He earned a Bachelor of Journalism and a Master's Degree in Journalism from the University of Missouri-Columbia School of Journalism.