ESPN & ABC sports jazz up basketball coverage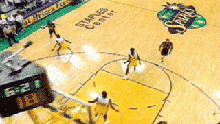 Viewers will now be able to see the action from above any spot on the court via a floating overhead camera system called "Free Flight."

A quarter century ago, ABC Sports revolutionized all television production with innovations such as sophisticated Chyron graphics and unique "minicam" views of the action. Now' in partnership with its cable sister, ESPN' ABC Sports is at it again, this time bringing new production techniques to televised basketball.
NBA games, which began airing last week, are getting new camera angles, sights and sounds' all inspired by jazz music. Viewers will now be able to see the action from above any spot on the court via a floating overhead camera system called "Free Flight." From another extreme, first-ever floor-view images will be presented looking up at the action from a lens imbedded into the playing surface itself. That new system is called "Floor Cam."
To accompany the new visual sensations, the animation and graphics will blend the feel of vintage Blue Note Records album covers with samples of the look of ESPN The Magazine. An extensive music package will accent the design with diverse sounds ranging from contemporary to jazz to large orchestral fanfares.
The new Free-Flight system will hover over the court, moving in three directions. Similar to "Sky Cam," which debuted on ESPN's Sunday night NFL coverage this season, the new flying camera goes from end-to-end and side-to-side with the ability to rise or descend on pre-programmed or operator-controlled flight paths. It will be used during both live action and replays, providing a look at play from overhead any point on the court.

Once developed, the Floor Cam will be able to pan and tilt, with the exact location varying from game to game.

In another NBA first, the "Above the Rim" camera angle looking down at the basket will be equipped with Super Slo-Mo capability. This technology uses more frames (90 per second) to provide a slower and more detailed replay.
ESPN and the NBA are working together to develop Floor Cam. The embedded lens will be able to pan and tilt, and the exact location may vary from game-to-game. This technology is still under development, with an anticipated debut before New Year's Day.
The same "Xducer" microphones developed for NBC's defunct X Games will enhance audio. They are sensitive to vibrations, not sound waves, and when placed in the actual court provide the sound of the ball bouncing without adding to the ambient sound of the crowd.
For more information visit www.abc.com and www.espn.com.
Get the TV Tech Newsletter
The professional video industry's #1 source for news, trends and product and tech information. Sign up below.