DTV cup filling up or still nearly empty?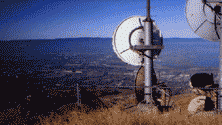 Microwave dishes at a cable headend

The cable industry is offering HDTV to 37 million subscribers in 90 markets, according to a press release issued last week by the National Cable and Telecommunications Association (NCTA). This is about one-third of the total households in the U.S.
In response, the NAB said that the only HDTV programming being carried is from cable networks. Although there are now 700 digital, over-the-air TV stations, fewer than 10 percent are being carried over cable systems, the NAB said. DTV signals are now being transmitted in 178 markets that include 96.5 percent of U.S. TV households. In addition, 69.2 percent of the more than 106 million U.S. TV households are in markets with five or more broadcasters airing DTV and 35.6 percent are in markets with eight or more broadcasters sending digital signals.
The NCTA said that although the transition to digital television will not meet the timetable established by Congress, when viewed in comparison to the introduction of other new consumer electronics products, the digital transition is actually proceeding at a reasonable pace. While few high-definition television (HDTV) sets are in consumer's homes today, the rollout of digital televisions (DTV) is outpacing the rollout of color TV and the PC.
The NCTA has now set its sites on broadcasters for not doing more to help the transition. Compelling digital content, said the NCTA, is the driving force in the transition. The NCTA claims that right now, HBO offers more HD programming in any given week than all of the broadcast networks combined. The cable association says that the value of the new DTV spectrum that was given to broadcasters is worth $70 billion, and that so far broadcasters have not delivered on the HD promise made to Congress.
For more information visit www.ncta.com and www.nab.org.
The latest product and technology information
Future US's leading brands bring the most important, up-to-date information right to your inbox
Thank you for signing up to TV Tech. You will receive a verification email shortly.
There was a problem. Please refresh the page and try again.