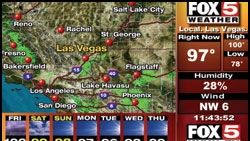 Las Vegas



Providence, RI



Grand Rapids, MI



Tulsa, OK

As the quest for additional advertising dollars and the pressure on operating margins continues throughout the broadcast industry, the digital revolution has created new opportunities for generating revenue. The FCC has mandated the move to the digital spectrum, thus enabling broadcast stations the ability to air additional programming channels.
In today's model, stations are typically airing their primary signal on their D-1 (primary digital channel) in HD format. The station's primary signal in HD format uses approximately 14Mb of the available 19Mb of the allocated digital bandwidth. This leaves approximately 5Mb of bandwidth for use by additional digital channels (D-2, D-3, etc.). A standard-definition SDI channel will use approximately 3Mb, uncompressed bandwidth.
Additional channels, at a relatively low cost, were primarily available to cable companies in the past. The broadcast industry now has the opportunity to air additional local programming channels and generate additional revenues using their allocated digital spectrum. One of the best opportunities lies in building a local weather channel. A weather channel requires minimal bandwidth, therefore allowing plenty of opportunity for other new revenue-enhancing channels.
Research has shown that viewers want instant access to live weather information and local forecasts. Stations that provide it first will secure their position as the dominant weather leader in the market. A station's weather presence will be further enhanced through the additional programming channel, increasing the visibility of both its on-air staff and local newscasts.
Most broadcast stations have tens of thousands of dollars of weather computers in their weather centers and a weather team, all generating content 24 hours a day. They spend tremendous amounts of money on their local weather brand and programming, so local weather channels seem a natural programming outlet for a station's digital spectrum. By cross-promoting the station's digital local weather channel, the station can retain viewers to its weather brand 24 hours a day, thus keeping its viewers from turning to other sources for their weather information.
Broadcast stations now have the opportunity, on their digital spectrum, to create their own programming without being beholden to their network affiliate, thus retaining 100 percent of the programming control and revenue generated. This may be a little more work initially, in the long-term, however, the return should be optimized, and the programming will always be 100-percent controlled by the local station. By retaining the programming control, the station will benefit by having the ability to modify its programming to meet the changing needs of its viewers while optimizing revenue.
Types of programming
How are stations addressing this new opportunity and what type of programming are they airing? The stations that have taken the plunge into a second digital channel have used a variety of programming. In one model, NBC is offering its affiliates the NBC WeatherPlus programming product, which combines national content generated by NBC with local cut-ins.
Local weather channels have been operating in several markets for more than 10 years. Most of these channels have been analog-based and have been broadcast in conjunction with local cable companies. With the advent of the digital spectrum, local weather channels are a natural progression for a station's digital bandwidth.
Once the station has created its own programming channel, then it must comply with FCC requirements for closed or open captioning, severe weather notification, children's programming, etc. The station must also take into consideration how to incorporate commercial spot insertion and billing when creating a do-it-yourself system.
There are several off-the-shelf digital weather channel products available today from various vendors, including WSI, Weather Metrics, Weather Central and AccuWeather. All of these systems are tied to the weather data feed provided by the vendor, except Weather Metrics, whose system is on an open platform and non-vendor specific for weather data. The systems have, to different degrees, the ability to extend the station's branding through customization of the on-air presentation.
As you consider the off-the-shelf systems, make sure they have the flexibility that your station requires. Flexibility will give your station the longevity and ability to adapt as your market needs change.
As the digital channel matures, you will want to update the programming wheel to reflect more information and different types of information. The Internet is a big resource for content, so you want to make sure your system can take advantage of all of the new Internet protocols and data feeds, such as RSS, XML, CAP, severe weather, etc.
Automation
Automation is the single most important factor at the station level. Engineering and IT resources are being cut, and during severe weather, your weather team does not have the time to change programming of the digital channel.
Some of the systems being aired today require full-time staffs to operate; this will dramatically cut into the station's return and viability of succeeding. Systems that are fully automated and robustly supported by their vendors are required to ensure the highest probability of success in your market.
Integration of your new digital programming channel with other station equipment is a critical factor in determining the automation and flexibility of the systems you are considering. If the new system can "talk" with the station's existing systems, you expand the capability and flexibility of what you air and how robust your presentation will be.
Vendor considerations
When doing your homework, ask the vendor what additional equipment may be required to create an on-air presentation like the DVD presentation that it showed you. Better yet, ask the vendor to visit your station and do a demonstration of an actual live operating system at the station, like the one you will be purchasing.
By seeing a demonstration, you will see exactly how the equipment works and the complexity of the system. DVD presentations look great, but they will not show you how the system actually operates. With most vendors, your station has the ability to decide what programming airs in a pre-configured, programming wheel.
A few questions you might want to ask your vendor if you are considering a 24-hour local weather channel are:
Does the system have the capability to record a short weather segment?
Does the system have a severe weather, Amber Alert, school closing and crawl system built-in?
Can we cut to our live signal and simulcast during severe weather coverage?
How do we insert commercial spots?
Does the system create a billing log for the spots that run?
Can we put our live, local weather Internet sites in the presentation?
Can we automatically schedule different programming wheels for different times of the day without shutting down the system?
Summary
By using existing core production and transmission capabilities, stations will generate new revenue through additional digital channels and cable partnerships. By selecting a system that integrates commercial spots, various logo placements and weather network location sponsors, the station can customize the promotional capabilities of the system, thus enhancing revenue.
Investment in an automated weather channel system that capitalizes on your station's current look, staff and branding will create a high-quality local digital programming channel. This will satisfy the FCC's demands for local digital programming, while generating additional revenue at a low cost of production.
If stations find the right combination of products and services, they will be able to optimize their return on investment and generate a profitable, new revenue source with their digital channel programming.
Peter Levy is president of Weather Metrics.