Customers focus in on HD lenses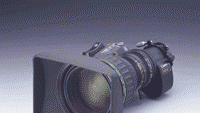 Canon's HJ21X7 lens

While many equipment categories have yet to fully realize the sales benefits of the current proliferation of high-definition production, executives at the major camera lens manufacturers report that business for their new generation of HD lenses is good and getting better all the time. Despite a still sluggish economy, they've been helped, they said, by an ever-increasing demand for HDTV programming to feed existing HD channels as well as the emergence of several new ones.
And although it's been claimed before, these manufacturers predict that 2003 is the year that HDTV will take off with consumers. If this proves to be true, the demand for HD lenses will increase exponentially.
Even within the broadcast market, where stations have traditionally purchased the cheapest lenses possible for their ENG crews, the trend, according to these companies, is to buy the highest quality optics they can afford. However, the total number of lenses sold to the broadcast industry has declined in the past two years.
Though expensive, with some studio models running for more than $100,000 a piece, these HD lenses have become popular enough that Canon, Fujinon and Thales Angenieux have all stated their plans to discontinue their larger standard definition product lines in favor of the more costly HD models. They said it just doesn't make sense to develop two product lines for essentially the same market segments.
"We see our HD production and broadcast lenses merging because it's not cost-effective for us to build two parallel product lines when the user is so similar and the features, in terms of high resolution image capture, are so much better," said Dave Wadell, marketing manager at Fujinon. "[Every lens manufacturer] has reached a point in time where we're selling more HD than SD in the larger lenses, so why not build one product line. It's not going to happen this year, but I can see that happening in 2004, definitely."
These improved lenses offer twice the resolution of a comparable SD lens with a quarter of the errors, in terms of mechanical and chromatic aberrations. And because the lenses are being used for widescreen acquisition, the edges of the glass are made that much better in order to facilitate improved corner resolution results.
Aside from the innovations in lens material necessary to capture HD resolutions, the factories are using new and more powerful computer programs for designing lenses that has led to improved, cost-effective products that are higher in performance. It has also helped deliver products that customers are asking for to market quicker.

Fujinon's HA22X7 lens

It's now possible for companies to design a HD lens in a quarter of the time it used to take, and it includes more capabilities. "It used to take longer and sometimes the lens would not perform properly to the specs it was originally designed for so we'd have to go back and fix it," Wadell said. "With the new computer programs, we can usually get it right the first time. This savings in time and cost is passed on to the customer, so everybody wins."
Equipment spending in the broadcast market has been slow the past few years, but there's reason for optimism, according to Gordon Tubbs, assistant director of Canon USA's Broadcast & Communications division. He said that customers are increasingly placing orders for the higher quality that the newest generation of HD lenses provides, and using them on standard definition cameras.
"In spite of the soft production market, we're selling a lot of HD lenses to customers who are putting them on standard definition cameras," said Tubbs. "We call it 'future-proofing.' People are buying HD lenses because they want the best lens and because they feel that within the life of the lens they are going to make the switch to an HD camera. It saves them from having to eventually buy two lenses."
Fujinon's Wadell agrees, adding that making the move to an HD lens sooner than later provides much needed experience for when customers begin HD production in earnest. Fujinon started designing and building HD lenses in 1983, he said, albeit in extremely small quantities due to the prohibitive pricetag. In the last two years, the industry's experience with building them has increased along with the quantities produced. The price has also come down dramatically.
Thales Angenieux has a long history in film acquisition (for both TV shows and documentaries) and the popularity of its lenses with directors of photography has not changed with the move to digital cinematography. In the area of ENG, the company's lenses are getting smaller but include much better telephoto range, according to Chris Beupalant, Angenieux's U.S. sales manager.
Last year, Thales Angenieux launched six studio and sports "box-style" HD lenses at NAB2002 (and will show them again this year). The new line includes a unique Advanced Display System (ADS) to enable users to monitor lens settings and adjust digital features quickly.
"Optics is a tricky business," Beupalant said. "As digital cameras get higher in resolution, lenses must be that much more sophisticated. The lenses, therefore, become more expensive, which is not the general trend in electronics."
Shooters, or freelance TV news stringers, who might not have the money to buy an HD camera, are making the investment in an HD lens because they know it will perform exceptionally well on a standard definition camera and that their investment will last until the day they can afford a new HD camera, Beupalant said.
Of the people who are currently investing in HD, their knowledge is higher than the average shooter and they're definitely buying the best quality whenever possible, he said. For them HD lenses make the most financial sense.

Thales Angenieux's 70HD camera lens

Such was the case with public TV broadcaster Maryland Public Television, based in Owing Mills, Md. Last September, MPT took shipment of four Fujinon HA26x6.7BESM HD studio lenses, a HA13x4.5BERD wide-angle HD ENG lens and a HA22x7.8BERD HD telephoto ENG lens. George Beneman, operations manager at MPT, said the station wanted lenses with top-quality optics that were versatile enough--due to their size and weight--to handle a variety of studio and field shooting situations.
As in the past with other "new" technology, mobile truck companies are also responsible for some of this new interest in HD lenses. Simultaneously with the announcement this month from ABC and ESPN that they would begin producing a wide range of sporting events in HD this year, companies like National Mobile Television, NEP SuperShooters and New Century Productions said they would build HD-capable trucks to meet the demand. The trucks come complete with a complement of more than 60 HD lenses between them.
For ABC's Monday Night Football, NMT is building a $10 million, 53 ft. all-HD truck that will use a total of 24 HD lenses on 22 Thomson Grass Valley LDK Worldcam cameras. The Canon lenses purchased include portable HD ENG (HJ21x7.8, HJ11x4.7 wide-angle) and studio-style (XJ75x9.3, XJ86x9.3, 1/24/03and the new XJ100x9.3) HD lenses. Interestingly, all of the studio -style lenses are physically the same size and weight, despite their differences in magnification specs.
These are the first HD cameras that the mobile production company has bought; yet they've owned several dozen of Canon's XJ86x9.3 lenses for two years, Tubbs said.
"The ABC/ESPN HD announcement is a major, positive event in our industry because it will help jumpstart the HD transition in a major way," Tubbs said. "Everybody's been saying that sporting events make the best HD content. Along with CBS, ABC has finally made a real commitment, so we'll see what affect it has."
For Canon, the deal is worth several million dollars and could signal better times ahead, in terms of equipment sales. "In general, business is getting better," said Tubbs. "There are positives everywhere you look. However, newsgathering has been very slow to recover after 9/11 [2001], so we don't expect to see the sales numbers we saw in 2000. And yet, we're going into this year's NAB more positive than we were before last year's show."
For more information visit www.usa.canon.com (opens in new tab), www.fujinonbroadcast.com.
The latest product and technology information
Future US's leading brands bring the most important, up-to-date information right to your inbox
Thank you for signing up to TV Tech. You will receive a verification email shortly.
There was a problem. Please refresh the page and try again.