The Broadcast Engineering E-zine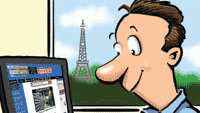 Would you like to get your copy of Broadcast Engineering's World Edition in an electronic format? Would you like a publication complete with hot links to related articles and background material?
Would you like to be able to easily enlarge figures and photos to full screen size for ease in viewing and printing? Need quick access to new product information and advertisers through hot links? All these features and more are available in the new Broadcast Engineering E-zine.
The editors at Broadcast Engineering have developed an exciting new electronic magazine that provides the user with features that readers said they'd like to have in an electronic magazine. This totally electronic publication is e-mailed monthly to subscribers just prior to the publication of the regular print edition.
The E-zine contains many of the articles from the regular monthly issue, each complete with reader services normally only available from a Web site. But, this isn't a Web site; it's an E-zine.
So what's the difference?
First of all, the Broadcast Engineering E-zine is interactive. Readers can page forward and backward, and they can even expand drawings to full screen for ease in viewing and printing. The E-zine can also contain additional audio and video sources for readers to enjoy. Need a direct link to the Demo Room? It's right there; just click.
How many times have you viewed a new product in a magazine and wished you could see it better? With the E-zine, all you have to do is click on the new product photo, and a new window opens with the new product photo presented full size. Click on the product's Web link, and you're automatically taken to a new window already opened to the manufacturer's Web site.
But wait. There's more. The Broadcast Engineering E-zine allows readers to search the entire issue for key words or phrases. In one example, typing the phrase "serial video" produced five hits. The report shows each page with the desired reference phrase, and it allows you to go directly to those pages. And, the searched phrase or word is automatically highlighted to allow you to quickly find the referenced search term in each article.
The pages can be animated and turn just like a book. Moving through the issue, each page change appears through an animated page turn. Or, if you prefer, the animation can be turned off, and pages are replaced as screen updates.
A configuration menu even allows you to view the Broadcast Engineering E-zine in a presentation mode. Set the options, and the pages will be automatically presented to you on a timed basis.
The E-zine can be easily e-mailed through a simple click-and-label interface. Because the entire E-zine resides on our server, there's no large file to transmit, with the inherently long delivery times and mailbox size limitations of other documents. And, once you have subscribed, you can access the E-zine from any computer anywhere in the world.
I encourage you to try out the Broadcast Engineering E-zine by going to our Web site. The address is www.broadcastengineering.com. Click on the animated graphic in the upper right corner of the home page that says "World Edition E-zine," and you too can experience the next level in electronic magazine publication: the Broadcast Engineering E-zine.
Send comments to: •editor@primediabusiness.com•www.broadcastengineering.com
Get the TV Tech Newsletter
The professional video industry's #1 source for news, trends and product and tech information. Sign up below.