Systems Design Showcase: The Discovery Television Center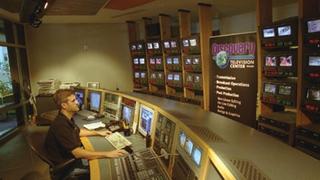 The Discovery Television Center (DTVC), a subsidiary of the Discovery Communications Latin America/Iberia, recently completed construction on new quality control, editing and post-production suites to support increased services for their Spain, Portugal and Latin American markets. DTVC had to ensure that the facility could meet the challenge of an aggressive network channel rollout and maintain high production quality.

DTVC staff member Antonio Barrado operates equipment in a Discovery Television Center control room. DTVC originates 16 feeds for Discovery Networks, Latin/America/Iberia from seven control rooms. Photos courtesy Videotek.

Miami-based Discovery Television Center is owned by Discovery Communications, a privately held, diversified media company headquartered in Bethesda, MD. The fully digital 50,000-square-foot facility is capable of servicing multichannel uplink, and currently services 16 feeds for Discovery Networks, Latin America/Iberia. It has multilingual capability for language customization in Spanish, English and Portuguese that includes Castilian and Latin American Spanish.
Services
In addition to its network-related services, the Discovery Television Center offers access to producers, writers and graphic designers to take projects from concept to final product on film, video or special effects. For post-production, they are equipped with several Avid Media Composers, a nonlinear DS suite, five digital online edit suites and two nonlinear audio rooms that can incorporate digital audio components such as voiceovers and music composition.
For network origination and quality control, DTVC has seven master control rooms, each with the capacity to control up to three simultaneous feeds. Presently, DTVC originates 16 feeds from RAID-protected, redundant video servers, with the capacity to originate up to 19 feeds. They also provide complete duplication and recording services from simple offline editing to expert mix-to-layback services for tape formats including Beta SP, digital Beta, PAL and NTSC.
DTVC also offers uplink video and multi-language tracks for its satellite services, as well as 24-hour transmissions monitoring and after-hours support for affiliate sales-conditional access.
Design criteria
The facility was originally constructed in 1997 with the intent of handling six feeds for the existing networks servicing Latin America and the Iberian region: Discovery Channel, Discovery Kids, Animal Planet and People + Arts. When Discovery designed the facility, they wanted the quality and capabilities of a fully digital operation, and they became one of the first to broadcast with an all-digital output/signal in the Latin American market. Because Discovery planned for future expansion, their intent with going digital was to get a better quality signal to the market through compression.

DTVC's new QC workstations are multipurpose and are used for machine-to-machine editing, screening and dubbing, as well as real-time quality control with Videotek's VTM-300, to meet increased production demands.

Discovery chose to use glass walls as part of the interior structure to allow for further expansion. Instead of knocking down walls, the glass panels can easily be removed to allow movement.
There were similar considerations when designing the technical space with a heightened attention to QC. From the scopes and monitoring equipment by Videotek to the ergonomic keyboards and Pro Tools workstations, the area required a more multipurpose feel.
Rather than having a dubbing station just to dub, Discovery wanted to have the ability to have edit controllers in case a need arose for quick offline edits or machine-to-machine edits. In addition, more tie lines were added to the router and a couple of Envision machines were incorporated to make it easier to manipulate and reconfigure audio.
Operational goals
A top priority for the operations was to increase throughput. Taking into account the peaks and valleys in workflow (especially in the domestic market's busy fourth quarter season), the challenge was to meet the needs of an international operation's more aggressive deadlines. For every dub made, the material needed translation and, in the case of the Discovery network in Latin America, not just to one language but to multiple regional languages of Portuguese and Spanish. To address this concern, the design team closely monitored the workflow to come up with the most efficient way of handling it without going overboard on capital expenses.
Each room in the core areas, including post-production, audio suites and edit suites, was acoustically designed with a treatment of approximately 200 small wooden boxes, each one with separate dips, for optimum audio reflection. Discovery Television Center wanted nothing to affect the audio, so operators would be able to hear the audio that will air. A primary acoustical concern was the proximity to Miami International Airport and the effects of air traffic on the core areas. The building's physical structure and subsequent glass treatment played a large part in combating this.
Equipment and issues
Discovery Television Center works closely with the home office in Bethesda and typically upgrades as the demands of the network change. An Operations and Technology group meets on a regular basis to discuss everything from the latest server designs, asset management, technology and upgrades, to efficiencies and how to operate better and more cost effectively.
From that operational initiative, the Discovery Television Center has started creating technology that other branches are now using, including the development of audio file delivery via the Internet for their translation process. The old methodology required the center to receive a Spanish or Portuguese translation on DAT tape via courier (which would often get hung up or lost in customs). Now vendors utilize a customized protocol and transfer the MP3 files using the technology available via the Internet. Because Discovery is mono-mixed it is compatible with the translation files.
Approximately 300 companies create the programs for Discovery coming from Latin America and Europe, which results in varying tape quality. Discovery Television Center staff sets up programs for quality control 11 weeks in advance of the air date. They use Videotek's VTM-300 for automated quality control to ensure that DTVC's signals pass 75 points of test in video and audio before air.
The VTM-300 is used to check the tape before dubs are made and sent to the translation houses to create the different language tracks. Before installing the VTM-300, DTVC used to run quality control on three separate units, which caused integration concerns. With all three in one unit, DTVC has been able to streamline their operation and cut costs.
The DTVC added five edit suites to the three existing suites, including two online suites and a DS suite. The new suites allow DTVC to accommodate the increased need for its on-air promotion group and its international programming group's services. For offline editing they have six Avid suites, upgraded with Meridian to be able to handle true digital I/O.
For the edit suites, DTVC selected a combination of Sony equipment – a switcher, audio mixer and DME, as well as an Accom editor and DDR. DTVC required the flexibility to handle everything from complex video compositing to simple conform projects in both NTSC and PAL formats. Keeping everything in 601 was another consideration for quality. Finally, DTVC required the ability to keep up with peak workflow demands – therefore device sharing and routing were key factors in the design scheme.
On the audio production side, DTVC clients required a flexible format interchange allowing them to handle a variety of creative projects from M&E recreation to multiple language track recording.
The combination of a Pro Tools digital audio workstation and the Solid State Logic Scenaria gave the facility operators this flexibility. The design team, responsible for creating both print and broadcast, uses a combination of Discreet Logic Flint and Macintosh bundled with Photoshop, Quark and Maya 3D.
For broadcast operations, the short-term goal was to move into server technology (again keeping everything in 601) with the longer-term goal of sharing similar content as technology becomes available and asset management becomes more sophisticated. DTVC accomplished the first phase of this plan using Harris/Louth Automation and HP MediaStream servers. One of the challenges they anticipate in the near future is dealing with multiple language tracks in an efficient manner, so eventually DTVC envisions a server that houses the audio files for playout.
Lisa Hyams is director of operations and Pedro Villabona is a technical support manager for Discovery Television Center. (Additional reporting by JB Duke.)
The latest product and technology information
Future US's leading brands bring the most important, up-to-date information right to your inbox
Thank you for signing up to TV Tech. You will receive a verification email shortly.
There was a problem. Please refresh the page and try again.