SSL's C100 digital broadcast console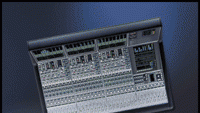 Canal+ has a 24-hour domestic news channel that uses 29 satellite news gathering vans, which are entirely journalist operated.

Digital technology has brought us an era in which productivity and operational efficiency have become the keystones that support the modern broadcast operation. These are also the essential criteria by which equipment investment is now measured. A scalable solution is the most efficient way to meet these challenges, while providing development potential for the future.
The issues of audio quality and reliability are, and always will be, of paramount importance in critical broadcast operations. The multichannel, interactive future requires new tools and a new approach from the console. Equally important now, however, is the versatility and user-friendliness of the equipment. Freelancers are now commonly required to perform complex broadcast operations at short notice.
These were some of the primary considerations that were considered by Solid State Logic (SSL) three years ago. The new C100 digital broadcast console is the its answer to these requirements. Designed specifically for on-air and live-to-tape applications, the console represents a departure from traditional SSL console control surface philosophy in that the console incorporates assignable, as well as dedicated, controls. We have achieved a compromise between the two modes of operation by providing a way for the operator to create dedicated controls for the functions that the production dictates. Essentially, assignable controls – with single functions in the case of this console – save valuable real estate where size is an issue.
For some operations though, assignable control isn't fast enough. This is where dedicated controls are necessary.
A new approach
The console's main control section features an interactive touch screen that is used with associated hardware controls to allow control of the console's 80 mix busses within a single bay width. This also means an operator is aware and in control of the system status at every move. Graphical displays guide the operator through the bussing options.
To further decrease setup time, the console's Netbridge interface allows offline console setup over a network from a simple graphical template. An operator can configure setups for shows or segments, and freelancers can work faster and more efficiently.
At the heart of the console is the new Centuri processing core, a fast, built-for-purpose processing engine designed for live use. The processing and all major system components are designed to address the demanding requirements of on-air operation. The self-healing DSP enables continued operation through intelligent processing monitoring, while key system components including fader cassettes have been designed to be hot-swappable. Redundant power supplies with automatic takeover have been incorporated and the system boots from cold in a matter of seconds.
Further operational stability is provided by the 15U airflow-mapped chassis and the ability of the bays to be powered down for servicing without affecting audio continuity.
Advanced broadcast architecture
The C100 addresses broadcasting's demand for inputs and outputs by providing up to 128 input channels and more than 80 output mix busses, including 48 busses designed to provide the numerous talent, production area and communication mixes that are now a standard requirement in program creation. (See Figure 1.) Productivity is further enhanced with 5.1, stereo and mono signal path configurations on all channels from source through to destination, which simplify re-versioning.

Figure 1. Advanced broadcast architecture is designed to provide the numerous mixes that are now a standard requirement in broadcast production.

The console's program, audio subgroup and aux busses all have dedicated processing, and any channel may be used as a bus master. Broadcast-specific features on the master channel include two independently configurable channel outputs for simultaneous N-1 feeds and parallel multichannel recording, fully adjustable signal delay, and separate talkback and tone buttons for channel outputs.
As broadcasters require their stand-alone equipment purchases to be readily integrated into complete production systems, comprehensive GPI tools on the console meet a wide range of practical integration applications, including audio-follow-video and advanced control to and from external equipment. A complex sports mix can now accurately follow the vision mixer for camera angle changes, while the operator retains control of the camera/mic level, commentators and all of the other production sources.
Audio-follow-video
The C100 incorporates the advantages of instant reset and takes this feature to a new level with SSL's proprietary control linking technology. This feature allows per-channel recall of default settings for a source when routed to an input, including format, bussing, GPI control and audio processing parameters. Control linking enables operators to save time by using previously stored setups and templates.
Furthermore, the advanced project management system provides further productivity benefits by combining control linking with snapshot automation for the storage and recall of global settings. Offline setup capability enables engineers to pre-configure the console for forthcoming sessions more comprehensively than before – including the Internet transfer of setup session templates via the Netbridge TCP/IP interface or by disk. Netbridge additionally facilitates optional full remote diagnostics over private or public networks.
In busy production environments, the C100's monitor section is fully equipped for fast and flexible monitoring of many different sources with dual independent monitor signal paths for main (5.1) and mini (stereo) outputs, and integral 5.1-to-stereo downmix for format checking with mono compatibility assurance.
One of the most significant broadcast advantages of the console lies in its scalability. While each console is built to order and tailored to specific technical and budgetary requirements, future expansion to the control surface, DSP and I/O may be accommodated through a clearly defined path. In this way, the productivity and working life of the console is readily extendable. This adds to the potential value of the investment while minimizing the initial cost. The C100 is designed for the digital broadcast challenges ahead.
Niall Feldman is director of product marketing for Solid State Logic.
The latest product and technology information
Future US's leading brands bring the most important, up-to-date information right to your inbox