Selling TV station bandwidth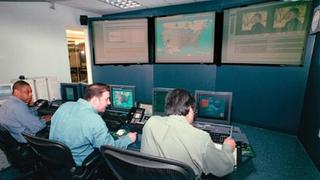 Technology is allowing stations to market products that traditionally have not been sent along the same lines as a station's signal.
In major markets — and more than a few smaller ones, by now — digital TV has made its grand entrance.
But while the industry transition is happening, it hasn't been cheap. Building what amounts to a second station, which is basically the order, costs between $2 million and $12 million and doesn't generate more revenue.
TV stations are searching for new streams to help pay for the digital transition, and the future is now. After all, 6MHz on the analog spectrum can only hold so much data, or program content, as the case has been.
But new technology is allowing stations to fit much more data into that bandwidth and gives them more flexibility to market products that traditionally have not been sent along the same lines as a station's signal, like downloadable DVD-quality movies, software and video games.
To call the advent of data broadcasting timely is an understatement, as it's hoped it will help offset costs at a pivotal time in the history of the TV medium. It shows stations can make those sorely needed incremental revenue increases, since the advertisers who have always driven the business model don't pay more for HD. It's not a picture quality thing for them — it's all about viewers. It also allows stations to compete for distribution dollars with the likes of UUNet, AT&T and even Federal Express. It's right around the corner, too.
The ABCs
Data broadcasting is really a way to allocate, and hopefully generate revenue from, the bits that broadcasters are not using (see ATSC standard A/90, at atsc.org).
Full-motion sports in HD, like hockey and basketball, are the most demanding in terms of bits, because movement is constant — taking about 90 percent of the 19.39Mb/s bit rate. An HD movie has much less motion and is therefore much less demanding, employing 60 percent of the bits. An HD news show would only demand about 30 percent of the bits. So the encoder changes the bit rate depending on the HD broadcast, often from program to program. HD program quality never suffers, and stations can then use the extra bits to provide data in addition to their regular programming.
As mentioned, the data can be many things: software, CAD drawings, medical images or business-to-business information, like catalogs. The idea is to make money by distributing this extra data and share it with the likes of data broadcast networks like iBlast or DTV Plus.
While manufacturers like Triveni and Skystream bring the technology to the table, iBlast and DTV Plus (owned by Capitol Broadcasting) are networks that deliver a range of broadband content using DTV bandwidth for the last mile. They are not buying and selling, because broadcasters own them. iBlast, for instance, is a collection of 22 of the nation's largest owners of TV stations like Post-Newsweek, Tribune, Cox, Gannett, etc., which aggregate for data transmission in a way analogous to what NBC does with TV programming.
The way these stations divvy up the bits varies. Some give iBlast less bits during HD and more during SD transmissions. The benefits are that stations experimenting with digital data transmission see what works and what doesn't. The other advantage would be the opportunity to share any revenue that might be gained.
There are two tiers of capacity: base (or fixed) level and additional incremental capacity.
A defined amount of capacity, the base level, is always present during HD or SD broadcasts. If a station transmits HD programs, it overtakes the incremental capacity and leaves the base level there. The primary idea would be to broadcast HD and the base level of iBlast data simultaneously. During non-HD transmissions, stations would broadcast more iBlast, or SD, data (meaning program content). The goal is to transmit a certain amount of additional data over the course of a day, depending on the program content that needs to be transmitted over the base level.
That is quite a change from the old days, when an analog broadcaster would produce analog content: some local, some national and some syndicated. Yet it's much the same thing today, just with different content. Today, content could be electronic books, files, encrypted films, etc.
Also, rather than distributing content on transportable media like DVD, in data broadcast networks it's transmitted and stored in the consumer's home on any device with a hard drive, such as TiVo, AOL TV, Ultimate TV or even a PC. The user needs only to equip his appliance of choice with an antenna and a DTV receiver, or cable.
Most of what services like iBlast, DTV Plus and the late Geocast provide is downloads of products like movies, software, catalogs, electronic newspapers and games to be stored in a device of choice along with streaming video or file downloads. Hard drives also are plummeting in cost, offering users more capacity for content.
In the end
Broadcasters' perspective on the spectrum they have available has changed. Rather than looking at it as 6MHz, they think of it as 19.39Mb/s. This allows them to send anything that will fit in that space, even simultaneously. No one can forecast the next decade of content distribution models, so firms are building a data broadcast architecture that is open to all possibilities. iBlast has been up since Jan. 1 of this year in technical trials. The commercial launch is set for the first quarter of 2002.
What this new technology boils down to is managing bandwidth. Like any business, it depends on where the economics lie. But the overriding factor, say insiders, is staying true to FCC and Congressional mandates to deliver HD programming, and only then for stations to accommodate commitments to data broadcasting networks. There is a budget to work with, but there also must be a balance. The economic model has to support the stations.
Mark R. Smith is a freelance writer and has covered broadcasting and post production for a decade. He resides in Odenton, MD, and can be reached atmsmith1277@aol.com.
Get the TV Tech Newsletter
The professional video industry's #1 source for news, trends and product and tech information. Sign up below.
Mark R. Smith has covered the media industry for a variety of industry publications, with his articles for TV Technology often focusing on sports. He's written numerous stories about all of the major U.S. sports leagues.
Based in the Baltimore-Washington area, the byline of Smith, who has also served as the long-time editor-in-chief for The Business Monthly, Columbia, Md., initially appeared in TV Technology and in another Futurenet publication, Mix, in the late '90s. His work has also appeared in numerous other publications.