Project Jupiter: The digital solution for BBC News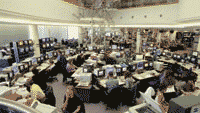 As part of Project Jupiter, BBC Technology centralized the video content for BBC News. Quantel supplied a generationQ news system, which acted as a scalable server solution uniting broadcast and browse under a single database.

The way that news is being compiled and distributed has under- gone a huge transformation in the last two to three years to meet the demands to deliver content fast and across multiple platforms. Twenty-four-hour news channels, radio, WAP, 3G, interactive TV and the Internet have all played a role in creating demand for an integrated end-to-end digital newsroom production solution. What are the challenges involved in developing and deploying a comprehensive digital solution? The BBC's Project Jupiter provides a blueprint for a system being created for BBC News.
The starting point
The requirement to deal with the increased volume of news material in terms of hours of output and format, as well as the need to re-version and re-purpose content across multiple sites, gave birth to the idea of creating a fully integrated system. It was one that had to be scalable, robust and able to cope with not only large volumes of data but high numbers of journalists and other newsroom users accessing the system and sub-systems simultaneously.
In the case of BBC News, it became apparent that the sheer growth in news output and the increase in news platforms dictated the need for change. Following an experimental pilot project in 2000, a comprehensive plan was developed to integrate many of the resources for each of its London Television Centre (TVC) operating arms. Until that point, each newsroom in TVC had its own separate infrastructure across national television news programming, BBC World and BBC News 24.
The problems
In 2001, discussions began between BBC News and the systems integrator regarding the TVC development. Both parties started planning the integration (which became known as Project Jupiter), knowing that it would require a real feat of engineering to design a systems integration package that could deal with up to 1 million messages per day. Scop-ing the extent of the problem and examining what was currently in existence was the first stage.

This diagram of the digital newsroom illustrates how BBC Technology and Quantel have streamlined news content management and the distribution process.

The scale of the project is enormous. In 2001, BBC News' output reached a total of 51,000 hours. In an average 24 hours, 300 hours of video and 200 hours of audio arrive at BBC News headquarters. However, the technologies currently in place create bottlenecks, with waiting time on tapes and queues for viewing desks and editing suites. Multiple physical copies of material are often made and transported around the building, and occasionally crews go out to re-shoot stories, unaware that suitable material already exists in another program area. The archive facility also relies on manual procedures to extract material from video archive.
The goal
A study was conducted to find out what journalists and newsroom users really wanted: primarily the ability to view media at their desktops; have access to and share material quickly across production teams while being able to view metadata about the media (information on rights, usage, embargoes, locations, etc); search and select from current and archive material; and see the media life cycle through editing, transmission and archive.
The solution
BBC Technology is developing a custom-built media asset management (MAM) system (which can support the BBC's metadata model) and a set of associated services. The aim of these services is to create an architecture that offers a service-orientated solution capable of handling future expansion and increased functionality, as well as handling and optimizing the legacy services and third-party components. In addition, they need to be resilient so that if one single component failed, it will not trigger system loss.
The system comprises several core elements, including a media management system to manipulate media or metadata and a gateway for communicating with external MOS-enabled systems and integrating with the newsrooms' existing ENPS services. In addition, there is a route management service that controls routing nodes and allows scheduled booking of an SDI route through to ingest/playout, as well as a scheduling service for accurate planning. To support this, an export function is being developed for exporting or streaming and a system for managing workflow automation. Furthermore, a sophisticated notification mechanism keeps users up-to-date on the status of media. All of these services are being engineered with SNMP instrumentation, allowing for fine-grained operational support.
To cater to the highly resilient nature of the News project, it will eventually be deployed on highly available Sun servers, clustered for maximum reliability. The database deployment will use Oracle technology with its seamless clustering solution, partnered with Sun.
In parallel with the lead integrator agreement with BBC Technology, BBC News carried out an EU procurement process, which selected Quantel to deliver craft and desktop editors, as well as provide video servers for 25Mb (MPEG-2) and 1.5Mb (MPEG-1).
All media components of the system are networked using the company's Clipnet gigabit Ethernet. However, desktop edit facilities are delivered on standard networks and low specification client machines. Ingest/editing comprises federated sQServers under the control of Quantel's scalable media control system. The media servers will provide a total of 500 hours' MPEG 25 and 500 hours' browse storage — enough to hold a typical 24 hours of material online, with plenty of overhead for 'spike' events and ongoing running stories.

Project Jupiter has digitized newsrooms, such as BBC News shown here, allowing media to be viewed on desktops quickly and easily.

Twenty-four ports are dedicated to media ingest. All of the stored media (browse and broadcast quality) on the sQServers is united under a single internal Quantel Integrated Server Automation database, and all material on any server is instantly available to any craft edit or journalist workstation. The database includes all the metadata relating to each piece of media held — vital for tracking rights, etc. The Jupiter Metadata Core, he automation system designed by the systems integrator, accesses this database for media management, archiving and metadata.
Complementing ingest/editing is a near-line store with a total of 800 hours each of broadcast and browse storage. The automation system manages bidirectional transfers between this and the ingest/editing servers, and also with the production servers.
Finished items are sent over to the transmission side of the operation, based on five sQServers — three 8-port, each with 24 hours' storage (MPEG-25), one 4-port and one 8-port, each with 20 hours' storage. From here, they are forwarded to the various BBC News 'clients' for transmission/distribution under the control of the system, such as National Bulletins, BBC News 24 and BBC World, as well as to the BBC's archive system. The combined solution will enable increased broadcast integration and automation based on resilient architecture for round-the-clock functionality.
Craig Dwyer is chief technology officer of BBC Technology.
The latest product and technology information
Future US's leading brands bring the most important, up-to-date information right to your inbox
Thank you for signing up to TV Tech. You will receive a verification email shortly.
There was a problem. Please refresh the page and try again.