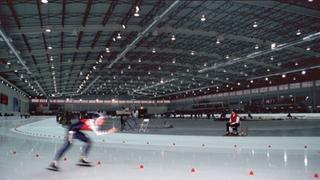 Accom will provide two turnkey broadcast equipment packages incorporating the Abekas 8150 Digital Vision mixer with Dveous digital video effects. The equipment will be used by the Finnish broadcaster YLE and the Norwegian broadcaster NRK. In addition, German broadcaster ZDF will utilize an eight-channel Abekas 6000 DTV video server during the Games.
Anton/Bauer has a multi-year Olympic agreement with NBC to provide for the network's portable power needs. A complement of HyTRON 100 batteries and InterActive 2000 PowerChargers from Anton/Bauer will be used in portable cameras and Ultralights for remote events.
Anton/Bauer will also be providing equipment to DVCPRO users before the Games and supplying Panasonic with backup support throughout. Canon will be the exclusive lens supplier for NBC's coverage of all the Olympic Games through the year 2008. The Clear-Com Q700 programmable, frequency-agile UHF wireless intercom will supplement communications system for both the Opening and Closing ceremonies. DNF will provide their DMAT and ST300 slow-motion controllers for use during the winter games.

A competitor skates at the World Single Distance Speed Skating Championships in the Utah Olympic Oval. ©2001 SLOC photo by Laura Schaffer. Photo courtesy Panasonic.

The DMAT will be used for instant replays of event highlights, and most of the production trucks at the Olympics will come equipped with DNF's ST300 slow-motion controller.
Dolby Digital 5.1 sound tasks will be provided through the DP562 digital decoder. Dolby Surround will be handled by their DP563 encoder. Dolby E will be used in selected locations. Dolby equipment will also be used in audio trucks at the Games, including the DP570 multichannel audio tool, the DP571/DP572 Dolby E encoder and decoder, and the DM100 bitstream analyzer. Editware's DPE-551 hybrid editor will be used in some edit suites in the Salt Palace convention center.
Evertz Microsystems will be supplying several key products including the 8010-SIE vertical interval SID encoders and Evertz' HD test generators, downconverters and distribution amps. Fujinon lenses are used on several of the mobile trucks including National Mobile Television, Southwest Television and Corplex Television. Corplex will also use Fujinon's OS-TECH image stabilization adapter at some locations.
At least 16 D/ESAM 8000s are located in various edit rooms along with the Editware DPE-551 edit controller, which incorporates the D/ESAM IV protocol.
HDNet will provide a delayed 1080i HD feed from the figure and speed skating events and the ski jumping competition. The network is using Ampex and Sony servers, and a Snell & Wilcox switcher fed by Sony cameras. The new Sencore TS3030 HD server will handle the delayed playback. Packaging the digital program material will be Divicom and Tiernan encoders.
Microwave Radio Communications and Northwest Communications Systems are supplying some affiliates with CodeRunner equipment for live coverage of the Olympic torch relay.
At the heart of Olympic coverage will be Panasonic's 50 Mbits/s DVCPRO50 format. Panasonic will supply more than 250 DVCPRO50 recorders, 50 digital cameras and more than 900 monitors. Key Panasonic equipment includes: AJ-D910WA 2/3" DVCPRO camcorders, AJ-D960 DVCPRO50 studio editing slow-motion VTRs, AJ-D950 DVCPRO50 studio editing VTRs, AJ-LT95 DVCPRO50 laptop editing systems, AJ-D940 DVCPRO50 studio players, AJ-D95DC DVCPRO50 portable AC/DC VTRs, AJ-HD3700 multiformat D-5 HD VTRs, AJ-D610WA 16:9/4:3 camcorders, AW-E600 ½" remote-controllable "box" type cameras, and a total of 35 Ramsa sound systems at 14 different locations.
Panasonic also will provide 16 Astrovision giant video screens in the main stadium, at the Olympic Medals Plaza during medal presentations and at other competition venues, as well as for public areas around Salt Lake City and Park City, UT.
Pinnacle Systems has supplied their Thunder and FX Deko II systems. Several flight packs will feature Ross Synergy digital production switchers and RossGear terminal equipment. The packages include GVG 100 or 110 control panels that have been upgraded to digital with the Ross Synergy 1 digital frame.
Snell & Wilcox will provide much of the standards conversion equipment necessary to feed broadcasters outside North America. Seven Network Australia will employ a Snell & Wilcox Alchemist Ph.C TX standards converter.
A Snell & Wilcox Mach 1 will feed C7, Australia's cable sports network. The Mach 1 will also be used extensively in the Swiss Broadcast Center, the European Broadcast Union (EBU), ZDF and in France. The broadcast facility for German broadcasters has a full complement of Snell & Wilcox IQ modular products, RollCall network management system, Mach 1 standards converters and production switchers. The German host broadcaster will be broadcasting events in widescreen, using the Snell & Wilcox ARC aspect ratio converters. Other products in use include the Snell's SD1512 switcher and IQ modular products.
The 2002 Winter Olympics will rely heavily on Sony's new MVS 8000 production switcher. Three 8000s will be used, two for live feeds from the International Sports Broadcasting complex and one for post work.
NBC will also be using the latest Sony eight-channel MPEG IMX editing recorder with the MAV-555 video server. Telecast Fiber Systems will supply the Viper II modular communications platform and Adder multiplexers. They will be used to provide coverage of the Opening and Closing as well as the alpine skiing, snowboarding and freestyle aerial events at the Park City Mountain Resort, Snowbasin Ski Area and Deer Valley Resort.
Telex is providing a 464-port RTS ADAM intercom system, complete with their custom "Override IFB," which allows the senior producer to override all other overrides. Intercom feeds are trunked to remote facilities in NYC and Redmond, permitting those facilities to have immediate access to SLC. The trunked data and audio will be run over T-1 lines.
Telex has also provided eight Zeus matrices and wireless intercom systems to CP Communications. Thomson Multimedia will supply 10 LDK 23HS MKII high-speed super-slow-motion cameras. The cameras will be linked via triax to an EVS slow-motion system.
Thomson is also providing their 24-hour "Service Pit-Stop" Olympic support program for cameras, production switchers, routing switchers, control systems and master control switchers. The service provides loaner equipment, test equipment, on-site repair, spare parts, software upgrades, telephones and Internet access for Service Pit Stop members.
Vela is providing their IDS line of integrated, inter-networked distribution products. Included in the package are Vela analog and digital video DAs, monitoring equipment and software.
Larry Bloomfield is a consultant in the broadcast industry.
The latest product and technology information
Future US's leading brands bring the most important, up-to-date information right to your inbox
Thank you for signing up to TV Tech. You will receive a verification email shortly.
There was a problem. Please refresh the page and try again.