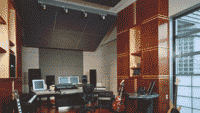 NFL Films offers a range of audio services, including music composition, scoring, editing, mixing, location recording, dialogue cleanup, sound effects, transfer, live recording, audio for DVD-video, record production, re-recording, and archiving for clients like HBO, ESPN, FOX, History Channel, A&E, and Sony Music. NFL Films is a busy place, and they don't just do football.

In addition to football, NFL Films offers a wide range of audio services. Photos courtesy Russ Berger Design Group.

It's hard to imagine that before NFL Films' new complex was completed in July, these activities took place in a patchwork collection of 1986-style rooms.
In 1995, Jerry Mahler, vice president of audio, approached the executive team and explained that he needed another mix suite. It was evident that both video and audio were outgrowing their space. The only decision was whether to tack on or build anew.
NFL films hired The Staubach Company for project management and feasibility studies. After the building team garnered League approval, they began scouting locations and viewing possible floor plans. Nobody on the team could have foreseen the complexity of the four-year project.
Groundbreaking took place in Mt. Laurel, NJ, in July 1999. As it stands today, the 200,000-square-foot NFL Films plaza consists of a technical wing and an administration wing, bridged by a two-story glass-and-steel connector. The Russ Berger Design Group (www.rbdg.com), which has enjoyed a 15-year relationship with NFL Films, designed the entire project, interior and exterior.
Video and audio each occupy a leg of a T-shape, and each is based around a central machine room. Because it is cheaper to build up than out, it was determined early on that all rooms that demanded isolation, including the online video edit suites (which have identical acoustic specs as the audio premix rooms), would be on the first floor. Anything else, including telecine and the massive UPS system, would be bumped upstairs. Surrounding the audio central machine room are 14 rooms, all of which are isolated and have windows and floating floors (save Studio D, the dubbing stage).
Wire management and CMR
Once NFL Films signed off on floor plans, construction began in earnest. Wire management was being developed as plans were being finalized. The only thing NFL Films knew at the beginning was that a central machine room was needed, if only for video laybacks. They wanted it soffited against the walls with a rear entrance for technicians. But after looking at the way they produce programs ¡ª where five rooms might be working on a project simultaneously and mixers might hop from an SSL Avant to a 9000 to an 8000 to a Sony DMX-R100 in the course of a single day ¡ª shared resources became paramount.

The NFL Films control room pulls triple duty on tracking, mixing and re-recording dates.

So NFL Films chose a central router consisting of an NVision NV3512 512¡Á512 75¦¸ AES frame, an EnVoy 6128 128¡Á128 serial digital video frame, an NV7256 256¡Á256 time code frame and an NV3256 256-port serial control frame. All of the patch panels in all of the rooms are set up identically and mirror the CMR patchbay. In addition, the CMR houses a Fairlight Medialink server with just over half a terabyte of RAID 5 storage to accommodate 18 Fairlight QDCs and Audiobase, the library search system from mSoft.
The unique wiring scheme is essentially built around a system of pits, tubes and troughs. Six four-foot-deep pits were strategically placed to connect all 14 audio rooms, with access to the video wing across the hall. Through these pits runs a system of six 6-inch PVC pipes, which in turn lead into local machine rooms (all located in the hallways) and a series of troughs running into the rooms.
Floating floors were poured to flatness and tolerance levels that the contractors had never seen before, walls began going up and rooms were finalized. Meanwhile, an entire working facility was going full speed three miles away, and executives were trying to plan a piecemeal move that wouldn't interrupt their seasonal workflow. It was decided in summer 2001 to put all contractors into the administration building so the staff and producers could move in and leave post intact off-site. Later, all resources would be concentrated on the technical building.
Then, last December, three months away from the move-in date, NFL Films took on the final stage of system integration ¡ª the off-site prep work was handled by The Systems Group.
Starting after the Super Bowl last January, the NFL Films audio staff began the wiring and cable pulling. First to go in was the CMR. It was to be followed by Studio A because that was all new equipment. But because of the need to get the previous season's highlight reels finished, plans flip-flopped and it was decided that the two premix rooms, two transfer rooms and four music editing suites needed to be up and running. Mixing would stay at the old facility. This meant no vacations for the crew. The advantage? The engineers knew every wire in the building.
Studio A
What was supposed to be the first room up, Studio A, turned out to be the final piece of the puzzle. With all due respect to Studio D, the theatrical-style, multiformat, SSL Avant-equipped re-recording room, Studio A is the crown jewel of NFL Films. Five custom-designed mic panels make for smooth and quick setup. And the sound of the space, while still being experimented with, is accurate and true.
Inside the control room, which must pull triple duty on tracking, mixing and re-recording dates, sits an 80-in SSL 9000 J Series console with an NFL Films custom scoring panel. There are 72 channels of Fairlight QDC, 64 channels of Pro Tools, a Studer analog 24-track and DLP projection with source switching among multiple video formats. Monitoring is through PMC BB5 mains powered by Bryston 7B and 4B amps. NFL Films had made the switch to Bryston power about eight years back. The PMCs are new, and either BB5s or IB1s now sit in all rooms, with the smaller speakers and the video displays on monitor lifts.
This discussion doesn't even include the video end of the operation, which dwarfs the audio side and includes a modern film lab, six telecine bays and a 60-seat Avid plant on a Unity server with 7TB of storage.
Tom Kenny is the editor of Mix magazine.
The latest product and technology information
Future US's leading brands bring the most important, up-to-date information right to your inbox
Thank you for signing up to TV Tech. You will receive a verification email shortly.
There was a problem. Please refresh the page and try again.