Lessons Learned about Centralcasting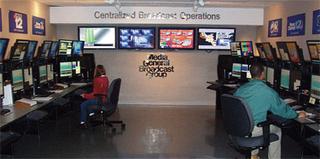 RICHMOND, VA.
Media General is a centralcasting veteran. Since Spring 2004, the station group owner has operated a 10-station (CBS, CW and ABC affiliates) centralcasting hub in Spartanburg, S.C. Two-and-a-half years later, Media General consolidated its remaining eight stations (all NBC affiliates) onto a centralcasting hub based in Columbus, Ohio. Today, all 18 Media General stations are managed from just two hubs.

"We have learned a tremendous amount about centralcasting in the past five years," said Matt Heffernan, Media General's GM of Central Broadcast Operations. "If we had to build another centralcasting hub today, I don't think we'd change much, because what we've come up with works."

UNIQUE APPROACH

Typically, centralcasting hubs function as a content server to local TV stations. From a single location, the hub feeds everything the station needs to air—programs, commercials and promos—at most leaving open time blocks where local news can be produced live using local master control facilities. However, "Media General's hubs operate under a 'monitor and control' concept," said Heffernan. In this approach, "monitoring/control of station automation, transmitters and EAS is performed centrally while all hardware [switchers and video servers] and media [programs , commercials and promos] remain intact at each local station."


Media General's Spartanburg hub Media General's centralcasting operation is controlled by a central data server housed at the Spartanburg hub. It has the database information associated with all 18 stations, including those monitored and controlled by the Columbus hub. "We have a backup data server located in Richmond and each station's unique records are also stored on a local data server at each station," Heffernan said. Spartanburg also controls satellite-based program ingest for Media General using Florical's Showtimer Automated Satellite Program Acquisition system to manage routing, tuning, server start/stops and antenna movements. Pathfire-acquired programs are managed by a Showtimer System at the Columbus hub.

"Utilizing the central control of program acquisition, we are able to have one Media Content Manager database a particular program for the entire group," Heffernan said. "For instance if eight stations are all airing Oprah, we only have to time that program once and then that database information is saved to the central server for use by all stations."

To interconnect the stations' playout equipment with their respective hubs, Media General uses Florical Systems Automation along with Grass Valley M-Series 122 and 222 servers, plus SeaChange servers at two stations. Off-air signals are monitored using VBrick Systems M-PEG-4 encoders/decoders and Harris Sage Endec EAS equipped with ENDEC DJ software for remote control of EAS.

As for staffing, "each hub is staffed with 10 broadcast operations controllers and one supervisor," Heffernan said. "Typically two controllers are on duty on a given shift. (This can be increased if particular programming scenarios require it.) Each of our stations has a media content manager responsible for managing the content for their stations."

In other words, 18 stations' on-air content is managed by 24 people—four Controllers and 18 Content Managers—at any given time. That works out to 1.3 people per station; a far cry from the 5-6 people that are required by a conventional standalone master control room.

UNCHARTED TURF

When Media General decided to create its first centralcasting hub in 2004, expert advice was hard to find. "No one had built a centralcasting hub using this distributed model," Heffernan said. "So we pretty well had to work it out by ourselves."

To mitigate being on the bleeding edge of technology, Media General moved slowly in building its Spartanburg hub. "We did careful, deliberate steps," he said. "Although we had a schedule that we wanted to meet, we didn't let it be the determining factor. Instead, when we hit a problem, we stopped and fixed it before going to the next step." As a result of this approach, the company didn't run into major problems: "We did have some minor acquisition issues with Florical Showtimer system because we were working with Grass Valley's then-new M-series servers, but we worked our way through it."

Staff training was another challenge, because "no one at Media General had any centralcasting operational experience back in 2004," Heffernan said. "Most of our new staff were former master control operators who had to be trained in this new environment."

Adding to the job was the need to factually identify what master control operators actually did at their respective stations, as opposed to what their job descriptions covered. "In addition to keeping the station running, many master control operators were manning the backdoor for deliveries and keeping an eye on station security," he said. "We couldn't just pull them off the job without ensuring that someone else on-site was going to take over these non-broadcast duties. We also had to ensure that the people left at the station—both the Media Content Manager and the news staff—would be able to handle local cut-ins when scheduled. We couldn't afford any surprises once the transition to centralcasting had taken place."

In the course of training the first wave of controllers, Matt Heffernan welcomed and received constant feedback from his staff. "I believe in the value of two-way communication," he explained. "If there was a problem with the new workflow we had devised, I wanted to hear about it from the people who have to make our systems work." Not only did this feedback result in better operating procedures when Spartanburg signed on, but it built confidence in the controllers and their ability to handle this new form of monitoring and control.

The payoff for this slow, careful approach was that when it came time to build the Columbus Hub in 2006, "we had a very good idea what to do," Heffernan said. "Granted, there were improvements in technology that had occurred since 2004, but the overall system developed so painstakingly for Spartanburg, [it] was relatively easy to deploy in Columbus. As well, the fact that we could use the same approach allowed us to have our Spartanburg staff train new controllers for Columbus, and play a lead role on-site in launching it."


The latest product and technology information
Future US's leading brands bring the most important, up-to-date information right to your inbox
Thank you for signing up to TV Tech. You will receive a verification email shortly.
There was a problem. Please refresh the page and try again.