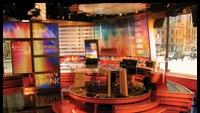 Since the 1980s, CNN has been expanding their international news organization beyond their original Atlanta location to include facilities around the globe. The latest move involved the renovation and construction of two facilities in New York City to accommodate news shows built around Connie Chung and Paula Zahn. The Systems Group was appointed to help plan and execute the project, which included the renovation of the CNN facility at 5 Penn Plaza and the construction of the new street-front studio located in the Time Life Building in midtown Manhattan.

CNN's new street-front studio provides high-profile studio space for news shows built around Connie Chung and Paula Zahn.

Early in the planning process for the 5 Penn Plaza project, CNN announced plans to create the new studio facility in the former Time Life building and have it controlled remotely from the 5 Penn location.
The Time Life studio was designed to give the news shows dedicated, high-profile studio space, with two sides of glass for public exposure to Sixth Avenue and the associated plaza. Sony HDC-950 video cameras mounted on Vinten Quattro studio pedestals are employed to provide the studios with HD capability for the future, as well as SD quality for the initial launch. A Yamaha O2R digital audio mixer fulfills the audio production duties.
The Systems Group and CNN engineering teams worked together to upgrade two production control rooms and expand the routing connectivity feeds to two smaller existing studios. Thomson Grass Valley 4000 three-M/E production switchers were chosen for the facility, deployed along with a Thomson Trinix SDI video router with a 256×256 channel matrix and active carding for a 192×192 matrix. A Venus analog audio router with active carding for a 256×256 matrix was also installed. Sony PVM and BVM video monitors using Telex KP32 intercom key panels for communication were installed in the two facilities.
The new systems were cut into the existing on-air operation in a highly coordinated manner with no impact to the home viewer. Each room in Penn Plaza was transitioned individually and tested, allowing the engineers to shadow the signal path for both analog and digital systems while remaining on the air.
Design team
CNN:
Jeff Gershgorn, director of engineering, CNN New York/CNNfn
Jesse Spilka, engineering manager, CNN New York
Dave Slack, VP, implementation and planning, CNN Technology Development Tim Sloan, technology implementation manager, CNN Technology Development
The Systems Group:
John Zulick, engineer
John Holt, senior engineer
Paul Rogalinski, senior project manager
Darwin Clermont and D.J. Rice, installation supervisors
Steve Losquadro and Hemant Ganesh, lead technicians
Equipment list
Thomson Grass Valley
Trinix SDI video router 256×256
Venus analog audio router three-M/E production switchers
Yamaha O2R digital audio mixer
Vinten Quattro studio pedestals
Telex intercom key panels KP32
Sony
HDC-950 cameras
PVM and BVM video monitors
The latest product and technology information
Future US's leading brands bring the most important, up-to-date information right to your inbox
Thank you for signing up to TV Tech. You will receive a verification email shortly.
There was a problem. Please refresh the page and try again.