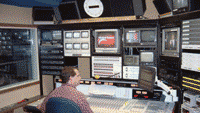 Henry Brown, Senior Audio Operator at CanWest Global, works at the facility's new Wheatstone TV-80 console.

CanWest Global Communications is an international media company that owns, operates and/or holds substantial interests in conventional television, specialty cable channels, newspapers, out-of-home advertising, radio networks and Internet portals in Canada, New Zealand, Australia, Ireland and the United Kingdom. The company's main audio control room recently underwent a significant expansion as part of a larger project to enhance the organization's live news capabilities. Global News has a strong commitment to live news, and it was quickly determined that a stronger audio console was needed to support the increased news coverage. The studio had been functioning with a 14 year-old outdated, analog board with limited resources that had developed numerous intermittents that were affecting the on-air product.
The installation team was challenged with the task of moving the old board out and finding a new board that would accommodate the facility's increased requirements. An additional goal was to anticipate the growth of its news services, including a morning show and increased network responsibility. A search-and-evaluation process was launched that brought numerous broadcast console manufacturers to the facility.
After studying our options, Wheatstone was our favorite for this application, but we wanted the audio engineers operating the equipment to be involved in the final decision. Wheatstone was the operators' choice as well, so following the lead of our sister station BCTV in Burnaby, BC, we chose a Wheatstone TV-80 audio console. BCTV recently installed the console to support its "Sports Page" program.
A tour of Wheatstone's facility in New Bern, NC, increased our comfort level. Wheatstone arranged to have a TV-80 available so we could become familiar with its performance and operations.
Our next challenges were time and space. We were in the middle of a serious upgrade that needed to be accomplished in short order. In addition, we had to remain on-air during construction, which we did with a side-by-side temporary console while we removed the old one. The cutover had to be seamless. We formulated a strategy that required some extra effort but proved extremely effective. Using Styrofoam and cardboard, our staging department fabricated an exact copy of the control room, including all the equipment.
The console was placed in the "mock" studio when it arrived, enabling our operators to train in an artificial but realistic environment, familiarize themselves with the console, and address all operational issues prior to going live with it. It served as a kind of dress rehearsal and helped minimize the learning curve. The "mock" environment also gave us the opportunity to maximize the design of the room. We were able to perfect the layout and obtain the look we wanted before anything was bolted down and wired in the new studio.
Because of our significant increase in live news production, the console's dedicated IFB mix-minus buses were attractive features for us. The upgrade has resulted in a huge live news element, including a helicopter program, a microwave truck, a satellite truck and fiber hookups. We now produce between six and 10 live remotes in each half-hour program, and the ample mix-minuses have given our reporters the ability to communicate with the station as well as the ability to hear each other. This feature strengthens the reporters' participation in the newscast, an invaluable tool for a news-intensive broadcaster in the highly competitive market of Toronto.
The console offers a sturdy mechanical design capable of sending two stereo master and two mono master feeds to the network if necessary. We can create more stereo or mono outputs simultaneously than we usually need with its available group, masters and aux outputs.
The console has created a stronger audio environment for CanWest's news operation.
Bob Burns is director of technical services, and John McEwen is a technical producer, for CanWest Global.
Get the TV Tech Newsletter
The professional video industry's #1 source for news, trends and product and tech information. Sign up below.