A new twist on the broadcast paint box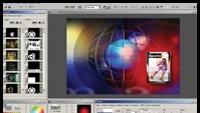 Reports of the death of the broadcast paint box have been greatly exaggerated. For a while, however, it seemed the disappearance of these types of graphics systems from the market appeared imminent. In recent years, many professionals have turned their attention to non-industry-specific graphics packages such as Photoshop, which are low-cost and provide access to hundreds of cool third-party plug-ins.

Figure 1. VDS' Twister Paint Station integrates into broadcast production environments by offering a variety of broadcast-specific features in addition to functions found in other paint applications.

However, while these applications can serve as excellent general-purpose graphics tools, they often fall far short of integrating into the production scheme of a typical broadcast graphics environment. One solution is to employ a host of other applications, but this requires users to spend large amounts of time importing and exporting files. Then there are also aspect ratio issues to address. The demands on today's television graphics departments are extreme, and the method that calls for the least amount of button pressing paves the road to increased productivity.
VDS' next-generation broadcast paint product, Twister Paint Station, offers another solution. The complete, Windows-compatible graphics application is designed specifically for broadcasters. The key goals in its design were ensuring a user interface that was clean, intuitive and fast, while offering features like R/W Photoshop layers, direct connection to and file support for most industry-standard devices. The application also supports 3-D paste image and mask layers, Photoshop plug-ins, video grab to canvas, and real-time paint show to video. Chyron's Lyric text plug-in is used for text generation, allowing the operator to create Lyric-compatible layer files.
The software is resolution-independent, and the operator can easily switch from analog to digital, NTSC to PAL, or SD to HD. The resolution settings are user-configurable for custom resolutions and the aspect correction is automatic, eliminating the need to "create" in one resolution and "save as" in another.
The application delivers the paint features found in most paint applications and adds many vital broadcast production features. (See Figure 1.) The operator can route broadcast-quality SDI video into the Twister PS I/O by way of the Chyron Digital pcCODI board and have the video appear directly on the graphics system's canvas. From there, the artist can then grab an image, treat it using the image tools library or any of the hundreds of available Photoshop plug-ins, add graphics and layers, add text or shadows, and then output the composited image back through the digital pcCODI card's SDI I/O with key.
Images can also be saved over a network to a still store, character generator, NLE or video server as a native file, all while working in proper video aspect with built-in safe title/action generator and illegal color suppression options. The application can even update the applicable database information. The application is available in plug-in form for products like Chyron Lyric, offering sophisticated paint and graphics creation tools to Windows-based applications. VDS is also planning to release a 64-bit version later in 2003, complete with rotoscoping features for comprehensive film effects work using the Cineon file format.
D.R. Worthington is director of marketing and product development for Video Design Software.
Get the TV Tech Newsletter
The professional video industry's #1 source for news, trends and product and tech information. Sign up below.