The Many Varieties of TV Tech at CES 2023
A look at wireless displays, NextGen TV and immersive audio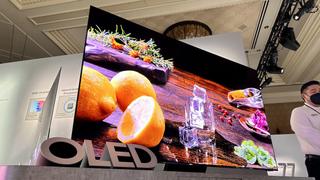 (Image credit: Future)
LAS VEGAS—For the first time since 2020, I was back attending the CES in Las Vegas and once again on the lookout for all things related to NextGen TV. But while my mission was to investigate NextGen TV, I had no expectations of seeing banners and displays at any manufacturer's booth touting ATSC 3.0.
I had a discussion with ATSC President Madeleine Noland at its booth, which was designed to act as the source of all things ATSC. Over the years, CES has greatly expanded its focus, showing all kinds of technologies and while there may be a theme to the overall show, it is unusual to have any single technology permeate the event—which is why having an ATSC presence at the show is vital. My experience has been that even if there is a hot technology at the show, that doesn't guarantee it will be a hit or last…3DTV comes to mind.
On day one of the show, I, along with my colleagues Merrill Weiss, Karl Paulsen, set out to look at displays. This is kind of the habit that the three of us got into pre-pandemic and I was happy to pick it back up. While we all know that NextGen TV capabilities can and will extend beyond the traditional TV set, there is no doubt that the initial first impact will be through the television whether it is by true UHD or 1080p with HDR and immersive sound.
New Wireless Tech
Our first stop was LG where the big item was the 97-inch LG Signature OLED M Wireless TV. This 4K display was absolutely beautiful when it came to delivering picture quality but what set it apart was the separate AV interface box that wirelessly connected to the display eliminating all of the HDMI, RF, and audio/video cabling. The control head can be placed in a discrete location and only a power connection needs to be run to the display, certainly simplifying and enabling a very clean installation. Judging from all the accolades that this display received, I am not alone at being impressed.
LG wasn't the only "wireless" television offering on the floor. Displace, a smaller manufacturer was showing a true wireless television that not only removed all the signal cables but also the power cable as well. The 55-inch display is powered by up to four large hot swappable batteries located at the corners of the display. The control head wasn't on display but is essentially a computer that connects to the set using Wi-Fi 6e.
The display incorporated a camera and uses hand gestures for remote control as well as seamless transitioning from one Displace display to another as one travels around the home. According to the booth personnel that I spoke with, assuming one watched the TV for six hours a day, the batteries would last 30 days. The set will also work with only one battery.
Probably the standout display technology from my CES experience was Hisense. They had a wide array of mini-LED televisions that had amazing visual performance. Obviously, the content shown was designed to demonstrate the exceptional performance of the mini-LED's as were all of the other manufacturers, but there was just something about their displays that made them noticeably more vibrant. I spent time in their living room showcase where, in addition to demonstrating Dolby Atmos, Dolby Vision IQ, and Technicolor Advanced HDR, they were also showing NextGen TV reception of the local Sinclair station in Las Vegas.
New in NextGen TV
I have a personal and professional interest in wanting to know more about NextGen TV gateway devices and set-top boxes. The Des Moines market is getting ready to turn on ATSC 3.0 in March and Iowa PBS's KDIN is one of the stations slated to participate. As with the DTV conversion, many viewers will want to have a way to receive NextGen TV and display it on their existing television and wireless devices.
At home I have a pair of Silicon Dust HDHomeRun units (which support 3.0), feeding into my home network, but these devices do not have HDMI outputs for connecting directly to a set which I think is critical to widespread adoption. In the ATSC booth it was good to see several working set-top boxes as well as some true dongle devices, all selectable on a real display. While not all the units on display were shipping, there didn't appear to be any science experiments in the case, just well thought-out products.
Immersive Audio
Two of the tangential demonstrations that I got to experience were demonstrations of both Atmos and MPEG-H immersive audio in vehicles. The first was the Dolby Atmos demonstration which was amazing. In many of the audio journals and magazines I have read about recording studios converting to Atmos and creating immersive mixes, but this was my first chance to experience the finished product.
Sitting in a Mercedes EQS listening was a little overwhelming, so I didn't think of my questions until much later. Towards the end of the day, I had a demonstration of immersive MPEG-H audio in an Audi at the Fraunhofer exhibit. Again, the demonstration was impressive, but I was a little more prepared to ask questions.
Talking with the Fraunhofer engineer I was amazed to find out that an MPEG-H immersive audio feed like the one I had just experienced consumed about 300 kilobits of data capacity. While I know there are back-office data businesses that are under consideration for NextGen TV, perhaps among the services to be considered might be some immersive audio. Classical music has never drawn a huge audience, but it has drawn a small but loyal listenership that may not want to subscribe to a paid service, but they do send in thank you gifts.
For me personally, I am hoping for an Atmos or MPEG-H remix of Dark Side of the Moon. "There is no dark side of the moon really. Matter of fact it's all dark."
The latest product and technology information
Future US's leading brands bring the most important, up-to-date information right to your inbox
Bill Hayes, director of engineering and technology for Iowa PBS, has been at the forefront of broadcast TV technology for 40 years, 23 of them at Iowa PBS. He's served as president of IEEE's Broadcast Technology Society, is a Partnership Board Member of the International Broadcasting Convention (IBC) and has contributed extensively to SMPTE and ATSC. He is a recipient of Future's 2021 Tech Leadership Award.
The latest product and technology information
Thank you for signing up to TV Tech. You will receive a verification email shortly.
There was a problem. Please refresh the page and try again.