Sound Devices ships CL-8 Controller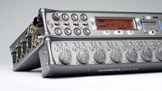 Sound Devices has begun shipping its CL-8 Controller, a mixing control surface companion for its new 788T digital eight-track recorder.
The CL-8 adds capabilities to the 788T without significantly increasing its weight, making it adaptable to a variety of field productions. Along with the availability of the CL-8, the 788T has been upgraded to 12 recording tracks for all 788T users with the latest firmware.
With the new revision of firmware and the CL-8, a user can record each input as eight isolated tracks as well as two stereo mix tracks and Aux 1 and Aux 2.
The CL-8 features eight large, rotary faders to control the eight inputs of the 788T. It offers command over numerous input settings, including high-pass filter, limiter and polarity. When used with the CL-8, the original 788T input controls function as input trims, and the CL-8 provides fader control. To ensure accurate and clear marking of tracks, the CL-8 is able to manage the 788T's built-in slate mic.
For more information, visit www.sounddevices.com.