Dielectric to receive Tech/Engineering Emmy for ATSC RF filters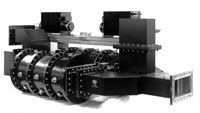 The National Academy of Television Arts and Sciences last month announced it will present Dielectric Communications with a Technology and Engineering Emmy Award at an awards ceremony Jan. 7, 2008, during the International Consumer Electronics Show (CES) in Las Vegas.
The award recognizes Dielectric's accomplishments in designing ATSC broadcast transmission system RF filters. Dielectric's ATSC transmission filters support two distinct functions within a broadcaster's toolkit. Most notably, the filters eliminate spurious emissions that the transmitter may generate outside of a station's allotted channel of operation, keeping the transmission system FCC compliant. In addition, the filters eliminate interference from neighboring stations by absorbing out-of-band emissions coming from other broadcasters.
For more information, visit: www.dielectric.com.