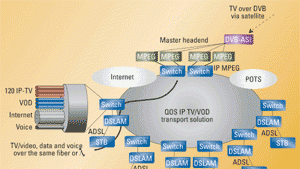 According to Cahners InStat Group, over 23 million households worldwide will subscribe to video over xDSL by 2005. Already, we have seen independent operating companies (IOCs) and ILECs starting to implement triple-play services (voice, Internet, broadcast TV, video on demand, near video on demand, etc.) over xDSL.
Cable MSOs, starting to offer triple-play services, have become serious contenders. Telecom operators need to challenge this threat, and have realized the potential business opportunity in offering new and existing services over a single infrastructure.
The challenge lies in continuing to cut costs on the traditional services while enabling new video services with high quality. When a subscriber has purchased a film, they expect that it will be delivered with full quality, otherwise the service will not be successful. TV/video, and especially video on demand (VoD), can seriously degrade the performance of the telecommunications infrastructure. VoD requires a lot of capacity in the network and can easily represent over three-fourths of the traffic in triple-play networks. In today's IP data networks, no resources are allocated before a video stream is set up, and resources are not fixed to certain users as they are in telephony networks. Instead, a temporary overload situation could occur if several users are up at the same time, resulting in quality distortions for many users. To avoid this, providers have overprovisioned their networks as much as six or seven times, resulting in low margins and long payback times to implement these services.
Enabling quality of service (QoS) in IP networks, even when the majority of the traffic is real-time video, has become the new, real challenge when building triple-play access networks. Without putting restrictions on the engineering of the network (such as the number of hops, topology, etc.), it is possible to get as low as 10 percent to 20 percent utilization in the telecommunications network when trying to maintain the QoS needed for video services. However, new innovative approaches combining the best in IP and TDM networks can offer 100 percent QoS in combination with more than 90 percent utilization (see Figure 1). Since this dramatically reduces CAPEX both in terms of equipment and fiber/WDM infrastructure, the ROI improves dramatically.

Figure 1. This QoS solution enables video, data and voice transmission over one fiber to provide high-quality VOD and video-related services.

With TDM QoS, the quality for the video streams is guaranteed, as in the telephony network, and is not affected by other traffic, e.g., when a neighbor starts downloading large amounts of material over the Internet. By combining this with an optical control plane, a very cost-effective QoS IP solution for triple-play networks is achieved.
The control plane, for example using generalized multi-protocol label switching (GMPLS) allows e.g., the VOD server to initiate a channel for the requested video, on demand. This simplifies provisioning and makes it possible to get higher utilization of the resources. GMPLS is being standardized as a common control plane for multi-vendor, multi-layer networks. With GMPLS you can control your network from packets, over TDM channels down to wavelengths and fibers.
To conclude, the convergence between voice, video and data service is posing both a threat and an opportunity to the telecom operators. In order to not lose business to cable operators and satellite providers, it is a road most need to take. To overcome the QoS bottlenecks in this migration, new innovative approaches using GMPLS-like control planes and TDM IP QoS are being increasingly used for enabling triple-play networks with VOD over xDSL.
Per Lindgren is vice president of business development, and Christer Bohm is chief technical officer, of Net Insight.
Get the TV Tech Newsletter
The professional video industry's #1 source for news, trends and product and tech information. Sign up below.