Speaking the Language of Integration
In a media ecosystem where solutions are developed by multiple vendors, APIs are the connections that hold everything together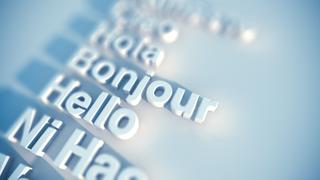 (Image credit: Adobe Stock)
Across the media landscape, from storage, to metadata, to transcoding and editing, post-production workflows need to be connected together. But as the industry transitions to the cloud, broadcast services and infrastructure are becoming increasingly fragmented.
Many large media companies are choosing a mix and match approach, selecting the tools and solutions that best fit the needs of different departments. This makes sense of course. With no two workflows the same, organizations need technology to be tailored to specific business requirements.
Historically the only way to achieve this level of customization was through bespoke development. But now as trends lean towards productization, Software as a Service, and Infrastructure as a Service, it's possible to mix out-of-the-box solutions with custom elements.
The challenges come, however, when sections of the chain don't fit together well. Without the right connections, there is no synergy within media infrastructure and APIs won't mesh properly. This results in a lot of miscommunication. Users can request what they need, but workflows won't be able to deliver. Which inevitably results in workarounds, that will ultimately compromise the system.
Language Comprehension
The media and broadcast chain is defined by complexity. In an ecosystem where solutions are developed by multiple vendors, APIs are the connections that hold everything together. Occasionally described as a "contract" between a provider and a user, an API is an agreement for developing and integrating software and infrastructure.
APIs establish the technical detail needed for systems to interact appropriately in different circumstances. They enable systems to retrieve asset information from media archives, perform editing and content processing functions, as well as effectively monetize content and manage costs.
When integrating systems, APIs also help to maintain security, and implement user authentication across multiple sites. Large media companies need to support both on-premise, and cloud-based workstations, switching seamlessly between environments.
Comprehensive integration means multiple elements can be configured and managed through a centralized platform; this helps keep valuable content safe and traceable. A successful integration means that systems understand each other, and as a result they can fulfill the needs of different operators. But to do this effectively they must speak the same language.
Assessing Fluency
API implementations and their quality can vary significantly, so it is important for organizations to assess API fluency when selecting tools or working with systems integrators. I could tell you that I speak French, but in reality, my language skills might only extend to asking where the cinema is. Knowing individual adjectives isn't enough to be proficient in a language. Unless you understand the myriad of ways that words can be stitched together, you can't have a real conversation.
Language proficiency is determined by levels of expertise. Starting with elementary proficiency, moving through professional working proficiency, right through to native or bilingual proficiency—it's therefore important to ascertain the level someone is working at. The same is true of technical integration.
When implementing multiple APIs, media companies need to be confident in a level of fluency from a product or systems integrator. For application-based solutions, companies should have access to comprehensive documentation, for a range of use cases. Often, this fluency level isn't fully put to the test until it's too late and companies are committed. So asking for detailed information upfront is crucial.
Preventing Misunderstandings
In some cases, companies may have invested in a partnership or selected a specific technology because, for example, it claims to have AWS S3 API compatibility. But it is only once the integration process starts, that stakeholders realize the fluency level isn't high enough for their professional ambitions to be realized. There are two sides to a conversation. There is asking a question, but there is also understanding the response. It requires extensive experience, and a deep technical understanding, to tell a system what it wants to hear in various situations.
Companies need to know the right questions to ask from the start and be clear on the details needed to troubleshoot challenges. This is the difference between vague conversation and using specific terminology to resolve problems. In some situations, workarounds might have been put in place to connect solutions together.
But the integration process is more than a series of features and functionality to tick off. It's not enough to say that a solution will allow for 'X' integration, or a service provider can build 'X' plug-in. Solutions must be adapted to accommodate the many nuances that occur, when workflows are spread across large operational structures.
When 'Yes' Translates to 'Not Really'
Diversity of solutions, processes, and vendors is an inevitability within the media and broadcast industry. Companies could have one partner for metadata, one partner for playout, and another for VOD packaging. With multiple parties at the table, organizations need a service-orientated translator, who can do more than just procure solutions. But they also need transparency. Solutions and integrations need to be clearly defined, and those integrating systems need to offer non-proprietary options that best fit the brief.
All too often when asked a direct question around a specific piece of functionality the response is 'yes, you could build that with our API'. Half the stakeholders hear a positive response and the box is ticked. The other half hear that they'll need to custom build it themselves, then integrate with a vendor's API where it fits in. The reality is somewhere between the two.
What's required is the necessary level of fluency in the API language, to make it happen. The right translator supports the integration process from start to finish, they understand how to phrase technical solutions in a way the system can comprehend. Even with a mix and match approach to products and services, everyone should be able to participate in the broader conversation of a media workflow.
The latest product and technology information
Future US's leading brands bring the most important, up-to-date information right to your inbox
Tim Burton is Managing Director for 7fivefive.