NAB Show Reflects Rapid Changes in How Technology, Content Intersect
The NAB Show is a key event where new trends, ideas, products, and services are discussed and showcased, driving innovation in content creation and distribution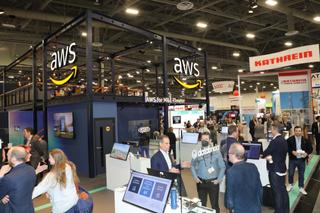 (Image credit: NAB Show)
The NAB Show is a highly anticipated event that has been bringing media, entertainment, and technology professionals from all over the world together for decades.
In April 2023, the convention will celebrate the NAB's 100th anniversary—a significant milestone in the history of broadcast media. This occasion is evidence of the strength of broadcast as a medium that has endured the test of time.
Content for Today & Tomorrow
The resilience of broadcasting is due to the symbiotic relationship between technology and content. Technological advancements have enabled broadcasting to become more efficient, resulting in cost savings and the ability to reach more viewers.
The evolution in high-quality displays and other features has significantly enhanced the viewer's real-life like experience in the digital world. To fully realize the potential of new technologies, it is essential to produce content that takes full advantage of these innovations. By developing content that is optimized for new technologies, content creators can not only drive audience engagement and viewership but also encourage the adoption of new technologies.
As new media technologies continue to emerge and evolve at a rapid pace, traditional media must keep pace in order to remain relevant and engaging. From a media ecology perspective, new media will compete with old media until a new equilibrium is established.
It is therefore vital for traditional media to reflect on its unique qualities and explore fresh ways to innovate. The NAB Show is a key event where new trends, ideas, products, and services are discussed and showcased, driving innovation in content creation and distribution.
Over the past century, the NAB Show has served as a platform for innovation and the diffusion of innovation, facilitating a smooth transition to new technologies, and fostering collaboration within the media industry to create ecotones—where new ideas and innovations can flourish.
Organizations must invest in new technologies intelligently to improve the quality of their programming, but this process can be complex and involve numerous technologies and professionals.
Premier Showcase for Broadcast Engineers and Technologists
The Broadcast Engineering and IT (BEIT) Conference at NAB Show caters to a diverse audience, including broadcast engineers, media technology managers, equipment manufacturers, and R&D engineers, among others. It focuses on addressing technical challenges that media professionals encounter and exploring the development of next-generation systems.
The conference serves as an open platform for knowledge sharing, providing valuable insights to help organizations make informed decisions. It provides an opportunity for professionals to exchange ideas, learn from one another, and stay up-to-date on the latest developments in media technology.
NAB draws attendees every year who seek guidance on how to reduce uncertainty and make informed investments in new technologies. As the media and consumer industries undergo digital transformation, stability is paramount. Media companies require a clear timeline to invest in new technologies and remain competitive, while consumers want assurance that their investments in new technology will not be wasted.
The engineers, business representatives, and media journalists who gather at the NAB Show play a critical role in disseminating information on new technologies and exchanging ideas, driving innovations and supporting the growth of the media industry as a whole. Their expertise and insights are invaluable in helping to create a stable and prosperous future for the industry.
As technology continues to evolve and new content is developed, the future of broadcasting remains promising. On this special occasion, we express our gratitude to NAB for its unwavering dedication to bringing new opportunities to the industry and for serving as a valuable resource for industry professionals seeking to stay ahead of the curve in this dynamic and ever-evolving era.
To register for the BEIT, click here.
The latest product and technology information
Future US's leading brands bring the most important, up-to-date information right to your inbox
Ling Ling Sun is Chief Technology Officer (CTO) of Nebraska Public Media, a state network, joint licensee provides content and services through its statewide TV and Radio over the air broadcast transmission and other multi-media platforms. Using a viable system model as a tool, Ling Ling leads technology transformation at Nebraska Public Media and has led her team successfully completed and embarked many projects and initiatives that enhance and expand Nebraska Public Media services. From 2013 to 2018, Ling Ling served two terms as Chair of PBS ETAC (Public Broadcasting Service Engineering Technology Advisory Committee), and as a member of the PBS Interconnection Committee. Currently, Ling Ling serves as Chair of the NAB Broadcast Engineering and Information Technology Conference Program Committee, and as a member of Nebraska Information Technology Commission Technical Panel. She is a 2019 National Technology Leadership Award honoree by Broadcast & Cable. Ling Ling was among the "Top 50 Women Leaders in Technology of 2022" announced by "Women We Admire".