Sony's new production switcher series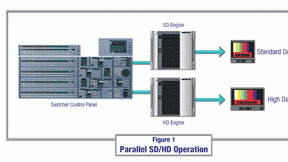 As the television industry moves into the DTV environment, the content sources feeding a modern TV production chain are presenting unprecedented challenges in program creation. In the live event category, the production switcher is a central element and must be capable of handling and optimizing new types of input signal formats.

Figure 1. Switchers capable of parallel SD and HD operation enable broadcasters to optimize picture format for both audiences.

It must also be capable of delivering new types of output formats, differing in resolution, aspect ratio, frame rate and scanning type. The new Production Engine technologies from Sony evidence next-generation video processing technologies and architecture applied to current and emerging DTV requirements.
The simple, basic nature of the production switcher task has changed dramatically and grown more complex. The production switcher must now operate in a world experiencing new digital television distribution formats and a growing acceptance of digital cinematography (24p, for example). In addition, audiences are increasingly comfortable with the improved resolution and widescreen nature of video images through DVDs.
To accommodate and address these new picture styles, modern production switchers need the flexibility to adapt to any production format requirement. These requirements may vary in aspect ratio, native resolution and even frame rate, options never before involved in program planning. In years past, the mastering format requirements (D2 or Digital Betacam, for example) could be accommodated by virtue of a switcher's serial digital flexibility. This allowed for a project-by-project deliverable format decision. The switcher could be changed from composite digital to component digital operation in short order. In the brave new world of DTV, this type of flexibility becomes a critical feature to support a long life cycle for the production switcher investment.
An example of this flexibility is found in Sony's new series of production switchers, which is designed throughout for wideband signal handling. Physical connection points on the MVS-8000, for example, allow change between 1.5Gb/s high-definition (HD) serial digital streams and 270Mb/s standard-definition (SD) serial digital streams at boot time as required. Coupled with the ability to reboot the system into different frame rates (24-, 50- and 60Hz) and resolutions, this approach presents a practical and economical response to these multiformat production challenges. Beyond the basic idea of multiformat signal handling, the switcher environment allows unique simultaneous, parallel handling of SD and HD signals that are realized through advanced operator interfaces.
Migration and evolution
The money invested in a production switcher must be validated by evidence of:
scalability for growth,
resource-sharing characteristics (to allow the capital equipment to be utilized for more hours in the day and by multiple departments or productions), and
an optimized price/performance metric
.
At a simple level, customers may be looking down the road at eventual HD operation, while implementing more immediate transitions such as an initial buildout to digital in SD. Contemporary DTV production means, in a very practical sense, that remote trucks may need to respond to a 4:3 SD requirement one day, widescreen 16:9 SD another day, a 1080i or 1080/24p HD entertainment event on yet another day, and perhaps a 720p HD sports event as well.
Over the last few years, many different approaches and experiments in HD event production have been tried. As the HD deliverable becomes more important, the drive to arrive at a practical production process has come to the forefront in the plans of many. Clearly, the cost and complexity of rolling both an SD truck and an HD truck to cover an event is not practical, or desirable, in the long run. One approach, a single production/dual-output approach, is now both workable and practical by combining the advanced technologies shared in switchers such as the MVS-8000 and its SD-only partner DVS-9000 (see Figure 1).
The capability of parallel SD and HD operation allows for creative decisions about picture format to be optimized for both audiences. The parallel picture results can be optimized through correct and natural placement of key elements (game clocks, lower thirds, etc.), versatile framing options, and other flexibility. Key to this workflow enhancement, however, is a capable switcher infrastructure that can implement this style of operation with minimal distraction to the operator.
In the MVS production switcher family, the standard control panel structure is extended with the ability to control two processing engines simultaneously. In this way, hardware power can be applied to optimize each output stream, still driven by the natural, intuitive work style of the production team.
In addition to basic intra-component control, the switcher has implemented an additional data network for direct data exchange and handling (the data LAN). This network allows communication with and between control panels, processors and peripherals to allow such things as image file transfer, setup files and software upgrades, as well as maintenance and facility management tasks.
The characteristics of the production switcher fundamentally shape the programs produced. As multiformat productions become the norm, and more sophisticated production elements are required, the choice of production hardware will remain a key element. A multiformat picture processor, along with creative application of data networking techniques, as evidenced in components such as the Sony MVS-8000 production switcher, provide a practical response to evolving, real-world work styles and emerging digital challenges.
Steve Wynn is director of technology marketing for the broadcast and professional systems division of Sony Electronics.
Get the TV Tech Newsletter
The professional video industry's #1 source for news, trends and product and tech information. Sign up below.