Show Strategies Emphasize ROI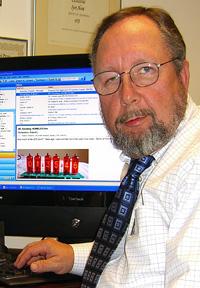 LAS VEGAS
Stay calm, and offer value: That may well be the best advice for exhibitors at this year's NAB Show. The purse strings are tightly tied this year, according to broadcast engineers who plan to attend.

"There's going to be a lot more tire kicking than there will purchase orders," said W. Ardell Hill, senior vice president of broadcast operations with Media General Broadcast Group in Richmond, Va. "The availability of capital is, without a doubt, very constrained."

Sterling Davis, vice president of engineering for Atlanta-based station group Cox Television concurs. "The economy has had a real impact," he said. "Our budget is lower this year than last year. We are trying to do our part to reduce costs."


Ardell Hill At least Hill and Davis will be at the show. "Due to budget restraints, the station CE and I will not be attending NAB this year," said Tom M. Cupp, vice president of engineering with the Bonten Media Group, a 16-station group.

REALITY CHECK

While last year's buzz on the NAB Show reflected keen interest in digital workflows, this year's show revolves around something more immediate: the economy.

Faced with tight budgets and no apparent end to hard times, group engineering vice presidents are starting with the basics. First up is working with their existing equipment, to extract as much life out of it as possible.

"When it comes to normal term of life replacement schedules, we will try to squeeze an extra 1-2 years of life from equipment that was due for replacement," Hill said.

Of course, nothing runs forever. As a result, "we do have equipment in mind that we intend to buy this year, such as trucks and cameras for news," Davis said. "In general, it will be for replacement purposes. I don't see us doing many major shifts in technology this year."

For NAB exhibitors, the above words should be serve as a warning and wake-up call: 2009 is not the year to attempt to sell cash-strapped station groups on implementing a brand new line of broadcast technology; be it as small as character generators or as large as an end-to-end digital asset management system. Instead, technologies that can functionally replace existing station equipment—while opening the possibility of future upgrades and eventual migration to new systems—stand the best chance of winning sales.

In this vein, station groups will be more likely to consider buying new products if they can justify the purchases on a replacement function/cost basis. For instance, stations whose physical plants lack the bandwidth to handle HD may want to buy entry-level camcorders. Once acquired, footage can be downconverted to SD (4:3 or 16:9) until money can be found for a plant upgrade. Once that happens, the HD footage can be used in its native format.

The fact that money is tight does not mean that group engineering VPs will be shying away entirely from new technology. "We are interested in those things which are tied to the ability to develop new revenue streams, such as those which speak to the new mobile handheld market," Hill said. "Such things will allow us to launch new products ourselves, to generate revenues for either our primary or secondary channels. That's what we are willing to spend money on."

A case in point: "We want to see progress in realizing transmitter exciter setups for mobile television," said Cox Television's Davis. "What would be interesting is to see such products in the flesh at NAB." The challenge, as far as NAB exhibitors are concerned, will be to demonstrate the revenue-generating possibilities of their cutting-edge products to prospective buyers. Because fiscal conservatism is the watchword in 2009, such products will need to have a clear short-term return on investment.

"We can get people to lend us the money," Hill said. "The issue is that it is just not the appropriate time for us to be spending capital on projects unless those projects can truly bring us a return for that investment." Worth noting: Return on investment can be realized in terms of power savings offered by new products, according to Bart Palmer, Discovery Communications' senior vice president of media engineering. That's the kind of product his company is interested in. On a broader scale, "Because being green is one of Discovery's core values, any green technology initiatives will be of interest," Palmer said. "Devices that consume less power, and ultimately cost less to operate, is important to the company."

SALES STRATEGIES

It is difficult to know how representative Hill's and Davis' views are of station groups as a whole; difficult because most station groups did not respond to TV Technology's repeated requests for interviews on this subject. However, given the current state of the economy and the still-outstanding HDTV equipment bills many stations face, it's safe to assume that Hill and Davis are right on the money when it comes to station group spending at this year's show.

For NAB vendors, the implications are clear: Visitors to their booths will be reluctant to commit themselves, especially to new technology. What opportunities that do exist will be focused on replacing aging equipment with cost-effective alternatives, or in selling new products that can generate additional revenue for station groups in short order. As a result, NAB exhibitors should prepare themselves to put up with a wealth of "tire kicking" this year.


James Careless is an award-winning journalist who has written for TV Technology since the 1990s. He has covered HDTV from the days of the six competing HDTV formats that led to the 1993 Grand Alliance, and onwards through ATSC 3.0 and OTT. He also writes for Radio World, along with other publications in aerospace, defense, public safety, streaming media, plus the amusement park industry for something different.
The latest product and technology information
Future US's leading brands bring the most important, up-to-date information right to your inbox
Thank you for signing up to TV Tech. You will receive a verification email shortly.
There was a problem. Please refresh the page and try again.