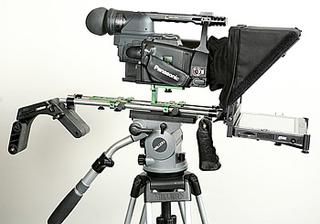 TORONTO Field teleprompters are proving to be a potent weapon in the TV newcast arsenal.

Showing reporters and anchors in the field delivering news as confidently and unhesitatingly as in the studio adds a cachet of confidence and professionalism to any news broadcast; one that hopefully translates into higher ratings.

Today, this technology has been miniaturized to work with DV and other small format cameras. For newscasters on a budget, this means that the polish offered by teleprompter-supported presentation is now within their grasp.


For small format cameras, Telemetrics' ReFleX 8 employs a wearable shoulder brace and pistol grip, on which the prompter and DVCAM cam are mounted.LIGHT SIZE

Like news cameras, VTRs and media servers, the fundamental technology of field teleprompters mirrors that of their in-studio counterparts. This means that a typical field teleprompter uses the usual arrangement of image-reversing monitor, reflective glass that sits angled across the camera lens and light-sheltering hood.

However, there are a few areas in which field teleprompters differ from those used in the studio. The first is monitor size: In an effort to reduce weight and carrying size, most field teleprompters can be purchased with flat panel monitors as small as 8-inches; one company even offers a 5-inch model. However, resorting to smaller monitors comes at a price; the smaller the monitor, the harder it may be for the teleprompter user to see and read the text. This is why field teleprompter companies offer larger monitors (12-inch and 15-inch); although these are not practical for small ENG camera use, (i.e. cameras under 3 pounds).

The second difference is monitor brightness. Mindful that bright sunlight can overwhelm even the best of light-sheltering hoods, many vendors offer "high-bright" monitors (at an extra cost), in addition to regular models. Basically, high-bright monitors offer much higher light levels, allowing their reflected displays to be seen even on clear sunny days.

The third difference between field and studio teleprompters is portability. Since field teleprompters have to be set up and taken down on a regular basis, they are built either as integrated units that go directly into carrying cases, or models that break down quickly into smaller, easy-to-pack components.

Some manufacturers offer Windows software built directly into their teleprompter monitors. Autoscript's GoPrompt 8 portable system has had this feature since 2006. Listec Video has just introduced the Pro Xpress 15-inch enhanced self contained 1600 nits field prompter. The Pro Xpress has a hard drive with Windows software directly built in and Wi-Fi into the teleprompter monitor. "The prompter system functions just as a computer would, so that you don't have to carry a separate computer around," says Raymond Blumenthal, vice president of Listec Video. "You just plug in your keyboard and mouse, and away you go."

These PC-included models can connect to USB keys, keyboards and mice. Some even have Bluetooth capability, allowing them to link back to the studio via Bluetooth-enabled wireless handsets, Wi-Fi-enabled PDAs and laptops for real-time control and script editing. (Note: Field prompters are typically powered by 12-volt rechargeable batteries, such as Anton/Bauer bricks.)

Adaptable


Autoscript's TFT8 eight-inch Hi-bright TFT portable teleprompting system Autoscript's field teleprompter units rely on a tripod-mounted plate to hold both them and the camera. As a result, it is possible to use a DVCAM with one of the company's larger teleprompter screens, which go as big as 20-inches. For DVCAMs and other small format cameras, however, Autoscript Vice President Americas/Japan Gordon Tubbs recommends either the TFT8 or the ELP8; both of which use 8-inch flat panel monitors.

"Both the TFT8 and ELP8 come with a mounting plate for the tripod, a monitor, hood and reflective glass," he said. "The TFT8 may be a better choice if you expect to be working in direct sunlight, since it is equipped with a high-bright monitor that delivers 1600 nits of brightness." [Note: A nit is "equal to one candlepower measured at a distance of 1m over an area of 1 square metre," according to www.pctechguide.com.] In contrast, the ELP8 is rated 400 nits.

Listec offers a full range of 12-inch, 15-inch and 17-inch displays. All connect to the camera using a tripod-mounted support plate. Listec's Vu-Lite high-bright flat panel is available in 12.1-inch (1100 nits), 15-inch (1700 nits) and 17-inch (1000 nits) sizes.

QTV makes what appears to be the smallest field prompter; namely the PSP05 system with a 5.6-inch monitor (300 nits), hood, reflective glass and mounting plate. The monitor can also be mounted directly above the camera lens using matte box rods.

"Either way, you are looking directly into the camera when you are reading the text," said QTV sales manager Aaron Brady. "At just 3.5 pounds, it is one of the lightest systems available." The PSP05 can be fed using a QBox, a wireless prompting computer that can be fed and controlled remotely via an IP/Ethernet connection.

Telescript's "Fold and Go" systems include teleprompters in 8-, 12- and 15-inch monitor configurations. The systems "are designed to work with both DV and ENG cameras and they offer image reversing flat panel monitors, folding hoods and Telescript Quick Mount hardware," according to Andrew Wischmeyer, Telescript's national sales manager. "The bracket, monitor, folding hood and glass all stay together as one piece, fold up and go right into one of our custom foamed cases for protection and easy transport."

Standard monitor brightness is between 300-450 nits and for shooting outside Hi-Bright monitor options are available for all models. The 8-inch weighs 4 pounds; the 12-inch is 11 pounds; and the 15-inch weighs in at 16.5 pounds.

The company has also created a prompter system that incorporates a TabletPC, which acts as both the prompter monitor as well as the PC, thus eliminating the need for a notebook PC. Called the ReFleX 8, the 300 nit system can be used with all kinds of ENG cameras, including DV CAMs, and can also be used on shoulder-mounted cameras.

For small format cameras, the ReFleX 8 employs a wearable shoulder brace and pistol grip, on which the prompter and DVCAM are mounted. The 8.4-inch TabletPC is wireless, allowing the text to be scrolled and edited from a Wi-Fi keyboard and hand control. The ReFleX 8 setup includes software and camera mount hardware; the ReFleX 12 features a 12-inch monitor.

While CPC Computer Prompting and Captioning does not make prompting hardware, it does offer its proprietary SmartPrompter CPC-1000 software and sells other manufacturers' prompting hardware. Since they sell it with software included, why does CPC expect customers to pay extra for Smartprompter?

The answer, says CPC project manager Sid Hoffman, "is that our software is incredibly easy to use. It is also very easy to edit scripts on the SmartPrompter System, which works on PC and Mac platforms. Just hit a key, edit your text, hit another key and you're done." The company's prompting software is used everyday on air by CBS, ABC, NBC, Fox and PBS. One nice feature: SmartPrompter CPC-2000 outputs its prompter text directly into a station's closed captioning system; eliminating the need to enter these scripts in real-time (during broadcast).

Affordable field teleprompters exist today to make your ENG shoots look polished and professional. They also make it easy to alter prewritten copy once on scene; ensuring that the standups make sense on air. The bottom line: Teleprompters are no longer reserved for networks with big budgets. Today, virtually any station can afford them.


James Careless is an award-winning journalist who has written for TV Technology since the 1990s. He has covered HDTV from the days of the six competing HDTV formats that led to the 1993 Grand Alliance, and onwards through ATSC 3.0 and OTT. He also writes for Radio World, along with other publications in aerospace, defense, public safety, streaming media, plus the amusement park industry for something different.
The latest product and technology information
Future US's leading brands bring the most important, up-to-date information right to your inbox
Thank you for signing up to TV Tech. You will receive a verification email shortly.
There was a problem. Please refresh the page and try again.