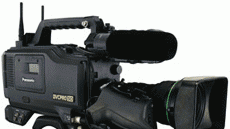 Panasonic unveiled the AJ-SDX900 at NAB2003. It offers film-like 24 frames per second progressive scan (480/24p) acquisition, in addition to 30 frames per second progressive (480/30p) and 60-fields-per-second interlace scan (480/60i) capture.

John Baisley, Panasonic Broadcast president, opened the company's NAB press conference with a short yet appropriate tribute to J. Michael Brinkman, who passed away recently. Brinkman was remembered for his contributions to Panasonic's technology partner program and credited with initiating some of the technology the company is showing in its exhibit floor booth. Along with two new portable field monitors for HD widescreen production additional DVCPRO news products and new D-5 HD mastering VTRs, Panasonic then introduced a prototype of its next-generation DVCPRO newsgathering systems based on solid-state memory.
The new camera is designed to hold up to five solid-state recording media cards--in capacities of one, four and 16 GB of memory — that initially will enable up to 90 minutes of DV 25 recording. The new architecture is fully compatible with existing DVCPRO and DVCPRO50-based non-linear editing and server systems, Panasonic said, and supports multiple video resolutions for DTV, including HDTV applications. Company officials also said the camera will not be delivered until perhaps NAB2004 or later.
CBS, Fox and independent station group Raycom Media all expressed interest in working with the camera and all will serve as beta test sites when hardware becomes available. The benefit of "no moving parts" and continually increasing storage capacity were two of the reasons cited by Fox's Andy Setos.
The solid-state memory cards used in this new system (camcorders and players) are compatible with a computer's PCMCIA slot and have a transfer rate of 640 Mbps. Once footage is captured on the memory cards, users can perform direct editing from their PCs and high-speed data transfer to networked servers.
The camcorders record on PCMCIA-size cards based on Panasonic's SD memory (codenamed "SPEEDY") card. Four 1 GB cards running in parallel in a data array provide a maximum transfer rate of 640 Mbps, equivalent to a 20 times real-time transfer rate of DVCPRO quality images, with a record capacity of 18 minutes. The memory cards can be overwritten a minimum of 100,000 times without performance degradation. Higher-capacity memory cards will be available as core card sizes increase from 1 GB to 16 GBs and beyond.
The camcorder will offer a choice of DVCPRO 25Mbps and DVCPRO50 studio quality, 4:2:2 50Mbps recording, but with significantly lower weight and power consumption compared to camcorders utilizing mechanical transports. Due to its 640Mbps transfer rate support, DVCPRO HD-compatible HD news systems can also be realized using this solid-state memory card technology.
Secret RAM Demo
Although it showed a "prototype" model at its press conference for the general public, Panasonic held a private demonstration of the new solid-state camera in a small meeting room after hours for a small gathering of trade journalists at which a working DV-sized camcorder was demonstrated shooting and storing video with a 512 MB flash memory RAM card. An operator shot the crowd, took the flash card out of the camera and placed it into a desktop PC equipped with a Matrox video capture card to display the moving images.
Panasonic said the current DVCPro 25 quality would improve with time and expanded storage options that would be driven by the consumer market.
The company plans to have a working model by the first quarter of next year.
At the demo Panasonic expressed its concerns with the optical disc format, including excessive heat from the spinning drive, a delay time at power on and disc change, and the problems of using the optical media in temperature below 41 degrees. The company also said that complete maintenance of the optical drive was required after 2,000 hours of use.
Power consumption for the solid-state camera is said to be 1.5w while the standard video camera and the optical media cameras are in the range of 7w. Adding a camera light and microphone will increase power consumption dramatically.
The advantages of the new storage format are said to be virtual immunity to dust and moisture, low-power consumption, silent operation, anti-shock and vibration circuitry and the eventual low cost of storage. This might be an issue going forward, as the current 512 MB card cost about $70. If, as Panasonic suggest, an operator needs four 1 GB cards to achieve 640 Mbps transfer speeds (necessary for most professional applications) the cost could be prohibitive for many.
HD acquisition using DVCPRO 100 compression would need a minimum of four 64 GB cards to enable about 90 minutes of record time, but will probably not be realistic until some time after 2006. The solid-state card can be reused over 100,000 times, Panasonic said, while access time on the card is said less than one millisecond.
During the demo Panasonic also showed how the format will be supported by a plug-in computer peripheral player, a multi-slot SPD card stand-alone player/recorder that mimics a professional VTR's functions (complete with jog/shuttle wheel), and a laptop with a 512 MB card slot running NewsBYTE software for direct editing. Outputs include SDI, USB and eventually the latest version of Firewire. Both players support RS 232 control, enabling them to be remotely controlled from an edit system or camera.
Perhaps most interesting was the potential to develop new form factors for the camera, including a small, palm-sized version and a unique professional design that could literally wrap around the operator's shoulder during operation. The current model shown features a sloped body that allows the operator to see over their shoulder, which is not possible with current video cameras. A small mini-DV sized camera with the capability to shoot in 24p resolution (which Panasonic's DVX1000 current performs) was a goal for the future.
The other issue left unresolved is support for metadata, something Sony's optical media format is squarely supporting. Panasonic said there's some headroom on the card that could be used for ancillary data, such as metadata, which would enable an operator to locate specific scenes on the flash memory card. There's no plan to include this functionality in the first generation version, the company said.
For more information visit www.panasonic.com/broadcast.
The latest product and technology information
Future US's leading brands bring the most important, up-to-date information right to your inbox
Thank you for signing up to TV Tech. You will receive a verification email shortly.
There was a problem. Please refresh the page and try again.