KMBC-TV viewers teach station HD lesson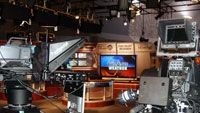 When KMBC-TV, the Hearst-Argyle-owned ABC affiliate in Kansas City, MO, launched its local news in HD in August, the station learned a surprising lesson from HD viewers.
They want sharp HD pictures of on-air news talent in the studio, not a softened image electronically tweaked to soften skin detail. "We have the newest Sony cameras, and in concert with best practices, added in skin detail circuitry to soften the face," said station director of engineering Jerry Agresti.
The station found out, however, that "best practices" aren't necessarily what HD viewers at home regard as best. "The impact to our viewer was backwards from what one would have thought," he said. "Our viewers wanted to know why the talents' faces were so out of focus and why we couldn't focus our cameras."
While their eyes, hair and clothing "were rock solid," their faces appeared too soft for HD news viewers who had upgraded from SD expecting to see more true-to-life pictures on their televisions.
In response, the station disengaged the skin detail softening circuitry, running its studio cameras at full resolution with no detail loss on the face. The result has been happy viewers and great looking talent, he said.
"Makeup and lighting makes the difference; viewers want to see people the way they truly are. That was a revelation," he said.
Editor's note: For an in-depth conversation about the station's experience launching local HD newscasts see: "KMBC-TV launches HD local news from new broadcast center."
The latest product and technology information
Future US's leading brands bring the most important, up-to-date information right to your inbox
Thank you for signing up to TV Technology. You will receive a verification email shortly.
There was a problem. Please refresh the page and try again.