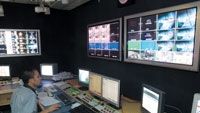 Despite the fact that all U.S. television broadcasters are now transmitting with one or more digital program streams, until recently, few undertook the additional challenges of producing local news in HD. Consequently, rather than providing end-to-end HD production solutions, technology vendors have focused on updating SD offerings to incorporate advances arising from the IT sector.
These advances include the plummeting cost of digital storage, the rise in networking bandwidth and the widespread availability of high-speed connectivity. The result was a new generation of file-based server and editor systems targeted at enhancing SD operations while incorporating infrastructures adequate for the inevitable demands of HD.
The broad shoulders of news
A successful and well-run news department usually provides a television station with the lion's share of its revenue. Therefore, ownership and management regard news as key to present and future profitability.
In prime time, many of the commercial slots for a given program are prefilled by the networks. Slots in syndicated programming may also be prefilled, or otherwise the show itself must be paid for. In contrast, during local news, all commercial time belongs entirely to the station.
In addition to the revenue that news programming generates, it also provides a station with a public face and brand identity. One thing television succeeds at far better than any other media is to extend a feeling of community into the lives of people who otherwise may share little but geography. The humanizing face of television news can uniquely evoke a sense of belonging and membership across its community.
Therefore, the competitive challenge each television station faces is creating a sufficiently compelling and engaging experience to drive regular viewing of its news. HD is a high-profile tool with immense power to optimize that experience.
HD expectations, legacy reality
Much of a station's revenue is attached to the performance of its news. And because any technical errors or problems during a newscast are so visible and potentially costly, the managers of news operations view change conservatively. While a substantial number of stations have moved from tape-based to file-based SD news operations, many stations have postponed the cost of conversion until the need for local HD production forces an unavoidable rebuild.
Feb. 17, 2009, is the day when all over-the-air broadcasting in the United States must be digital. While this regulation does not mandate broadcasting news or any other content in HD and legacy TV sets may continue to be used via cable boxes or other adapters, the HD penetration already underway will likely spike leading up to that date. This effectively creates the deadline by which all stations that want to remain competitive must have their HD news operations in place and up to speed.
The appeal of HD for consumers is fast becoming a cultural expectation. Consequently, for all stations, irrespective of whether their news is currently tape-based or file-based, each new HDTV set that enters a home creates an opportunity for seizing or losing that viewer's loyalty. Each new set is a challenge to the status quo of a station's ratings and a threat to its bottom line.
The reality today is that the hardware used by stations for news ranges from color-under analog tape to HD-ready server and editor systems. In an industry that acknowledges how rarely anything is done the same from station to station, clearly no single build-out pathway can fit every circumstance.
Yet despite straddling this wide variety of legacy technology, market size and capital budgets, broadcasters expect affordable HD solutions that will support straightforward, format-transparent news operations. (See Figure 1 on page 54.) For years, most manufacturers have been pushing their core product line in that general direction, and in the process, they are increasingly striving to meet two key benchmarks.
Smooth transition
The first benchmark is that operators want to create all news elements once — in HD — using the best content available at the moment, without any added steps or effort.
The fact that HD is destined to become the viewers' standard for news underscores the role of HD as the domain in which all news will be shot, produced and edited. SD viewers will be well-served by this process because SD derived from HD masters can be as good as, and often better than, content created from equivalent SDonly processes.
Broadcasters expect their technology to accommodate the growing range of content transparently. Ingest must be simple, and editing must be straightforward, with clear and flexible options for handling scaling and aspect ratio. Additionally, broadcasters expect that neither workflow nor system performance should be slowed to accommodate any kind of content.
Furthermore, broadcasters need news production systems that are open to technology built outside the traditional tight circle of broadcast vendors. One example is the full integration of Apple's Final Cut Pro into news workflows.
Transparent workflow
The second benchmark is that during on-air operations, the system will transparently output the best available content — principally, but not always, HD — and automatically create SD and HD feeds with appropriately templated graphics, resolution and aspect ratio.
All parts of the system must intelligently and flexibly accommodate the best available content. When the moment comes to air a story, the system needs to play the HD edited content, story graphics, SD content from the library, download from the Internet, or clip or still from a mobile phone. Then it must perform all upconversion, downconversion and automatic aspect ratio conversions without needing input from the operator. The system should also accommodate linked SD and HD graphics templates so that the same text content will be optimized for both 4:3 and 16:9 playout.
The three steps to full HD news
As stations bring their HD news production online, they usually encounter and accommodate a natural three-step rollout.
The initial step is to shoot HD in the studio while continuing with SD in the field. This requires an HD-ready set, as well as HD studio cameras, graphics, cabling and switcher. The SD content from the field can remain 4:3, though increasingly, cameras enable shooting 16:9 SD. Both SD aspect ratios link back to the station without presenting a bandwidth problem, where the SD field footage can be cut on existing editors and upconverted.
The second step is deployment of HD field cameras. Editing systems that handle HD will then be needed both in the newsroom and in the field. Moving HD, with its increased bandwidth, back to the station is a serious challenge for legacy analog microwave units. Links based on Wi-Fi and cellular service will be exploited when possible for non-real-time transfer of files, but most content will simply be driven back to the station. Live shots will remain in SD, although increasingly in 16:9.
The third step is completing the 2GHz spectrum exchange with Sprint Nextel. After this step, stations will have complete digital field capability, supporting both HD live shots and feeds.
Somewhere within each build-out, individual stations will determine the most appropriate time and process to upgrade their weather system and support feeds, including tower cameras and helicopters.
The next move
HD is on track to become the transmission format by which everything will soon be judged. No single HD technology, workflow or build-out pathway can be a universal fit for the diverse needs of news broadcasting.
The viewing public is the ultimate arbiter for justifying all changes, so a station's migration plan must carefully track its audience's desires, and more importantly, its behaviors. After all, at the end of the day, this entire technology changeover is so you can deliver a news experience that will bring viewers back tomorrow.
Fred Schultz is senior marketing manager for news solutions at Harris. He has written for the SMPTE Journal, is the author of a series of white papers on server technology, has won a prime-time Emmy Award and holds a Ph.D. from Vanderbilt University.