Confronting the Cliff Effect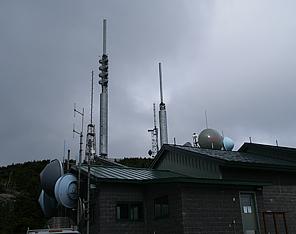 The Harris-equipped transmission facility on Mount Mansfield in Vermont serving WCAX-TV, the CBS affiliate for the Burlington market. The DTV transition has been going on for the past 15 years, but digital signals will remain a long way from perfect once the analog signals are shut off. And several new digital signal distribution technologies are on the horizon.

One of many stations' first orders of business will be honing digital signals with the help of antenna and transmitter vendors such as Acrodyne, Axcera, ERI, Harris, L-3 and Rohde & Schwarz.

Many TV stations are moving from low-band VHF (Channels 2–6) to higher-band UHF locations. UHF offers lower interference than VHF, but covering the same contour takes more power. Once stations are broadcasting digital-only signals, they'll likely see coverage gaps in their market areas.

"No one really understands all of the consequences of offering a digital signal versus an analog one," said Richard Fiore, senior director of transmission and mobility for Thomson Grass Valley in Beaverton, Ore. "These questions will have to be answered once the analog TV systems go off the air."

Some stations have dipped a toe into the shutoff with temporary tests. Rolin Lintag, a veteran transmitter engineer said those stations, "have seen what they are up against as far as actual coverage and viewership are concerned. But most TV stations have not done this yet, and are clueless as to what exactly will happen to their viewership come Feb. 17."

FILLING THE HOLES


Richard Fiore, senior director of transmission and mobility for Thomson Grass Valley Distributed transmission is one possible gap filler. The Federal Communications Commission OK'd DTx in November after kicking it around for years. DTx is something broadcasters are just starting to ponder. First, they just want to make sure the transition goes off without a hitch.

"I think everyone is going to start talking about DTx, but they are going to want to optimize their main signal first," said Rich Redmond, director of strategic marketing at Harris Corp. Broadcasters have until August 2009 to apply for special temporary authority to set up DTx transmitters across their service areas. After that, they will have to officially apply.

In Wilmington, N.C., the one market where the FCC actually saw what happened when the analog TV signal was shut off, Raycom-owned NBC affiliate WECT-TV lost part of its de facto coverage area when it moved its transmitter closer to the ocean to better serve viewers in its actual designated market area.

WECT does not plan to deploy DTx to retain its out-of-market viewers, said Dan Ullmer, chief engineer of Raycom's WECT and WSFX-TV in Wilmington.

"We ended up here in the late '90s with a signal pattern where much of our signal went out of our market," Ullmer said. "When we were constructing our new facilities, it didn't make sense to send so much power outside of our market. We had to move our tower sites so our digital broadcasts would better cover our actual market. Now, many viewers in our DMA have a much better signal."

Still, if WECT wanted to serve its now disenfranchised but out-of-market viewers, distributed transmission would be the way to go, according to S. Merrill Weiss, president of Merrill Weiss Group LLC and the originator of DTx.

It was WECT's experience that helped the FCC realize that DTx would come in handy in the new digital world, Weiss said. If TV stations shut off their analog signals and millions of over-the-air TV watchers lose their signals as a result—and some 15 percent of U.S. households still receive their TV over the air—the FCC will shoulder much of the blame.

"Once broadcasters start looking closely at the actual coverage of their digital signals, DTx will be an actual solution to those types of problems," said Jack Wilson, director of marketing and business development at Lawrence, Pa.,-based Axcera, one of the few companies to offer equipment that's been deployed in real DTx systems.

MOBILICITY


Rich Redmond, director of strategic marketing at Harris Corp. A bit further down the road, broadcasters are looking seriously at mobile broadcasting. ATSC committees are working furiously to roll out a working standard come first quarter 2009. Manufacturers are hot to demonstrate working devices at the National Association of Broadcasters' conference in April, and have them to retailers by next Christmas.

Building out a mobile broadcasting system is much like building out a DTx system; i.e., more low-power transmitters would have to be distributed across the coverage area to provide a consistent signal wherever a viewer may wander.

"For terrestrial broadcast, the receiving equipment is normally an outside, directional, high-gain antenna," Axcera's Wilson said. "With mobile services, you are broadcasting to a small mobile device that's in someone's hand or their car. It has a low-gain antenna, it's not directional, it's often moving and it's often in a building. To do mobile services well and to get in-building coverage, you need multiple low-power transmitter sites."

Many in the broadcast industry look at mobile TV as the first real business opportunity offered by the digital spectrum.

"Mobile TV gets TV back to the best use of the spectrum, now that we have cable and satellite signals delivered direct to the home," said one broadcast engineer. "There's just not as much value in using the over-the-air signal to transmit to these fixed devices. It makes more sense… to transmit the signal to portable devices or devices not connected to cable or another connection, such as laptops, cell phones, in-car GPS systems, cell phones or portable media players."

"We think that mobile is something that can reinvigorate the value of the spectrum for broadcasters," said Dave Benco, transmission program manager for Rohde & Schwarz of Munich, Germany. "Their competitors are alternate delivery methods such as cable, satellite and the Internet. Mobile isn't such a benefit if you are talking about reaching a 54-inch screen in someone's living room because that's not moving around, but mobile brings a real benefit when you realize how many people are walking around with wireless devices."

Still, vendors aren't counting their digital chickens before they hatch.

"I still have not heard what the business model will be for ATSC MPH systems," Thomson Grass Valley's Fiore said. "How much will people be willing to pay each month for this additional service? Will advertisers buy time on it? Do people really want to watch television on their cell phones?"

THE POCKETBOOK PINCH

Jack Wilson, director of marketing and business development forAxcera
Finally, the worsening economic scenario means all bets are off in terms of implementing any new technologies. Broadcasters already have spent billions on converting to digital and now high-definition. Building out their digital networks and adding mobile offerings is just an additional expense in a difficult marketplace.

DTx systems can run anywhere from $50,000 for one lower-power transmitter to $500,000 for 10 such transmitters or one high-power transmitter. And then there's the cost of getting the signal to those isolated sites, which requires installing a microwave link, running a fiber connection or adding a satellite uplink.

"The technology is there through DTx for a station to fill in holes in its coverage to replicate the analog coverage with the digital signal even if they are transmitting on UHF. But the question is: if most people are watching television on cable or satellite, is it worth the money to do it?" asks one engineer.

"The economy is just an unknown," said Benco, who still expects many broadcasters to go forward with both DTS and mobile systems as soon as it becomes feasible both economically and technically.

"Some broadcasters already have made a decision that mobile services will be an important part of their future. I can't imagine there was ever a time when the capital cost of a project wasn't very important, so of course broadcasters would want to do these deployments in a way that's purposeful and makes economic sense."
The latest product and technology information
Future US's leading brands bring the most important, up-to-date information right to your inbox
Thank you for signing up to TV Tech. You will receive a verification email shortly.
There was a problem. Please refresh the page and try again.