2023 NAB Show: Capitalizing on What's Next in Media and Entertainment
Event promises renewed focus on creation, connection and capitalization it celebrates its 100th year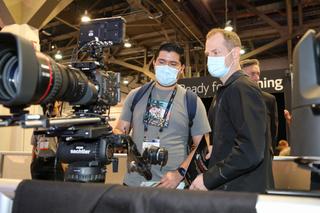 (Image credit: NAB)
LAS VEGAS—Both the tough struggles and fortuitous pathways forged by the disruptions of the last three years have resulted in a revamped and refreshed media industry eager to capitalize on what's next at the upcoming 2023 NAB Show, April 15-19.
While familiar players and familiar themes will certainly be on hand when the show kicks off on April 15 (exhibit floor opens April 16), in Las Vegas—marking 100 years since the first NAB show in 1923—the show continues to mirror the shakeup of the entire industry, from decentralized production to the boom in streaming to a renewed focus on unique forms of content.
Transformation of Priorities
For broadcasters, that means a transformation of priorities across all levels of business operations—be that automation, data-driven personalization or cloud-based workflows—each designed to improve operations by reducing media chain costs from both linear and digital distribution chains.
NAB has revamped the show by building it around a set of curated content pillars—Create, Connect and Capitalize—which Chris Brown, NAB executive vice president of conventions and business operations, said not only reflects how the industry works but better makes it easier for every attendee to navigate the show and find what is relevant to them. A fourth destination, called Intelligent Content, represents an emerging side of the business and includes data and the enormous influence it has across the content lifecycle, he said.
This year, that approach will be refined by shuffling around locations so that categories are linked and expanding the show's set of Experiential Zones, which are intended to be focal points for each major area within the show. The goal, Brown said, is to help visitors understand what they should be looking at within each pillar. "The zones provide this focus by examining the pillars from three perspectives—one for inspiration, one for innovation and one focused on implementation," Brown said.
As a home base, these are areas where attendees can take in free learning sessions, see technology briefings and demonstrations, meet with startups and network both informally and more formally with a series of open, peer-to-peer roundtables. The NABiQ program will also return; this hackathon concept introduced last year brings visitors together in teams to tackle shared problems or develop new product ideas.
Also new is the "Broadcast District" in the West Hall that will include educational sessions, networking and special events focused on radio and TV broadcasters. At this centralized location, "TV and radio broadcasters will receive tangible takeaways to help them generate revenue, streamline expenses and innovate while getting insights into what's next for their business through a tailored experience designed to meet their needs," said April Carty-Sipp, NAB executive vice president of industry affairs.
Big Themes
For the broadcast industry, one of the biggest stories at the show will be NextGen TV. There are viable business opportunities that come hand in hand with the shutdown of ATSC 1.0, said Del Parks, president of technology for Sinclair Broadcast. "If the industry can set and stick to a deadline, that will help accelerate the adoption of NextGen TV across the U.S. and allow local broadcasters and viewers to begin to take advantage of the power of NextGen TV," Parks said.
"TV broadcast stations and groups deserve a lot of credit for the degree of cooperation on the roll out efforts," he said, noting that at the end of Q1 of 2023, 61 percent of the total U.S. households in 69 DMAs will have access to an over-the-air NextGen TV signal.
Others believe there is much more work to be done on the consumer side. "Is there even consumer awareness of NextGen TV/ATSC 3.0?" asked Josh Stinehour, principal analyst of Devoncroft Partners, which will hold an industry summit during the show. "The measure of a new consumer service is consumer adoption." In Steinhour's opinion, the business and marketing side of the broadcast industry has "let down" the engineering-side of the sector.
Another Key Focus: The Future of Streaming
Some believe that bubble popped in 2022 and will never reinflate. "Cheap money, M&A and an irrational exuberance for streaming covered up the concerning economic trend in media organizations," Stinehour said. "With recent increased regulatory scrutiny, M&A is largely a relic of the past in the media industry, and money is much less abundant than the heady days of 2020 and 2021."
The gold rush days of streaming are behind us. "A gold rush is the correct analogy because there really wasn't much gold," Stinehour said. "Where fortunes were made, the primary basis was selling picks and shovels to the dreamers or selling the dream to a bigger fool. The same observations pertain to the history of streaming.
"Notwithstanding, it is a multi-platform world going-forward," he said. "We as an industry need to figure out how to make the new economics work because, as of early 2023, they do not."
Others see streaming platforms as the media industry's present and future. "We are in the business of providing news and entertainment content to our viewers on whatever platform they wish to view us on, and we have the distribution rights," Parks said.
NAB's Brown said that while there has certainly been some shake out, as you would expect with any emerging side of the industry, there is still plenty of activity in the space and plenty of need to continue a dialogue around everything from business models to content development to user and tech interface, including the Streaming Summit conference, on-floor engagement at the Streaming Experience and interest in the FAST free streaming channel trend and its impact on the overall streaming and wider broadcast industry. According to Brown, there are now more than 1,500 FAST channels in the U.S., with one research company reporting that FAST channel revenues are expected to reach $12 billion in 2027.
Cloud and Virtualization
Another key sector to be explored at the show: virtualization and the cloud. "I believe virtualization generally, and cloud specifically, are the salvation of the media technology sector," Stinehour said. "The transition is fundamental and is a once-in-a-career, second bite at the apple to correct the business models of market participants."
"On the production and post production side, virtualization and remote production tools continue to drive new dynamics, as do advances in VFX technology via game engine technology and exciting tools like 'volumetric' displays," Brown said. This year the show will also introduce a virtual production studio on wheels, called "the MagicBox," in the Create Inspiration Zone.
Other technologies to look out for: 5G, Artificial Intelligence, data-driven personalization, workflow automation software and virtualization.
"In my estimation, the most significant disruption of the next decade is going to happen in content creation," Stinehour said. "I am all-in on virtual production (LED volumes). The early business returns are breathtaking."
Above all, the NAB said it was focused on creating a vibrant marketplace as well as programs and services that deliver substantial direct value to our community.
"This centennial year is more important than ever as it provides the perfect opportunity to celebrate how far we've come as an industry but more importantly where we are headed," said the NAB's Brown. "Think about how far the industry has come in that time, from a strictly audio medium to the introduction of moving images to the dawn of film, TV, cable, satellite, streaming—and all the amazing technology that has driven those incredible advances. NAB Show has both been a reflection of those changes and a catalyst for changes to come." l
Visit nabshow.com to register.
The latest product and technology information
Future US's leading brands bring the most important, up-to-date information right to your inbox
Susan Ashworth is the former editor of TV Technology. In addition to her work covering the broadcast television industry, she has served as editor of two housing finance magazines and written about topics as varied as education, radio, chess, music and sports. Outside of her life as a writer, she recently served as president of a local nonprofit organization supporting girls in baseball.