WLS-TV's tapeless news upgrade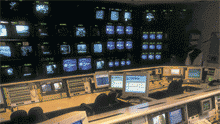 As the number one-rated news station in the number three-ranked media market for the past 15 years, ABC-owned-and-operated station WLS-TV recently completed the transition of its tape-based news production workflow to a completely digital one. The success of this carefully orchestrated transition was based on a proven digital infrastructure already in place, and a collaborative effort between the news and technical staff to design a new digital workflow that fit the station like a glove.

WLS-TV's newsroom in Chicago features technology from Digital News Technology solutions. Photos by Frank Pedrick of Pedrick Photography.

While the concept of a digital news environment sounded promising to station management, it was critically important that transitioning to a networked server-based news production model did not become a stumbling block to the station's on-air progress – nor impact the ratings and revenue generated by its local news operation.
Before work began on its digital news production system, a solid digital infrastructure was already in place – one built around a 512x512 PESA Cheetah digital video routing system with a Thomson Grass Valley (formerly Philips) Jupiter control system, an NVision AES audio router, and a digital intercom system. This foundation was carefully designed to provide the station as much flexibility as possible as it introduced new workflows and pursued new revenue-generation opportunities. It was architected with future-proofing in mind to prevent costly conversions as future upgrades were put into place.

The large monitor walls in the WLS-TV newsroom allow the staff to monitor multiple incoming signals, as well as the competition, all at once.

In 2001, the transition to a digital news production workflow began with the shift of two of the station's news production control rooms. The engineering staff upgraded the control rooms with Sony 7350 digital production switchers and Solid State Logic Aysis Air digital audio mixing consoles. As one room was completed, the news operation shifted into it so that the other could be updated.
At the same time, the station used Thomson Grass Valley Saturn master control equipment to overhaul its master control room to accommodate high-definition (HD) and standard-definition (SD) material. The station now has a multiformat, serial digital plant that is scalable and flexible enough to handle any type of audio or video signal.
Collaboration between news and engineering
The shift to a digital newsroom workflow was not unlike changing a fan belt on a car while driving 60 miles an hour down the highway. Popular newscasts had to remain on the air during the renovation, and the engineering and news staff had to make the changeover between the May and November sweep periods, avoiding the major revenue-producing winter and early spring months. Technical problems that could potentially interfere with the bottom line were not an option.
First, WLS-TV engaged in a collaborative transition-planning process involving its engineering and news departments. The teams invested more than two years studying the available digital news production options.

WLS-TV replaced its aging tape-based edit rooms with Thomson Grass Valley NewsEdit systems.

Having already made the transition to digital tape (Sony's Betacam SX format), the station wanted a digital news production (DNP) solution that would improve efficiency and help save on labor costs. It had to be fast, and it had to move the station away from linear production and provide more functionality.
It wasn't until NAB 2002 and a visit to the Grass Valley booth of Thomson Broadcast & Media Solutions that station management, engineering and news staff members were confident they had found a high-performance solution that would address their specific workflow issues – one that also had a decent chance of success.
WLS selected the Systems Management Group (SMG) of Thomson Broadcast & Media Solutions as the prime contractor for the installation. SMG and Toronto-based systems integrator AZCAR provided system design, configuration, planning and installation services.
The station chose a Thomson Grass Valley digital news production (DNP) solution, featuring 10 NewsEdit (previously called Vibrint) nonlinear edit systems, two FeedClip interactive feed capture systems, and 10 SCSI Fibre Channel-connected Profile XP media platform servers configured into two 30-channel redundant Thomson Grass Valley MAN systems. Each features 14TB, or approximately 1000 hours, of digital video storage at 18Mb/s of MPEG-2. Each is configured at 20 input channels and 10 output channels to support ingest from satellite and microwave feeds and from videotape machines. Playout channels are used for primary and redundant playout for news production.

The Thomson Grass Valley media platform servers feature a Fibre Channel-attached RAID storage system.

The facility records the majority of its raw material onto the high-resolution MAN system, along with a low-resolution proxy through Telemedia SpectreView encoders set at 1.5Mb/s. This process is controlled by the iNews Mediabrowse capture manager application. The process preserves time code information for both the low-resolution and high-resolution materials. The advantage of this approach is that reporters and editors can browse low-resolution versions of high-resolution materials at their desktops without waiting for an edit bay to become available.
The majority of the news content (about 60 percent) is edited with the NewsEdit systems and then transferred to the MAN systems for playout. The rest of the material is edited from the iNews MediaBrowse desktop by low-resolution proxy and then conformed on the high-resolution MAN system for playout.
The first phase of the station's transition to digital news production was to update its existing newsroom computing system to the latest version of iNews NRCS. The next step was to replace its aging tape-based edit rooms with the new nonlinear editing systems and its traditional, tape-based playout systems with MAN systems controlled by the iNews Control Air application.
This system features automated ingest of 20 channels of 601 video as well as feeds from the ABC NewsOne service that arrive around the clock, providing a newsroom workflow that enables journalists and producers to create edit decision lists (EDLs) directly from their desktops. This approach has the potential to save time and manpower.
Redundant playout
Playout is controlled via a redundant pair of iNews Control Air servers. The server engines receive the rundown from iNews NRCS and control playout under Profile's API from the MAN system's playout channels. The MAN system provides the additional benefit of being able to feed the graphics department with materials, as well as providing after-the-fact conversion of high-resolution materials to low-resolution files (via scavenge channels).

WLS-TV chose SCSI Fibre Channel-connected Thomson Grass Valley Profile XP media platform servers.

Coupled with the Thomson Grass Valley Profile Network Archive, this system enables media managers to archive the news materials from workstations instead of manually managing their tape libraries. Media managers use the Contentshare explorer to archive news material through an Avalon AAM tape interface on to a StorageTek L700 robotic tape library populated with six 9940 drives.
A Telestream FlipFactory universal translator trascodes the ABC NewsOne feeds from Pathfire servers to the Open SAN systems. The translator monitors the Pathfire server and when new material arrives it stores, converts and then forwards this material to the MAN system, which can then play out the clip while iNews Media Browse scavenges a low-resolution copy for desktop review and manipulation.
Digital news solution
The digital news production solution is a potent one. Reporters can preview video footage as it is being ingested onto the network. There's no waiting time like there is when trying to digitize videotape and material. WLS-TV is also working with iNews to develop modules to automate MediaBrowse control over the Profile Network Archive system because archiving should be seamless to the person logging and storing video and audio assets.
The digital newsroom system has the potential to eliminate on-air errors. In a 30-minute newscast, the station uses from 40 to 60 pieces of video. The chances of a tape being played wrong from a VTR are high because the process is completely manual, and there is no backup system. However, with automated ingest, clip naming, clip registration in the rundown, and playout, the chances for error are greatly reduced.
The success of a tapeless digital news production environment is directly proportional to the interaction between the key decision-makers within the news and engineering departments. The most important thing WLS chose to do with this installation was make the news department a partner in the early planning stages. It's important that the news department buys into the system and provides feedback about their desired workflow. These are the people who are going to use the system on a day-to-day basis. There have been many instances where engineering groups have failed to implement the right technology because they have a problem discussing technical issues with the non-technical side of the station.
To be number one, a station has to have good talent and an aggressive newsroom, but it also has to look good on the air and, through the use of digital newsroom technology, that's what WLS-TV has done.
Kal Hassan is director of engineering for WLS-TV in Chicago.
Design TeamAZCAR:John LuffAndrew CoxNeil SuttonThomson Grass Valley:Larry MastMark WagnerWLS-TV:CC BoggianoTim DammJan FederenkoJennifer GravesKal HassanDave HewittCraig Strom

Equipment ListThomson Grass Valley:MAN systemsNewsEdit systemsFeed Clip packagesProfile Network ArchiveiNews:NRCS newsroom (100 seats)MediaBrowse (70 seats)Control Air playoutPESA router w/ Jupiter control and Thomson Grass Valley modular distributionTelestream FlipFactory conversion and distribution of NewsOne/Pathfire ingested material



The latest product and technology information
Future US's leading brands bring the most important, up-to-date information right to your inbox
Thank you for signing up to TV Tech. You will receive a verification email shortly.
There was a problem. Please refresh the page and try again.