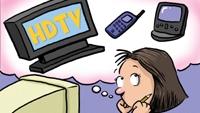 Diamonds or HD?
Brad,
I surveyed the gals in our office — no one would opt for high-definition television over a one-karat diamond ring. Maybe the CEA needs to clarify that the three Cs — color, cut and clarity — are top-notch and then ask the question again.
Christine Jelley
MCG Surge Protection
Brad,
You need a survey to realize these facts? Nice article. And yes, I have been using screwdrivers and climbing towers for years.
Stephanie R. Koles
Will digital work?
Brad,
I have been reading your magazine and editorial comments for some time and have enjoyed your sense of humor and insight regarding this digital conversion. I just don't see it happening as seamlessly as the transition to color.
The other night (late night) I was watching a show about Kate Chopin on my local public TV station WGBY and the program started to break up — little squares appeared and disappeared all over the screen. It was obviously a digital problem that I have never encountered before. I stayed with the program, not so much because of interest in it but more to see if they could clear up the problem. The squares increased in number until there were lines of what looked like out-of-place puzzle pieces. The sound started to break up, and finally the screen went blank except for the station tag in the lower right corner. They never showed the end of the program, and the next program did the same thing. Finally, I shut off the TV and went to sleep wondering: Is this what the digital future holds for us?
Mike Rivers
Digital does work
To the editor:
I would just like to comment on my perception of the accuracy of your article in the weekly Web newsletter for Dec. 30, 2002, "DTV transition still going through the (slow) motions."
I am the chief engineer at NBC affiliate WPSD-TV in Paducah, KY. We serve western Kentucky, western Tennessee, southern Illinois and southeast Missouri.
In May 2002, the elbows started flying around our area. As of now, we have the ABC (WSIL) at full power from Harrisburg, IL; FOX (KBSI) at full power from Cape Girardeau, MO; PBS (WKMU and WKPD) from Murray, KY, and Paducah, KY; and CBS at over half power (KFVS — Cape Girardeau, MO).
We are on with just under 5kW ERP. We are only 135 feet in the air with our antenna. At first, it was like a science project, with just a few viewers. That, however, is changing. With our reduced power, we are received in about a 30-mile radius.
The ATSC format appears to be VERY robust. We do have monitoring equipment and have made field tests. This digital stuff is going to float, and float well. Our owners can't stand the fact that we are lagging behind. We are located on the New Madrid fault, and because of that, we intend to keep our low-power Harris Ranger transmitter as a standby for emergencies. We purchased the Harris Flexicoder encoding system. This encoder (or any other for that matter) is a big chunk of the cost of going digital. Anyone who is on the air has invested in their future.
In fact, I have been working feverishly over bids for a new, 1MW transmission system for us. I received my e-mail version of your publication while I was working on the bids and didn't really have time to write this letter. But the article seemed very biased. Not to mention the fact that the author's name didn't appear anywhere near the article.
The article also failed to mention the requirement that was placed on CEMA last year to provide ATSC tuners in sets, starting in 2004 (for big screens).
Anyway, although I've sent in an opposing opinion, I wouldn't have done so had I not been provoked into thought by your publication. Keep it up.
Joey D. Gill
WPSD-TV
Get the TV Tech Newsletter
The professional video industry's #1 source for news, trends and product and tech information. Sign up below.