NAB Replay - Video editing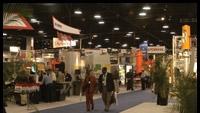 By now you have probably heard all the excitement generated by Avid's new Xpress Pro, Media Composer Adrenaline, and DS Nitris products (and the DNA family, which was awarded a Pick Hit) — and the ooohs and ahhhs of Apple's Final Cut Pro 4 (which was awarded a Pick Hit) — especially when combined with one of the several new third-party-compatible hardware products like AJA's Io and Blackmagic Design's DeckLink. Both Apple and Avid products were highlights of this year's NAB, but there also were many other exciting video editing and compositing products. Here are a few in alphabetical order.

Avid and Apple got ooohs and aahhs for their NAB announcements, but many other companies offered exciting video editing and compositing tools as well.

In addition to their new Encore DVD creation application, Adobe Systems demonstrated Adobe 6.5 and After Effects 5.5 and plans for updates later in the year. It was also interesting to observe that all demo stations were Windows-based — there were no Apple platforms. In the AAF press conference, Dave Trescott, senior director of Adobe's Digital Video Group, demonstrated AAF media and metadata interchange between Media Composer and After Effects using a prototype of the AAF XML schema. Trescott gave credit to Metaglue and others for assistance in this development effort.
Bella was awarded a Pick Hit for its Professional Series keyboard for nonlinear editing.
Canopus offered its new Edius editing software for its post-production products (DVRex RT and DV Storm) and Rextor software for its broadcast NLEs. The latter was found on the CWS-100 broadcast workstation and the new CWS-30 laptop edit product. The CWS-30 offers three render-free streams with 2-D and 3-D real-time transitions, animated titling, video filters (including color correction with a WFM/VS display) and motion effects.
Edirol was showing version 1.628 of its DV-7 VideoCanvas nonlinear editing turnkey. The product now offers a new M-100FX 10-channel audio mixer with effects hardware option in addition to the DV-7C proprietary controller. They will offer a DV-7 Pro version in June. This pro-expansion kit offers a deluxe upgrade including a USB external multimedia memory card reader and a new titling interface with 3-D roll and crawl effects and new audio effects. The kit also offers new video effects, transitions and filters — including more real-time capabilities.
Global Streams demonstrated version 2.9 of its GlobalCaster Studio family, which features its real-time hybrid editing system, animation and paint compositing tools, and a real-time 3-D Video Warp Effects Creation tool.
IMC Incite did not have a booth of its own, but was demonstrating version 3.0 of the Incite Editor in the Matrox, Snell & Wilcox, Sony and Thomson Grass Valley booths. New features in version 3.0 include an improved GUI and improved operations workflow. The product offers hybrid tape-to-tape editing capabilities, a new Sound Surround tool, improved VO recording tools and major improvements in media asset management.
In-sync also was without a booth of its own, but was on the show floor in several booths. The company was in the BOXX Technologies booth showing Speed Razor HD version 2.0 (only available as part of the HDBOXX), in the Panasonic booth with Blade 2.1 on a Panasonic ToughBook laptop editing from an AG-DVX 100 camcorder, and in the Utah Scientific booth showing Speed Razor/Shear MPEG editing with automated playlist video servers. The company just announced Blade version 2.2, a service update that also includes (for a limited time) Boris FX LTD and Boris Graffiti LTD plug-ins. Speed Razor version 5.5 offers Audio True Scrub, precise VU Meters, a rewritten EDL import and export module, a faster "save projects" feature and an updated Druid system diagnostic utility.
Leitch unveiled its new version 8.2 software for the dpsVelocityQ multi-stream nonlinear editing system and dpsVelocity dual-stream NLE. They were promoting the new and customizable GUI, EyeCon View (a feature displaying the picons and clip time code of all visible layers based on the current playhead position), multi-cam editing, and the AAF and OMF import and export interoperability option.
The flagship dpsVelocityQ features real-time, full-quality playback of four streams of video, up to six graphics streams and four channels of 3-D DVE. It can also stream to the Web live from the timeline. The product comes bundled with eyeon Software's DFX+, Inscriber TitleMotion, Sound Forge XP STUDIO, Ligos GoMotion and Sonic ReelDVD LE.
Lightworks TOUCH is one of those surprising offline systems. It is simple and easy to use, so users can focus on what they are editing and not on the technology. It can play back four locked real-time picture viewers at top picture quality for multi-cam editing.
Linux Media Arts was demonstrating a resolution-independent (10-bit video) real-time HD/SD nonlinear editing solution, CINELERRA. The system includes dual processors, 1TB of storage and 2GB of RAM.
Matrox was offering its RT.X100 Xtreme professional real-time video editing and DVD authoring platform with full versions of Adobe Premiere 6.5 and both Sonic Solutions ReelDVD Studio and DVDit! SE applications.
Newtek debuted its VideoToaster [3] software. The new software offered hundreds of new features and workflow improvements, ranging from radical new concepts like Zebra stripes for hot video and illegal colors with auto calibration for 75IRE bars and 100IRE bars, to the more traditional media asset management, text generation, real-time multiformat editing and DV support enhancements.
Pinnacle Systems' Liquid products may be the second most popular Windows NLE software package after Avid's products. NAB saw the debut of Liquid chrome. This product combines three of Pinnacle's hot components: the Liquid version 5 editing application, the TARGA 3000 compositing engine and the K2 single-chip 3-D DVE. Liquid is a powerful software package, but until now, layers compositing and effects utilized background rendering with InTime processors rather than the real-time effects or real-time previews that many editors prefer. The TARGA 3000 compositing engine provides four real-time edit streams of 50Mb/s I-frame MPEG-2 4:2:2, and uncompressed or DV25 codec editing/compositing. Chrome offers a multi-pass process that automatically renders composites with more than four layers without taking foreground control from the user so workflow is not interrupted. It should be pointed out that for the first version of the product, the InTime processors will not work with chrome, but this should change in the next software version. The product will still do background rendering with the host platform's processor — called "Idle-Time" rendering. The system is designed for networking with built-in support for Pinnacle's Palladium network storage, but does not yet offer AAF-compatibility.
The Liquid blue, Liquid silver, and Liquid purple solutions were also displayed at Pinnacle's booth, as were the Vortex news editing products, Edition NLE and CineWave hardware. Version 4 of Cinewave was introduced, featuring FCP 4 compatibility and many new real-time effects for a variety of formats. The system also supports eight audio tracks output and enhanced HD and film, and allows offline resolution, as well as providing TARGA Ciné Codec workgroup support for PC platforms.
Quantel demonstrated AAF metadata and media exchange between Apple's Final Cut Pro system and a Quantel eQ, thanks to the Automatic Duck AAF Interchange plug-in. This new capability will allow filmmakers to bring their FCP projects to a Quantel finishing suite to "up-rezz" polish, add hi-resolution titles, color grade for the appropriate output and either print to film using a digital film recorder or output to a Digital Cinema format.
Quantel also introduced the new QEdit Pro Windows-based turnkey nonlinear editing system, with three hours of uncompressed video storage. This product, featuring resolution co-existence (up to standard-definition uncompressed video — and multi-resolution compositing at up to 2K resolutions), was awarded a Pick Hit. The product's version 1.5 software includes real-time aspect ratio conversions, and features major improvements in editing, audio and compositing tools. The product now offers selective color correction of every layer, multiple keys on every layer and improved archiving, as well as an exchangeable storage option called HotSwap.
Seachange's Media Publisher, an MPEG-2 plug-in for Adobe's Premiere NLE, was also a Pick Hit recipient.
Sonic Foundry was winning over skeptics at NAB with its Vegas NLE software — another one of the more powerful yet underrated products with excellent audio tools. The product offers what naysayers call a "non-standard graphic user interface" and what advocates call easy-to-learn-and-use editing methodology with many real-time features.
The Vegas' HD editing and 5.1 Sound Surround mixing capabilities were demonstrated in the Microsoft booth using Microsoft's WM9 series format. In its own booth they were promoting their new color grading capabilities (with built-in waveform/vectorscope/parade/histogram monitor window and secondary color corrector control), 24fps editing featuring native support for the Panasonic AG-DVX100 24p DV camera, the much-improved MPEG-2 (and AC3) encoding and new advanced video effects capabilities (with split-screen preview) — especially the Motion Blur. There were major improvements in performance and media asset management. The company was also promoting its Vegas+DVD product, which is a complete suite of integrated tools that not only includes Vegas, but its AC3 encoder and DVD Architect as well.
Ulead introduced StudioQuartet, a suite of applications for video production including the MediaStudio Pro 7 video editor (with software-only, real-time, full-resolution preview and output), the PhotoImpact 8 image editor for enhancing digital images or creating graphics, the COOL 3D Studio 3-D text and object animation for video production, and DVD Workshop AC3 advanced DVD authoring software with support for Dolby AC3 audio files.
Version 7 of MediaStudio Pro ingests and edits DV and MPEG video, and composites PhotoImpact stills or graphics along with COOL 3D animated titles or lower thirds. It then applies a wide range of effects and filters, with the result immediately available in full-resolution either in the preview screen or on a second display device (using a dual display graphics card). It also features paint, rotoscoping, 2-D vector motion graphics, audio editing and DVD authoring tools.
Bob Turner is a contributing editor for Video Systems magazine and operates Bob Turner Post Production Services.
The latest product and technology information
Future US's leading brands bring the most important, up-to-date information right to your inbox