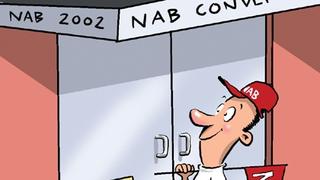 Unless you're over the age of 50, you probably don't remember the phrase, "A really big shew," but it was Ed Sullivan's famous pronunciation used to open his evening TV show. Every one of his shows was "a really big shew." Could this year's NAB be in that same category?
Despite this industry's quandary about market conditions, budgets and financials, the NAB "shew" actually promises to be quite upbeat. Besides, what better place to take your mind off business than in "Sin City" with 100,000 people you don't know — who probably want to have just as much fun as you do.
The most visible change in this year's convention is the addition of the two South exhibition halls. Combined, they provide an additional 300,000 square feet of new exhibition space. If your feet got tired last year, just wait!
To ensure that the new space isn't missed, several large exhibitors have moved into the new exhibition space. Avid and Apple will anchor the lower level hall. Sony, Leitch and Thomson will anchor the upper level space. The goal, of course, is to draw traffic from the familiar halls into the new spaces. Because the new halls are, shall we say, a bit removed from the main LVCC, there will even be a tram running between the Central and South halls. Come ride the train!
There are a couple of other improvements worth mentioning in the new spaces. The first is the number of restaurants. Okay, maybe I'm using the term "restaurant" loosely, but at least there are plenty of places to catch a bite to eat and something to drink. Just as important, many of these eateries provide space to sit while visiting with friends or business associates. This is a far cry from the old halls where once you pay $8 for a hot dog lunch, you end up standing like a stork because there's no place to sit.
Second, there are lots of restrooms conveniently located around the halls. In the old Central hall, you're either forced to climb stairs to the hidden potties or leave the exhibition area and wait in line near the meeting rooms. It should be easier to find relief in the new halls.
The NAB convention has never been short on sessions, and this year is no exception. With more than 150 conference sessions, seminars and special events you're sure to find something to your liking.
And, in a welcome return to the old days, NAB has arranged a special festive event to launch this year's show. Comedian Jay Leno will perform an opening show Sunday at 9 p.m. The show, to be held at the Bellagio, begins with a reception at 8 p.m. This is an extra cost, advance-ticket-required event, so don't just show up thinking you'll get in. Contact the NAB for ticket information. This should be a lot of fun!
By Tuesday, you'll be ready for some more serious stuff, so you could attend the FCC Chairman's Breakfast where ABC News anchor Sam Donaldson will interview FCC Chairman Michael Powell. The one-on-one setting could prove interesting as this chairman, unlike his two recent predecessors, seems to be focused more on issues than politics.
So, don't let the FUD factor (fear, uncertainty and doubt) get you down. Join me and 100,000 other professionals for "a really big shew."
Send comments to: • direct:editor@primediabusiness.com• web site:www.broadcastengineering.com
Get the TV Tech Newsletter
The professional video industry's #1 source for news, trends and product and tech information. Sign up below.