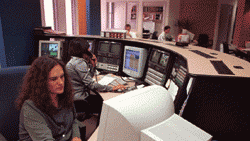 Network Facilities Excellence Awards Winner


The European Broadcasting Union, based in Geneva, Switzerland, decided in early 2001 to move from its long-time Washington bureau down the street to a building with more space appropriate for building a hub facility where all EBU members could cluster their unilateral facilities around the EBU, which would act as a central ingest and distribution for coverage of U.S.-based news for EBU members. The building was picked a scant five months before the move would begin, which required fast-tracking the design of the space and parallel design of the system needed to support multiple broadcasters.
AZCAR was selected to complete the design and installation. AZCAR designed a flexible, all-digital transmission system centered around one of the first installations of the GVG Thomson Concerto routing system under Encore control. The control system also is interfaced over the EBU's WAN circuits to EBU's Thomson Venus router in New York. Monitoring in the new facility makes use of a strategy of using virtual monitor wall processors (Miranda Kaleido) and VBrick video over IP to deliver signals from any portion of the facility to the desks of producers and transmission coordinators.
After a review of available editing solutions, EBU chose Leitch NewsFlash as the house standard and AZCAR prepared a system that would permit content to be recorded to servers where it would be instantly available to editing stations. Control of the ingest is done from production coordinator's desks and a central control area using networked computers and displays switched in a computer display router. By using this strategy the facility permits a minimum staffing level while maintaining the ability to control up to 16 outgoing feeds at the same time during peak news demand times. During special events the facility can be expandable on a temporary basis to handle any number of simultaneous outgoing feeds and the recording of multiple signals.
The facility also includes two small studios suitable for live or taped feeds. In these studios, each equipped with Ross chroma keyers, journalists can do live shots to Europe, or complete tops and tails for stories in progress. A remote-controlled "beauty shot" camera was installed across Washington for use as a live key background instead of using fixed artwork.
Immediately after the initial installation began, a national tragedy became an instant ramp up in need, when the Sept. 11 attacks required the installation of temporary expansion to handle a crush of literally thousands of unilateral transmissions to countries across Europe. The studios, editing and transmission capabilities were pressed to the limit and found to be a huge success.
Design Team
European Broadcasting Union:
Tony Naets, head of news, EBU Geneva
Olivier Hinnewinklel, bureau chief
Bill Headline, project manager
Jay Hahn, project engineer
AZCAR USA:
Russ Rockwell, project engineer
Marty Skoff, installation supervisor
Equipment List
Leitch NewsFlash news editing stations
Leitch VR440 server system (12 channels)
Thomson Grass Valley Concerto routing
Thomson Grass Valley Encore control system
Miranda Kaleido G-2 virtual display processor
Panasonic plasma displays
VBrick video over IP system
Leitch DPS-475AV frame synchronizers
Ross CDK 104 mixer keyers
Panasonic studio cameras
Brightline studio lighting
The latest product and technology information
Future US's leading brands bring the most important, up-to-date information right to your inbox
Thank you for signing up to TV Tech. You will receive a verification email shortly.
There was a problem. Please refresh the page and try again.