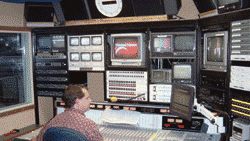 Audio Facilities Excellence Awards Winner


CanWest Global Communications is an international media company that serves as Canada's largest publisher of daily newspapers, and owns, operates and/or holds substantial interests in newspapers, conventional television, out-of-home advertising, specialty cable channels, radio networks and Internet portals in Canada, New Zealand, Australia, Ireland and the United Kingdom. Fireworks, the company's program, production and distribution division, operates in several countries throughout the world.
CanWest Global Toronto's main audio control room recently underwent a significant expansion as part of a larger project to enhance the organization's live news capabilities. Global News' strong commitment to live news quickly determined that a stronger audio console was needed to support the growth.
CanWest Global's operations and engineering were challenged with replacing a dated analog board to accommodate the increased requirements and anticipate the growth of news services including a morning show and increased network responsibility. A Wheatstone TV-80 audio console was selected, bringing the number of Wheatstone consoles purchased by CanWest Global to five.
Challenges included limited time and space allocation. Additionally, the major market broadcaster had to remain on-air during construction, which was achieved with a side-by-side temporary console while the old one was removed. The cutover had to be seamless, thus an unusual and effective strategy was formulated. Using Styrofoam and cardboard, the staging department fabricated a duplicate control room, including equipment.
The console was placed in the "mock" studio so operators could train in a realistic environment, familiarize themselves, address operational issues and minimize the learning curve prior to going live. The "mock" environment also afforded the opportunity to maximize the design of the room and perfect the layout before anything was bolted down and wired in the new studio.
The TV-80's dedicated IFB mix-minus busses were very attractive features for the significant increase in live news production. The upgrade resulted in a huge live news element including a helicopter, microwave trucks, satellite trucks and fiber hook-ups. Six to 10 live remotes are now produced in each half-hour program, and the TV-80's ample mix-minuses give reporters the ability to communicate with the station, as well as hear each other. This feature strengthens the reporters' participation in the newscast, which is an invaluable tool for a news-intensive broadcaster in the highly competitive Toronto market.
The TV-80 offers a true broadcast console that offers a sturdy mechanical design without crowded real estate issues. The console is extremely operator-friendly and has lived up to expectations.
Design Team
Jim Peck, Wheatstone
CanWest Global:
Bob Burns, director of technical services
John McEwen, technical producer
Henry Brown, chief audio operator
Mark Walewski, manager of engineering facilities and planning
Equipment List
Wheatstone TV-80
AVP Bantam audio patch panel utilizing over 500 jacks
RTS/Telex telephone interfaces
Stereo DBX compressors
760 Tektronix audio monitor and
Tannoy speakers with Hafler power amplifiers
The latest product and technology information
Future US's leading brands bring the most important, up-to-date information right to your inbox
Thank you for signing up to TV Tech. You will receive a verification email shortly.
There was a problem. Please refresh the page and try again.