What's Next for the ATSC 3.0 Transition?
NAB's request for intervention reflects doubts about progress in the move to NextGen TV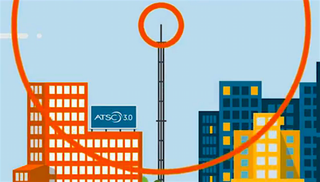 (Image credit: ATSC)
Up until last week, all of the major parties involved in the transition from ATSC 1.0 to 3.0 appeared to be on the same page. Advocates touted the continuing progress in deployments, pointing to the fact that more than 60% of American TV households are capable of receiving NextGen TV. Although CES came and went with little news about NextGen TV, four of the world's largest manufacturers now offer sets with 3.0 tuners with Sony making them available across its entire TV line.
On the enterprise side, the evolution of ATSC 3.0 as a data delivery system is ongoing, with companies like Sinclair and its ONE Media subsidiary, along with partners including Bitpath, have made great strides in enabling data delivery to motor vehicles and positioning the standard as an important element in an ecosystem that can provide more efficient methods of wireless delivery to both commercial and non-commercial entities.
More Support Needed
But all is not well with the situation as NAB has now made public. Characterizing the transition as "stalled," the association asked the FCC last week to recommit itself to promoting the standard to the public and take steps to advance the development of peripherals that consumers could use to access 3.0 signals (since the standard is not-backward compatible) as well as establish a Task Force to focus on the resolving issues hampering the transition.
All of these requests lead to what the NAB wants most: A deadline that would allow broadcasters to switch off 1.0 and broadcast just ATSC 3.0. Currently the transition involves stations in individual markets collaborating with a "host station" that carries the station's 3.0 signals off of one tower, a dual transmission scheme the NAB describes as "wasteful."
The FCC, which approved the ATSC 3.0 standard in 2017 with the usual grandiose statements of support that come with the passage of a new standard, has never publicly wavered from that support, but has also stressed the importance of constant feedback in an effort to possibly tweak the rules based on changing scenarios.
In an interview with NAB President Curtis LeGeyt at the 2022 NAB Show, FCC Chairperson Jessica Rosenworcel emphasized the commission's "partnership" with broadcasters in advancing 3.0; but she also wanted feedback.
"Come to us, tell us what you're seeing," she said. "Tell us what's working and where there might be a hurdle in our rules that we should figure out how to fix."
Likewise, in a speech last summer in which he voiced support for NextGen TV while raising questions about the privacy issues that come with a standard that will now give broadcasters the ability to gather far more data about viewers than ever before, FCC Commissioner Geoffrey Starks opened the door for more oversight from the commission.
"[I]s there perhaps an effort for the FCC to lead here, as we did in developing a Congressionally mandated digital transition equipment subsidy program, or using our role as the regulator of television equipment?" Starks mused. "Let's get creative. I want to hear the industry's ideas here."
A More Competitive Market
NAB responded last week by holding several meetings with FCC officials that included executives from several broadcast groups, including Nexstar, the nation's largest. Touting the advantages of a standard that combines the flexibility of IP with far more efficient use of spectrum, the broadcasters told the commission that the deployment of 3.0 will help the industry better compete with streaming companies and similar Silicon Valley giants.
Add to that the slow but gradual increase in streaming 4K content and broadcasters are understandably concerned that without more clarity to the 3.0 transition, the industry could be left behind. .
"Ultra-high-definition (or 4K) video has grown from a futuristic capability to a common capability available across nearly all other video platforms," broadcasters told the FCC. "Soon, 4K will be considered table stakes to gain access to high value content."
Broadcasters didn't get to this point without some experience. We've been through this before several decades ago in the transition from analog to digital, which ended with the nationwide shut off in 2009.
And while there were some similarities—the promise of spectrum efficiency and the lack of backward compatibility with existing consumer products—there are some big differences: Advocates of ATSC 3.0 have long promoted a market-driven approach with minimal FCC regulations while the stakes in the transition from analog to digital were far higher with a less than clear outcome: namely a hard deadline (that changed several times) along with a mandate to include 1.0 tuners in all sets sold in the U.S.
Don't Expect a Mandate
Today, support for a similar tuner mandate is practically non-existent. In the first transition, the CEA initially opposed the mandate but eventually manufacturers had to comply with FCC rules that were implemented in 2005. But that stipulation was also part of an agreement that set a hard deadline for the analog switch off. While NAB is pushing for such a deadline today, it has consistently supported a mostly market-driven approach for the transition to 3.0.
An NAB spokesperson said that broadcasters are not advocating for a mandate and called the consumer electronics industry "a great partner" in the development of the ATSC 3.0 standard.
The CTA, for its part, has been an integral part of the transition, establishing a program that certifies compatibility with 3.0, giving manufacturers the opportunity to carry a NextGen TV logo as well as working with such initiatives as the AWARN emergency alerting service.
But it also vigorously opposes a tuner mandate, instead, parroting NAB's position that the transition be market driven but that they, in the words of CTA President Gary Shapiro, "have to promote the heck out of it."
TV sets that support NextGen TV represented only 8% of overall TV set sales in the U.S. in 2022 and CTA predicts that almost 5 million will ship to dealers in 2023, representing 12% of the total. It expects that share to hit 50% by 2025.
However, those figures don't take into account whether more manufacturers will get on board. Currently only a small number of TV sets—mostly high-end—from LG, Samsung and Hisense—offer 3.0 support, while Sony has gone all in, announcing last year that all of its sets sold in the U.S. will support NextGen TV.
A CTA spokesperson said that the association believes set sales will accelerate, but that broadcasters have to make a purchase more compelling by offering more than what they're providing now. "We expect unit growth to increase sharply over the next two years as new ATSC 3.0 broadcast features become available," the spokesperson said.
One of the hurdles in consumer adoption is the fact that the turnover rate for purchasing new sets is now longer than it was two decades ago, which means the time between purchasing new sets is longer. Does that mean there's a market for peripherals?
So far the market for such devices that support ATSC 3.0 has been minimal to say the least and none of them—including Silicon Dust's HD Home Run Flex 4K box— have been certified by the CTA to carry the NextGen TV logo. Nevertheless, NAB says it fully supports the development of such devices, according to their spokesperson, who said the association has "worked closely with consumer electronics manufacturers to develop cost-effective tuners and converter devices to help ensure consumers can receive ATSC 3.0 signals."
For those who have purchased 3.0 enabled TV sets, how many are actually using them to view NextGen TV? If history is any guide, not many, particularly in such an early phase of the transition. Although in 2022, Nielsen estimated a slight uptick in households that view free over the air TV to 19 million homes, that represents just 15.3% of all households and is equally unimpressive in light of the wave of cord-cutting that has accelerated in recent years.
The industry's reluctance to release any numbers can lead one to conclude that there's not enough yet to significantly impact public perception of the standard.
What it Means for Broadcasters
Undergirding the concern over lack of public interest in NextGen TV is the burden imposed by requiring broadcasters to simulcast both ATSC 1.0 and 3.0 during the transition. Although the financial burden is minimal—the cost of broadcasting both are mostly in purchasing the equipment needed—the inefficiency really lies in the way the spectrum is used.
Requiring stations to simulcast with the same amount of bandwidth they had for 1.0 is forcing broadcasters to reduce the bandwidth (and quality to some extent) of their ATSC 1.0 programming. Although 3.0 does allow for a more efficient (HEVC) video coding, there's just not enough left over to offer 4K HDR, the one feature that most agree could help spur more interest.
Hence the push for a hard deadline to end simulcasts is quickly moving to the top of broadcasters' wish lists. What hasn't been publicly mentioned in the current debate is the role of cable and satellite companies who have vigorously opposed any rules requiring them to carry 3.0 and 1.0 at the same time.
In comments to the FCC last year, NCTA-The Television and Internet Association doubled down on its opposition and said it found no problems with extending the transition indefinitely.
It told the commission that the five year "sunset" for ending 1.0 coming up this summer should continue until at least 2028, and that even by then, the FCC should simply launch an inquiry into whether it should sunset.
The decision by MVPDs on when to carry 3.0 will not be guided by technology issues but rather by business decisions and a consideration of current FCC rules in place. Faced with the cessation of 1.0, cable and satellite operators are likely to negotiate with broadcasters to carry only a stripped down version of 3.0 that will still allow them to comply with must-carry rules.
But if broadcasters can get enough viewers that want the kind of features that make NextGen TV unique, maybe adding a + paid tier on both broadcast and cable/satellite is possible.
Will any of this have an impact on the retrans revenues that broadcasters rely on so much? Only time will tell.
3.0's Data Pipe
The consumer side of 3.0 is just one element of the multi-faceted standard. Using 3.0 as a "data pipe" has been promoted as perhaps the "killer app" that will allow broadcasters to offer enterprise-level services such as software updates for anything from gaming systems to rental cars and providing live over the air streaming to vehicles and even playing a role in the slow but steady emergence of autonomous vehicles.
This market has been of particular interest for Sinclair, whose ONE Media subsidiary has been laser focused on such capabilities for the last several years.
"There is a pent-up demand for affordable, robust supplements to wireless data distribution," ONE Media President Mark Aitken told TV Tech. "Broadcasters can fill that void, but we need the government to devote the same attention to accelerating NextGen deployment as it does to support broadband availability.
"We've made remarkable progress so far and need a commitment from the government that 1.0 will sunset on a date certain so that the ecosystem—broadcasters, CE manufacturers, vendors, and users—can anticipate more options," he added.
Amid all the calls for more intervention from the FCC, one veteran who has seen enough of how Washington works vis a vis media regulations reminds us that more oversight comes with its own set of familiar risks.
"Setting up an FCC Task Force is a good idea, but it almost guarantees a prolonged process to figure out what to do," said Gary Arlen of Arlen Communications LLC. "Maybe it will buy time so that consumers will actually purchase and use NextGen TV sets, and there will be some perceptible values (picture quality, additional services) that appeal to viewers and consumers."
This article was updated 02/03/2023.
The latest product and technology information
Future US's leading brands bring the most important, up-to-date information right to your inbox
Tom has covered the broadcast technology market for the past 25 years, including three years handling member communications for the National Association of Broadcasters followed by a year as editor of Video Technology News and DTV Business executive newsletters for Phillips Publishing. In 1999 he launched digitalbroadcasting.com for internet B2B portal Verticalnet. He is also a charter member of the CTA's Academy of Digital TV Pioneers. Since 2001, he has been editor-in-chief of TV Tech (www.tvtech.com), the leading source of news and information on broadcast and related media technology and is a frequent contributor and moderator to the brand's Tech Leadership events.