ATSC 3.0 at the 2023 NAB Show, Part II: Transmission and Monitoring
How will 3.0 gear work with DRM?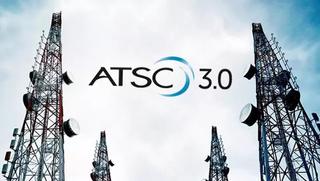 (Image credit: ATSC)
This month I conclude my coverage of the centennial NAB Show with a look at the impact of content protection on ATSC 3.0 test equipment, transmission system innovations, the disappearance of RFS, and compatible MIMO for ATSC 3.0.
ATSC 3.0 Equipment and Content Protection
Broadcasters introducing ATSC 3.0 content protection noticed their test gear stopped displaying audio and video. The good news at the NAB Show was that Sencore is working with A3SA, the ATSC 3.0 security authority, and will add the ability to decrypt protected signals to their ARD3000 series ATSC 3.0 receiver/decoders. Triveni will also support display of content protected video and audio in its ATSC 3.0 Streamscope XM products.
At its booth in the West Hall, Tolka showed its new ATSC 3.0 set-top box and dongle being sold by ADTH with support for content protection. It wasn't clear if the dongle would work on a laptop, but with the right application it should work on Android devices using the Stagefright media playback engine that supports Widevine L1.
The ADTH set-top box uses Android and is the NextGen TV-certified to support ATSC 3.0 with content protection o the U.S. market. Widevine is also supported in the Chrome and Firefox browsers. I haven't seen any ATSC 3.0 devices using browsers to display protected content and wouldn't expect to until there is more support for Dolby AC-4 audio.
Airwavz is working on support for content protection on its Redzone ATSC 3.0 tuner and associated TVXplorer software but was not ready to say when it would be available.
Last year I reported on the Promax ATSC 3.0 and ATSC 1.0 analyzer and 6 GHz spectrum analyzer. The "Atlas" is now available for $10,800 and was on display at the show. While there are less expensive options for ATSC 3.0 signal analysis, the unit's spectrum analyzer capability and features could be useful in some applications. I was able to use the spectrum analyzer in the unit on display to find one of the ATSC 3.0 signals in the West Hall and tune to it to see what it contained. Content protection was not available but video and audio demodulation isn't the main use of this unit.
Transmission Innovations
Although I spent little time with transmitters, Anywave's "all-in-one" DTV exciter caught my attention. It can generate ATSC 1.0 or 3.0 signals and seems ideal for broadcasters looking for a simple way to deploy ATSC 3.0. The exciter is available with ATSC 3.0 gateway as well as GPS reference options. It pairs with Anywave's new ATSC 3.0 H265 route encoder. It was hard to believe Anywave had squeezed that much capability into a one rack unit enclosure.
At mountain-top transmission sites and where interference is an issue, optimizing coverage can require different beam tilt in different directions. One way to achieve this is through an array of panel antennas. However, as Dielectric's John Schadler described in his paper "Broadcast Travelling Wave Antenna with Azimuthal Beam Tilt," Dielectric's solution using four pylon cylinders, each of which can be designed with different amounts of electric beam tilt, allows a much simpler feed system.
This antenna would be ideal for locations like Farnsworth Peak in Utah where less tilt is needed north and south to cover Ogden and Provo and more tilt is needed to reach the populations in metro Salt Lake City to the east and Tooele to the west. The white paper provides more detail than was what was presented at the Dielectric NAB breakfast and is available at www.dielectric.com/technical-resources/.
Dielectric demonstrated its Apollo monitoring service for RFHAWKEYE, which provides an in-service TDR (time domain reflectometry) sweep of a station's antenna and transmission line. Resolution is sufficient to see individual line flanges. While the RFHAWKEYE has been available for a few years, the new Apollo service remotely monitors a station's antenna and transmission line for small changes and is capable of alerting the station.
I saw an example of this in Los Angeles on Mount Wilson after heavy snow and ice bent a rigid transmission line but did not break it. Dielectric's remote monitoring detected the small change and the location of the change and alerted the station so that the snow and ice could be removed from the line. Because the RF sweep takes place in the high-VHF TV band I was concerned it wouldn't work in a high RF environment like the Los Angeles Mount Wilson site where there is a full power station on every high-VHF channel except 8 and 10. So far that hasn't been a problem.
What Happened to RFS?
One name familiar to TV transmitter engineers was absent from this year's show, RFS which announced that it would shut down its broadcast division at the end of 2022 and put its intellectual property up for sale. As of the show, no one had purchased it. Fortunately RFS developed a very good step-by-step procedure for tuning its filters and engineers who have learned the procedure are available to re-tune filters if needed. Most of the full UHF power stations in New York are transmitting on an RFS antenna fed from an RFS combiner at One World Trade Center. Fortunately the filters are rugged passive devices that will likely outlast the transmitters.
When I asked some of the companies I thought might be interested in the RFS IP why they hadn't purchased it, I was asked how many high-power filters and combiners I expected to buy in the next few years. The repack and subsequent upgrade of non-repacked stations in the last five years has resulted in most stations being set for the next decade or so, which means far fewer sales of high-power equipment. Low- and medium-power sales may increase if the ATSC 3.0 roll out leads to more construction of distributed transmission systems to increase coverage and data capacity.
RFS also made microwave dishes, semi-rigid coaxial cable and waveguide at its plant in Meriden, Conn. The cable manufacturing business was sold to Amphenol, which sells the products under the RFS Technologies name. Alive Telecom bought some of the dish manufacturing equipment, but not the intellectual property, and is now selling microwave dishes as well as broadcast antennas.
ETRI's DEMO of ATSC 3.0
One item that I did not mention in my previous article was ETRI's demonstration of compatible ATSC 3.0 MIMO. Last year they showed a system using dual polarized transmit and receive antennas that was capable of delivering data rates near 100 Mbps. However, it could not deliver content to non-MIMO receivers. This year, ETRI in cooperation with KBS, Cleverlogic, and Televes showed how LDM could be used to provide a low data-rate, very robust signal in addition to the high data-rate MIMO enhanced layer.
The parameters demonstrated would only provide enough capacity for one 720p program stream, 1.3 Mbps, in the non-MIMO core layer but it was using QPSK and a 2/15 code rate which resulted in a less than 0 dB signal-to-noise ratio (SNR) threshold. A robust layer with less error correction would allow more program streams. The MIMO enhanced layer required an SNR of 30 dB and provided 64.7 Mbps data capacity.
Broadcasters and engineers are still discovering what's possible with the ATSC 3.0 standard. Look for more on the technology and products in future columns.
Get the TV Tech Newsletter
The professional video industry's #1 source for news, trends and product and tech information. Sign up below.
Doug Lung is one of America's foremost authorities on broadcast RF technology. As vice president of Broadcast Technology for NBCUniversal Local, H. Douglas Lung leads NBC and Telemundo-owned stations' RF and transmission affairs, including microwave, radars, satellite uplinks, and FCC technical filings. Beginning his career in 1976 at KSCI in Los Angeles, Lung has nearly 50 years of experience in broadcast television engineering. Beginning in 1985, he led the engineering department for what was to become the Telemundo network and station group, assisting in the design, construction and installation of the company's broadcast and cable facilities. Other projects include work on the launch of Hawaii's first UHF TV station, the rollout and testing of the ATSC mobile-handheld standard, and software development related to the incentive auction TV spectrum repack.
A longtime columnist for TV Technology, Doug is also a regular contributor to IEEE Broadcast Technology. He is the recipient of the 2023 NAB Television Engineering Award. He also received a Tech Leadership Award from TV Tech publisher Future plc in 2021 and is a member of the IEEE Broadcast Technology Society and the Society of Broadcast Engineers.