Eyeheight to unveil new master control switcher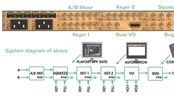 At NAB2007, Eyeheight will launch Playout Compact, a multichannel master controller for use in automated or manually controlled systems.
Up to eight control panels can be managed from a single network. The product is structured around an A/B switcher with full four-group 16-channel audio facilities.
An expansion chassis can be connected, and each chassis accommodates up to six modules. Available options include keyer, squeeze, dual voiceover, bug inserter, preview selector, 8 x 4 and 12 x 4 video, and AES audio crosspoints for program-preset operation. Full manual control panels are available. Ethernet and RS232/422 control interfaces as well as 14 GPI/tallies are incorporated.
For more information, visit: www.eyeheight.com.