Harris, LG Electronics, Zenith field test MPH mobile TV in Buenos Aires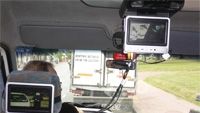 MPH (Mobile-Pedestrian-Handheld), the in-band mobile DTV system developed by Harris, LG Electronics and Zenith, made its first appearance outside North America late last month. In a VHF broadcast of ATSC and MPH signals, the companies field-tested the system at the CAPER 2007 conference in Buenos Aires, Argentina.
For the field test, two MPH programs, along with one main HD program, were broadcast terrestrially, filling the 19.4Mb/s digital channel allocation within a single 6MHz ATSC DTV broadcast, using the digital TV transmitter of Argentinean broadcaster Arte RadioTeleviso Argentino (ARTEAR). One MPH program was received inside of a van traveling through various sections of the Buenos Aires metropolitan area, with the view occasionally being switched to the other MPH program. The main MPH program was also on display for viewing at the convention center. The main (non-MPH) channel was an HD signal of about 15Mb/s transmitted to the van for comparison purposes. The MPH signals were 557Kb/s and 299Kb/s.
The MPH signals were transmitted from the ARTEAR tower on the Edificio ALAS building in Buenos Aires using an ERP of 20kW. The main ARTEAR ATSC HDTV programming was simultaneously received at fixed locations within Buenos Aires. Prototype mobile MPH receivers developed by LG Electronics were used to receive and display the MPH mobile programs. Harris installed the MPH encoding and transmitting equipment at the ARTEAR facilities, and LG engineers conducted the mobile demonstrations. Zenith lent a fifth-generation prototype of a set-top box it plans to release in January for the main signal reception.
The van's route included narrow streets with tall buildings, wide avenues, an industrial area with traffic and the area near the city's train strain and bus terminals. Speeds ranged from stop and go to 60k/h (90m/h) on the highway near the convention center. According to Tim Laud, a member of the Zenith engineering staff participating in the tests, the HD signal maintained high image quality while the van was stationary, but would become blocky during most movements. The MPH image, along with its audio, maintained its integrity at all times irrespective of speed, buildings or traffic conditions.
Harris and LG Electronics first debuted the MPH system at NAB this year. It allows broadcasters to transmit over-the-air broadcast signals to mobile devices as part of their existing 19.4Mb/s DTV channel allocation. According to the companies, MPH streams would take up a minimal amount of the DTV spectrum allocation, letting broadcasters transmit one or more MPH channels to mobile devices as a value-added service while still continuing to broadcast their main broadcast SD and/or HD channels to fixed devices. A similar system from Samsung Electronics, Rohde & Schwarz and Nokia, A-VSB, was announced around the same time as MPH.
For more information, visit www.broadcast.harris.com, www.lgusa.com and www.zenith.com.