Viewpoint: Here Comes Convergence
The streaming era is uniting the Pro AV and broadcast industries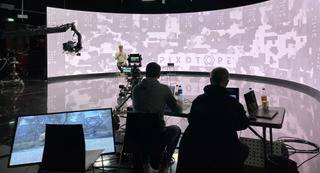 (Image credit: Pixotope)
We've been living in the era of streaming for quite some time on the consumer side. And now it's forging ahead in a big way in the commercial world, leading to a crossover between broadcast and Pro AV. What factors are at play boosting this trend?
Part of it is the pandemic. It was difficult to interact with audiences in person during that time, so streaming content was a crucial solution. In fact, revenue for content production and streaming, in addition to conferencing and collaboration, never declined during the pandemic.
Quality or Quantity?
As an event producer ourselves, AVIXA had to implement streaming capabilities for InfoComm 2021, since many people couldn't attend in person. AVIXA's in-house content delivery team, led by Sam Minish, vice president of content delivery, put together a livestream content program and worked with a vendor to deliver a remote experience.
As the world started opening up more in 2022 and people were attending events in person, Sam's team realized we needed to approach streaming differently. Our livestream was about making sure we were providing an experience that was reaching those who, perhaps through budget reasons or being newer to the industry, couldn't attend the physical show. We focused on delivering content at the show that would resonate with that audience. The team also learned that ramping up the quality while dialing down the quantity was very effective for us
During the pandemic, there was some tolerance for mediocre quality streaming. As long as you were delivering your message, then that was good enough. Now, with the advancements of streaming technology, there's an expectation for better quality. When you have YouTubers producing top quality video content, people expect that out of workplace professionals.
Adding to that, we've had a generation with video in their DNA filling the workforce for a while now that expects to be visually engaged. There's also the aspect of real estate—with some companies not needing such a large footprint for employee office space due to hybrid and remote work, they're opting to transition the space and add production capabilities to reach their audiences.
Forecast: More Content
According to AVIXA's 2023 Industry Outlook and Trends Analysis (IOTA), content production and streaming revenue is forecast to grow from $39 billion in 2023 to $51.3 billion in 2028. In addition, our research of end user decision makers shows AV production rooms for broadcast among the top five spaces in which they are planning to make AV investments.
[SCN 1-on-1: AVIXA Industry Insights from InfoComm 2023]
What are the tools and skills needed to deliver these solutions to customers? The technologies powering content production and streaming are a convergence in AV, IT, and broadcast.
For decades, we've been talking about AV and IT blending together as more AV technologies are connected to the network. Media servers and storage act as the management and distribution engines, accounting for more than half of the total solution revenue in 2023, or nearly $19 billion. Capture technologies are next, in the form of cameras and other video production equipment, representing another $10 billion.
Integrators provide some value-added services such as installation and design. That skillset part is an important piece of the puzzle.
Crossover Considerations
Historically, AV and broadcast have interweaved through time. Many people started in broadcast and crossed over to AV or went back and forth. AV and broadcast professionals share skills in audio and video systems implementation, live events production, pre and post-production, filming/recording, and staging/rigging. AV differentiates through skills relating to effective integration of tech into space, while IT increasingly overlaps with both AV and broadcast as technology joins the network.
AVIXA is closely watching this trend of broadcast and AV convergence, and facilitating ways for AV professionals to learn more and make connections to deliver high-level solutions to the market. In June, AVIXA and IABM hosted the first UpStream conference in London to dive into this topic. We brought together broadcast technology suppliers, AV/IT solution providers, and enterprise buyers. The event featured discussions on virtual production, the pros and cons of different streaming platforms, NDI, and much more.
Virtual production was also top of mind at InfoComm 2023 in Orlando with The Unreal Ride, presented by Vū, Unilumin, and MRMC. Attendees experienced a blend of the physical and virtual worlds through a combination of virtual production technology, including advanced LED panels, a motion-controlled camera, camera tracking, and virtual environments.
What's in store next? ISE 2024 will host the Content Production, & Distribution Summit on Jan. 31 in Barcelona, so mark your calendar. Also be sure to check out the Content Production and Streaming channel on AVIXA Xchange for news and discussions on the topic.
This article originally appeared on TV Tech sister brand SCN.
Get the TV Tech Newsletter
The professional video industry's #1 source for news, trends and product and tech information. Sign up below.
Sarah Joyce is the Chief Global Officer for Avixa.