SMPTE ST 2110: A Vibrant Six-Year-Old
How has this critical standard impacted broadcasters?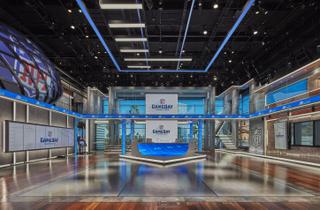 (Image credit: NFL Network)
Since the first document release in 2017, the SMPTE ST 2110 suite of standards for video transport over IP networks has made major inroads in the market for professional video and audio production gear. By removing the highly-compressed, unreliable stigma created by early IP streaming technologies (looking at you, Flash), ST 2110 enabled bit-perfect production systems to be built using widely-available Ethernet networking gear.
As IP networking infrastructure continues to grow in capacity—while simultaneously lowering the cost per bit—IP systems have become ever-more capable and affordable. Like any major technology refresh, the transition to IP-centric media systems has experienced a few bumps along the way, but overall progress has been steady and new products are filling in the few remaining gaps needed to support every conceivable broadcast application.
When first released in 2017, ST 2110 provided a standard way to transport video over general purpose IP networks. Since it was targeted as a direct replacement for SDI, the focus was on uncompressed video inside a live studio production environment.
One important difference from SDI is that each signal type is transported in a separate stream of packets, thereby eliminating the need to "embed" audio signals within their associated video signals. Synchronization is provided by distributing a precision (PTP) clock to every media device on the network, thereby allowing each device to align its outputs to a common timing reference point.
Market Impact
Over the past five years, IP media transport generally and ST 2110 specifically have made major inroads within the professional broadcast market. According to John Mailhot, CTO, Networking and Infrastructure for Imagine Communications, the industry has already reached the point where "ST 2110 is a better choice for greenfield studio construction and for applications that require more than 512 video router crosspoints."
Alan Wollenstein, director, Engineering Systems for the National Football League, spoke about how critical ST 2110 technology was for the implementation of the NFL Network's new Los Angeles Facility in Inglewood, Calif. "We have 19 physical and 75 virtual edit bays in our new facility, which stretches over 200 yards from one end to the other. It simply would not have been possible to build this brand-new installation without using ST 2110."
New Updates in 2022
ST 2110 is made up of a number of standards, each of which covers one aspect of IP media transport; this makes it so that each of these documents can be updated independently. Many of the core set of ST 2110 standards were updated in 2022, as shown in Fig. 1. The good news about these updates is that they were done very carefully, so as to avoid breaking equipment and software that were built using the 2017 edition of the standards. Here are a few highlights on the new standards:
ST 2110-10 System Definition: This document focuses on providing better information for control systems. Two new (recommended) SDP parameters have been added: TSDELAY and TSMODE. The first of these, TSDELAY, allows a device to indicate the amount of time (in microseconds) that elapses between the sampling or other time indicated by the RTP timestamp for a packet and the time that the first packet containing that timestamp is emitted by that device.
The second of these, TSMODE, allows a device to indicate whether or not the RTP timestamps present on packets coming into the device are preserved or modified in the output of the device. Used together, these two new parameters allow a broadcast controller to more accurately assess the delays incurred within each step of a workflow, allowing tighter control of end-to-end delays and simplifying overall media synchronization.
ST 2110-20 Uncompressed Video: This adds support for two new video formats. One addition supports a new Transfer Characteristic (the "TCS" parameter in SDP, which indicates how binary pixel values relate to pixel brightness) to support "Camera Log S3" as defined in SMPTE ST 2115 (and is used in a wide variety of high-end video and digital cinema cameras). The other addition was a new colorimetry type of "ALPHA" which is specifically designated for key signals, while it was clarified the key signals must not declare a TCS value.
ST 2110-21 Traffic Shaping: This new version clarifies that the virtual receiver buffer (VRX) constraints do not apply for constant bitrate compressed video signals, and providing a more flexible way of calculating the timing for interlaced video in order to support standard definition video formats (which are still used in many applications around the globe).
ST 2110-22 Compressed Video: This revision clarified that the Virtual Receiver Buffer constraints in the packet timing model do not apply, and cleared up some confusion about how the bitrate of a compressed signal is defined in SDP.
ST 2110-30 Uncompressed Audio: This document is currently undergoing very minor revisions to clarify some wording and to provide clearer descriptions of the audio receiver conformance levels.
ST 2110-40 Ancillary Data: This new revision creates two packet transmission models for ancillary data. LLTM, the Low Latency Transmission Model, requires senders to transmit ancillary data packets within 8 video lines of their specified location. CTM, the Compatible Transmission Model, allows a 1 msec window for transmission. These are signaled with the SDP parameter "TM." One other minor change was to require senders to transmit packets in increasing order by original line number."
(opens in new tab)
IPMX
One major way that ST 2110 technology is being expanded to support new applications is in the development of IPMX (Internet Protocol Media eXperience). The goal of this development is to help reduce the cost of ST 2110 technology for applications that may not require its full range of capabilities.
Another goal is to produce the first truly open, license-free IP video specification for the ProAV market (in contrast with NDI, SDVoE and HDBaseT). IPMX supports HDCP content protection, multi-monitor synchronization, FEC (Forward Error Correction), EDID (Extended Display Identification Data) and a variety of other features that are crucial to supporting this market.
IPMX specifications are currently being developed by a group within the Video Services Forum (the same source as many of the key concepts behind ST 2110). More info, including downloadable copies of all
the released specification can be found at www.vsf.tv.
What the Future Holds
Not everything is perfect in the world of ST 2110. The capabilities of system and broadcast controllers are lagging behind those of video and audio endpoints, at least based on the results of the JT-NM Tested event in Wuppertal, Germany last August. Development of these systems proceeds apace, with particular emphasis on improving IP network security for broadcast devices.
Most of the key ST 2110 standards have stabilized, and are not expected to change much (if at all) in the coming years. This is good news for developers and implementers, allowing them to focus on fine-tuning and cost-reducing existing designs, rather than having to implement new features. It is likely that system cost reductions will also continue, as video systems are now more closely aligned with present trends in the much larger IT and datacom industry (including Moore's Law and other factors).
John Mailhot noted that "The cost premium for ST 2110 in media endpoints is going away, and the cost of 100 gigabit optics is dropping dramatically." Advances in Ethernet switch capabilities will also help significantly; Alan Wollenstein indicated that "The choice of spine and leaf IP network architecture for our facility was key for our application."
Cloud-based production is much easier to implement with an IP-native technology like ST 2110 as compared to SDI-based systems. As more ST 2110 systems migrate from using uncompressed video to deploying JPEG XS or other compressed formats, the costs of transporting video to and from the cloud will become more attractive, making other benefits of the cloud (including rapid scalability, AI-based functions, pay-as-you go, and more) accessible to a wider market.
Overall, today's market and technology trends will continue to make ST 2110-based systems more affordable and flexible throughout the broadcast industry. Pretty impressive for a six-year-old!
The latest product and technology information
Future US's leading brands bring the most important, up-to-date information right to your inbox
Wes Simpson is President of Telecom Product Consulting, an independent consulting firm that focuses on video and telecommunications products. He has 30 years experience in the design, development and marketing of products for telecommunication applications. He is a frequent speaker at industry events such as IBC, NAB and VidTrans and is author of the book Video Over IP and a frequent contributor to TV Tech. Wes is a founding member of the Video Services Forum.