Cameras Keep Watch at Your Transmitter Site
Strategically placed cameras can give engineers "remote eyes" at sites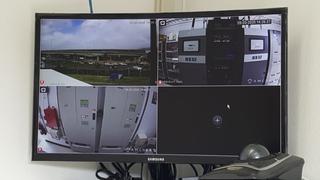 (Image credit: Ernie Nearman)
Ernie Nearman is a veteran broadcast engineer who has been practicing in Honolulu for decades. Like any contract engineer, Ernie sometimes has to be in two places at once, and believe it or not, he's figured a way to do just that.
Ernie uses strategically-placed IP cameras at his sites to give him "remote" eyes to see what's going on. He acknowledges that these IP cameras are not cheap, but if you buy the style that provides pan, tilt and zoom features, the camera does a pretty good job of letting you know what's going on before you arrive at the site.
At one site, the camera is mounted on conduit so it normally faces the door. Anyone entering the site can be identified. However, with the built-in mechanical adjustments, Ernie can remotely turn the camera to view the faults on a transmitter, or point the camera in another direction to check the room temperature and Nitrogen pressure gauges.
After a storm, wouldn't it be nice to know the surge suppressor took a hit before arriving at the transmitter site? A camera shot can show that information. These little snapshots may not seem important, but when you are handling a number of contract clients, IP cameras can help you perform triage.
If, for example, a station goes down and you see that the fault can be corrected remotely, your time can be spent on bigger issues. Ernie says this benefit is especially appreciated when a storm rolls through, taking several of his contract clients off the air at the same time. These IP cameras permit engineers to work smarter and more efficiently.
Ernie chose the Amcrest IP Camera, Model IP4M. It's not the cheapest but its features include Ultra-HD resolution, remote viewing, two-way audio and night vision. It uses power over the Ethernet.
Yes, you can find less expensive versions, but buying cheap junk probably won't give you the features you need. Consider this a diagnostic tool, so don't fall for the $20 wonders—you'll be disappointed.
You can find out more by Googling "Amcrest IP cameras" or searching for them on Amazon.
The latest product and technology information
Future US's leading brands bring the most important, up-to-date information right to your inbox
The latest product and technology information
Thank you for signing up to TV Tech. You will receive a verification email shortly.
There was a problem. Please refresh the page and try again.