A Race Against Time: The Threat of Obsolescence Facing Broadcasters
Migrating a media library opens many possibilities for discovery and creative use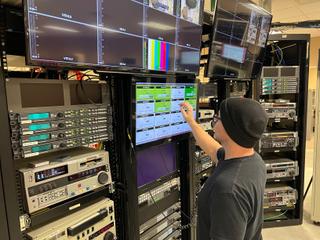 (Image credit: Memnon)
The National Association of Broadcasters celebrated its 100th year at the NAB Show in Las Vegas last month, inspiring the industry to reflect on the last century of broadcasting with archival footage, images, and stories. It was exciting to catch a glimpse of the history of NAB—and the broadcast industry in general—displayed throughout the show. It's valuable to have preserved footage to share and look back on for milestones, but today's media organizations face a threat of obsolescence that can impede content preservation due to a lack of playback equipment and technical resources.
The playback equipment needed for digitizing media assets is more difficult to obtain and is therefore more expensive and less accessible. Because of this, broadcasters and media organizations may face a future in which media migration services are no longer available, creating a scenario where legacy content can be lost forever.
The reality is that archiving equipment, such as audio and video tape machines, are no longer supported by most original manufacturers. When the equipment wears out, it's difficult to locate replacement parts. Auction sites and business closures have become a main source to purchase machines and parts.
Media migration is a niche service with limited technical resources. The skills needed to operate, maintain, and repair playback equipment can be equated to the skills of electricians and mechanics— it's a hands-on, specialized trade that requires knowledge of complex machinery.
The number of people who can perform these skills continues to dwindle, as individuals age out of the industry. It's important to make sure their skills are passed on before retirement. In addition, it's difficult to attract younger talent, as many prefer roles that are digital, and software focused.
The solution to these challenges may be to create more equipment and train more people, however, it's doubtful manufacturers will create new equipment to play back legacy formats. The worst-case, disaster scenario for broadcasters and content owners is that the technology becomes obsolete before they've had a chance to digitize their media libraries, effectively losing their collections once physical degradation sets in.
Often budgetary factors affect an organization's choice to start their migration journey, but the benefit of having an entire media library safe, accessible, and discoverable is worth the commitment. We're continuing to see more and more examples of legacy content being used and monetized today.
This was recently seen with HBO's sports drama Winning Time: The Rise of the Lakers Dynasty, which blends archival footage seamlessly with the scripted elements of the show. Of course, with all the talent and technical tools production teams have, they could replicate the look of archival footage, but using the real thing gives an authentic feel and allows audiences to truly go back in time.
Aside from the obvious benefit of keeping assets safe, migrating a media library opens many possibilities for discovery and creative use. For example, there have been occasions when we've worked on projects and found content that customers didn't know they had-- hidden gems that could be used for film, creative campaigns, social media, and website content. Digitizing media collections presents opportunities to give old content new life, preserving an organization's past while also safeguarding its future.
Due to the risk of media degradation and the obsolescence of playback equipment, broadcasters and the media and entertainment industry have taken the threat seriously. The Academy of Motion Picture Arts and Sciences has launched its Digital Preservation Forum, inviting industry professionals to discuss and address the challenges facing digital archiving and preservation.
It's important that we create a future where we have access to and can reflect on our past. Our hope is that in another century when NAB celebrates 200 years, we'll have preserved as much archival footage, images and stories as possible, and future generations will have the opportunity to look back on the achievements of the first century of television without a sense of loss or regret.
Get the TV Tech Newsletter
The professional video industry's #1 source for news, trends and product and tech information. Sign up below.
John Macdonald is US Director of Operations & Production for Memnon