WPSX-TV set to begin experimental DTX transmission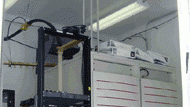 An experimental digital distributed transmission system (DTX) is about ready to go on-the-air in Pennsylvania to bring television service to areas previously underserved by Penn State Public Broadcasting.

WPSX' experimental DTX transmitter will help the station provide service to State College, Pa. (Photo courtesy of the Merrill Weiss Group 2002)

WPSX-TV in University Park, Pa., is about to put the primary and first DTX transmitter of a four-transmitter system on-the-air, bringing digital television service to State College, Pa. Seeking to avoid the difficulty of gaining permission to erect a 1,000-foot tower to deliver service to the geographically challenged communities of State College, Altoona and Johnstown and exhausting all other possibilities, consultant Merrill Weiss of Merrill Weiss Group suggested DTX as an acceptable alternative.
Designing the system around a main 800kW transmitter and three DTX transmitters –one 50kW ERP transmitter in Clearfield, Pa., and two 25kW ERP to be installed elsewhere later- Weiss and WPSX were able to overcome hurdles imposed by geography and design a system that provides full coverage of State College with DTV service.
Currently, WPSX is operating the main transmitter and putting power into a dummy load at the DTX transmitter site in Clearfield, Pa. According to Weiss, the DTX portion of the transmission system is ready for use, and the only thing preventing it from going on air is work being done on other parts of the system.
The concept of DTX is proposed and embodied in the ATSC CS/110A specification for synchronization of multiple transmitters emitting trellis-coded 8-VSB signals. In a nutshell, DTX provides for multiple transmitters to simultaneously broadcast a digital television signal to enhance signal strength. It is believed that in so doing, DTX will allow many DTV viewers to use a set-top antenna instead of the directional reception antenna envisioned by DTV system planners.

Digital DTX transmission is intended to enhance signal strength by providing for multiple transmitters in a system. (Photo courtesy of the Merrill Weiss Group 2002)

The challenge of designing a DTX system is to minimize a DTV receiver's reception window –delay spread- of simultaneously broadcasted DTV signals to the ghost tolerance of the receiver's adaptive filters. To a large degree, this tolerance will determine the maximum allowable distance between signal sources.
WPSX' experimentally licensed DTX transmitter site in Clearfield takes advantage of some terrain shielding in the State College area to eliminate possible signal interference outside tolerable levels, so it was a natural for DTX, according to Weiss.
Currently, the other two DTX transmission sites are unfunded. Weiss added that by time WPSX has funding, DTX may be an approved standard not requiring an experimental license from the FCC.
For more information on the proposed ATSC CS110A standard, visit: http://www.atsc.org/standards/cs_documents/cs_110a.pdf.
Get the TV Tech Newsletter
The professional video industry's #1 source for news, trends and product and tech information. Sign up below.